Bloomberg analyst Jamie Coutts argues that carbon dioxide equivalent emissions from Bitcoin mining has declined 37.5% after peaking at 60.9 megatonnes in mid-2021. Estimates by investor Daniel Batten, co-founder of CH4 Capital, estimates the China ban drove miners to renewable energy sources.
Countering the narrative put forth by international bodies like the World Economic Forum, the United Nations, the Bank for International Settlements, and the European Union, Coutts argues Bitcoin (BTC) can benefit rather than burden international decarbonization efforts. Bitcoin mining can quicken the transition to renewables that often come at a cost to aging fossil fuel plants.
Climate-Tech VC Throws Shade on Bitcoin Contribution to Fossil Fuels
The rhetoric on Bitcoin's excessive energy consumption stems from the energy mining machines use while trying to guess the correct hash. The Cambridge Centre for Alternative Finance revised the estimate from 100 TWh to 95.5, using new data from Coin Metrics.
According to Coutts, the Cambridge model also excluded new off-grid power sources and miners' shift to off-grid sources. Batten's work to include off-grid sources and flared natural gas revealed that, despite a 400% increase in Bitcoin's hashrate since 2019, the carbon emissions of miners have only risen by 6.9%.
Moreover, the emission of carbon dioxide equivalents has dropped by 37.5% since China banned mining in 2021. Coutts surmised:
"[This decline suggests] the concern about Bitcoin's carbon footprint are being overstated."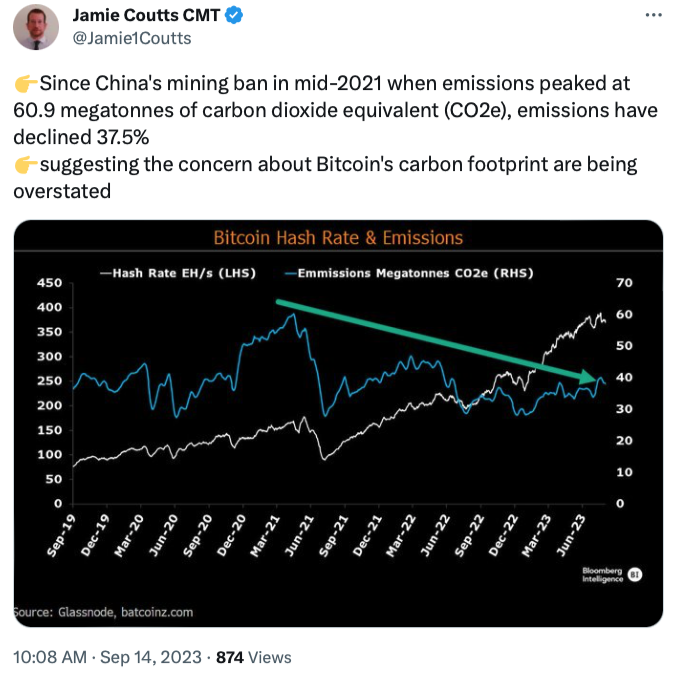 Coutts says Bitcoin carbon emissions have fallen significantly | Source: X (Twitter)
Mining create new Bitcoins by using special machines called ASICs to guess the digital fingerprint (hash) of transactions in a block. The miner who guesses the correct hash gets the Bitcoin block reward, currently set at 6.25 BTC (about $165,535).
Find out here how to build a Bitcoin mining rig.
A Question of Perspective
Bitcoin advocates have previously said the industry has been unfairly targeted as it consumes rather than generates fossil-fuel power.
Read BeInCrypto's analysis of the electricity Bitcoin mining consumes here.
But the energy consumption of ASICs may be more nuanced, depending on which side of the fence you sit. WattTime, an organization climate experts favor for accurate analysis, can calculate how reliant miners are on fossil fuels.
An analysis of Bitcoin miner Applied Digital found it used fossil fuels 90% of the time. A later calculation revealed that it was the highest consumer of fossil fuels, accounting for roughly 54% of all power generated.
While climate experts often point to the former, industry players prefer the latter since it reveals the mix of power they use. The result gives miners, who don't have a window into how grids manage sources, how much energy they use from a given source compared to other consumers.
Lee Bratcher of the Texas Blockchain Council says miners also incentivize the development of renewable energy plants.