A recent CoinGecko research has shown that, despite its economic challenges, Lebanon boasts the ideal conditions for cryptocurrency enthusiasts looking to strike gold in the digital mines. Lebanon's remarkable ascent in Bitcoin mining profitability can be attributed to its rock-bottom household electricity costs. With an average annual household power cost of just $266.20, Lebanon offers an enticing environment for miners looking to maximize their returns.
Ever wondered which countries offer the highest profitability for #Bitcoin mining?

Our study shows #Lebanon 🇱🇧 taking the top spot as the most profitable country to mine 1 $BTC, thanks to its low household electricity costs.

Read the full study: https://t.co/J0zATdjsb1 pic.twitter.com/RvxyFOyUtz

— CoinGecko (@coingecko) September 7, 2023

The study goes beyond Lebanon's success story and delves into the broader global Bitcoin mining landscape. While Lebanon shines as the top performer, other countries also provide opportunities for miners to thrive.
Only 65 countries worldwide offer domestic power prices low enough to make solo Bitcoin mining profitable. Eight of these countries are located in the Americas, mainly in South America and the Caribbean. Furthermore, 18 nations in Africa and 34 in Asia provide favorable conditions for successful single-country mining operations, with Asia contributing the most.
Nine of the top ten nations where Bitcoin mining remains economically viable due to low household power costs are in Asia and Africa. Iraq would have ranked seventh, but cryptocurrency transactions were banned by the central bank in 2017, primarily due to the nation's instability.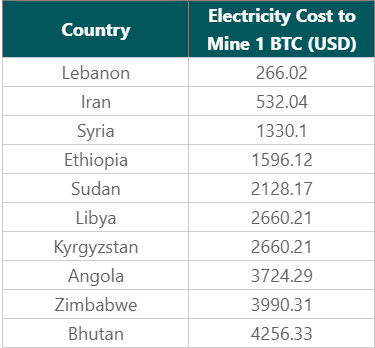 Consumption rate snap | Source: CoinGecko
A Comparative Look at Bitcoin's Energy Consumption
As of press time, the average daily price of one BTC stood at $25,736. Consequently, the average cost of electricity required to mine a single Bitcoin amounts to $46,291.24. Europe has the highest projected annual household power costs, estimated at $85,767.84. This figure significantly surpasses energy costs in other regions.
However, the situation is notably different for individual miners in Asia, where the cost of mining one Bitcoin averages just $20,635.62. The lower energy expenses in this region make it possible for solo miners to turn a profit. Nevertheless, there remains a significant disparity in power prices, ranging from Lebanon's low cost of $266.20 to Japan's high cost of $64,111.02.
It's worth noting that the consistent mining of Bitcoin can strain a nation's power grid and lead to blackouts. For instance, Iran, which initially permitted Bitcoin mining in 2019, has intermittently banned legal operations. This is mainly attributed to energy shortages during high energy consumption periods in the summer and winter months. In 2021, Iceland's national power utility, Landsvirkjun, declined service to new Bitcoin miners due to the country's energy deficit.