The decline in Bitcoin (BTC) prices in August and record-high temperatures in many parts of the world have led publicly traded cryptocurrency miners to consider the past month unsuccessful. One such company is Marathon Digital Holdings (NASDAQ: MARA), which recently released its unaudited operational updates for August 2023. The report reveals a 9% drop in Bitcoin production compared to the previous month, mainly due to temporary shutdowns of mining operations in red-hot Texas.
Marathon Digital Presents a Mixed Bag of Results for August 2023
Marathon produced 1,072 Bitcoin in August, marking a 9% decrease from July. According to Fred Thiel, Marathon's Chairman and CEO, the decline was mainly due to "increased curtailment activity in Texas due to record high temperatures." These temporary setbacks overshadowed the company's efforts to boost its operational hash rate.
However, there is a significant increase in crypto mining compared to last year, partly due to the greater amount of available computing power. In August 2022, the company's average daily production was 5.9 BTC, and it has since increased by 477% to 34.3 BTC per day.
The company reported a 2% month-over-month increase in its US operational hash rate, now at 19.1 exahashes. This growth is primarily attributed to replacing older BITMAIN S19 J Pro miners with more efficient S19 XPs mining rigs. Marathon is also awaiting the completion of paperwork for its new facility in Garden City, Texas, which is expected to enhance its operational capabilities further.

Source: Marathon Digital Holdings
"During August, we reached our primary domestic growth target of 23 exahashes on an installed basis, Thiel commented. "As we look to our next growth target, I am pleased to announce that we have secured miners in the ordinary course of business for the next 5 exahashes of hash rate growth."
$MARA's August #Bitcoin Production Update is here:

- Secured Miners for 5 EH/s Additional Hash Rate
- Produced 1,072 BTC in August 2023 and 7,368 BTC Year-To-Date
- Combined Unrestricted Cash and Bitcoin Was $445 Million as of August 31, 2023

Read the full report:…

— Marathon Digital Holdings (NASDAQ: MARA) (@MarathonDH) September 5, 2023
Marathon's joint venture in Abu Dhabi, initiated in July, produced 50 Bitcoin in August, of which approximately 10 Bitcoin is Marathon's share. The operational hash rate for this venture has reached 1.5 exahashes, with plans to scale up to 7.0 exahashes by the end of the year.
As of 31 August 2023, Marathon holds a total of 13,286 BTC, with 13,111 being unrestricted. The company ended the month with $111.2 million in cash and cash equivalents. The combined balance of unrestricted cash and Bitcoin increased to $445.5 million, compared to $201.5 million during the same period last year.
Sudden Market Downturn Costs Crypto Miners $2.8 Billion
Five major cryptocurrency mining firms, including Marathon Digital, experienced a collective loss of $2.8 billion following a recent plunge in Bitcoin and the overall crypto market. Data from AltIndex reveals that the market capitalization of these publicly traded mining companies shrank by 30% in a single month, plummeting from $9.5 billion to $6.7 billion. Concurrently, the monthly revenue generated from mining activities reached new lows.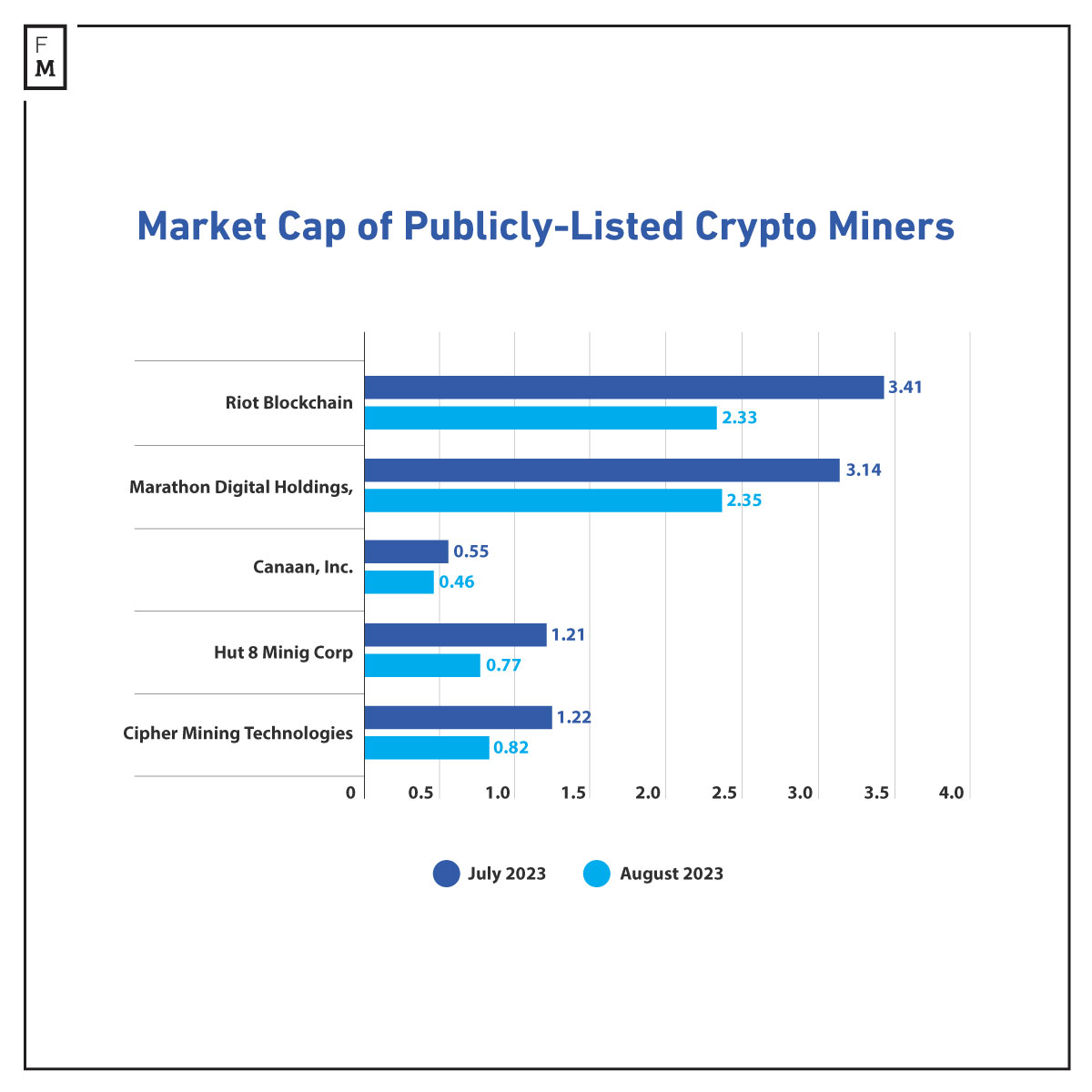 Key industry players like Riot Platform and Marathon Digital Holdings were among the hardest hit, with their market capitalizations declining by $1.1 billion (31%) and $800 million (25%), respectively. Other companies like Canaan, Hut 8 Mining, and Cipher Mining Technologies also suffered significant market share losses.
Glassnode's recent data adds to the grim outlook, indicating that miners' revenues have dipped to a monthly low of nearly $170 million. This downturn echoes a similar event in 2022 that slashed their total revenue by $6 billion.
Despite the industry's poor health, Marathon Digital's stock has surged by 250% this year. However, this upward trend stopped in July at around $20, and since then, the stock price has declined by approximately 40% to about $12.