The financial results of yet another publicly traded cryptocurrency miner showed that it is challenging to make a net profit under current market conditions. Cathedra Bitcoin Inc. (TSX: CBIT), a Toronto-based Bitcoin mining company, has disclosed its financial performance for the second quarter of 2023. Despite the report revealing significant growth in mining output and revenue, the net loss still seems sizable.
Cathedra Bitcoin with Modest Profit Growth and Net Loss Decline
In the second quarter of 2023, Cathedra Bitcoin mined 77.15 BTC, marking an increase of 19.5 BTC from the 57.65 BTC mined in the same period last year. This growth is attributed to the company's hash rate expansion from 231 PH/s to 382 PH/s. Despite a surge in the network mining difficulty and a drop in Bitcoin's average price, the company's revenue rose from C$2.5 million in Q2 2022 to C$2.9 million in Q2 2023.
The company has also significantly reduced its net loss. Last year, it was C$11.9 million for the three-month period ending in June, and it has now been reduced to C$2.9 million. The net loss for the entire first half of the year was C$5.2 million, compared to C$15.8 million reported in the first half of 2022.
"Recent weeks have seen the improved bitcoin mining conditions of H1 2023 regress to levels comparable to the most challenging periods of Q4 2022. During this time, we remain focused on finding creative, capital-efficient ways to create value for our shareholders," the company commented in the official press release.
However, this doesn't change the fact that Cathedra Bitcoin is another publicly traded crypto miner that recently published a financial report showing a net loss. The pattern is usually the same: companies are mining more Bitcoins but cannot achieve profitability.
Just yesterday, companies like Canaan and Argo Blockchain released their reports. The former saw a quarterly revenue increase to $73.9 million, but this was significantly lower than the $245.9 million reported in Q2 2022. The latter reported a 31% decline in revenue to $24 million for H1 2023. Riot Platforms Inc. and Galaxy Digital Holdings Ltd. also posted adverse financial outcomes for Q2 2023.
These companies are among five publicly-listed firms that have suffered a $2.8 billion loss following a sharp decline in Bitcoin and the overall cryptocurrency market in mid-August.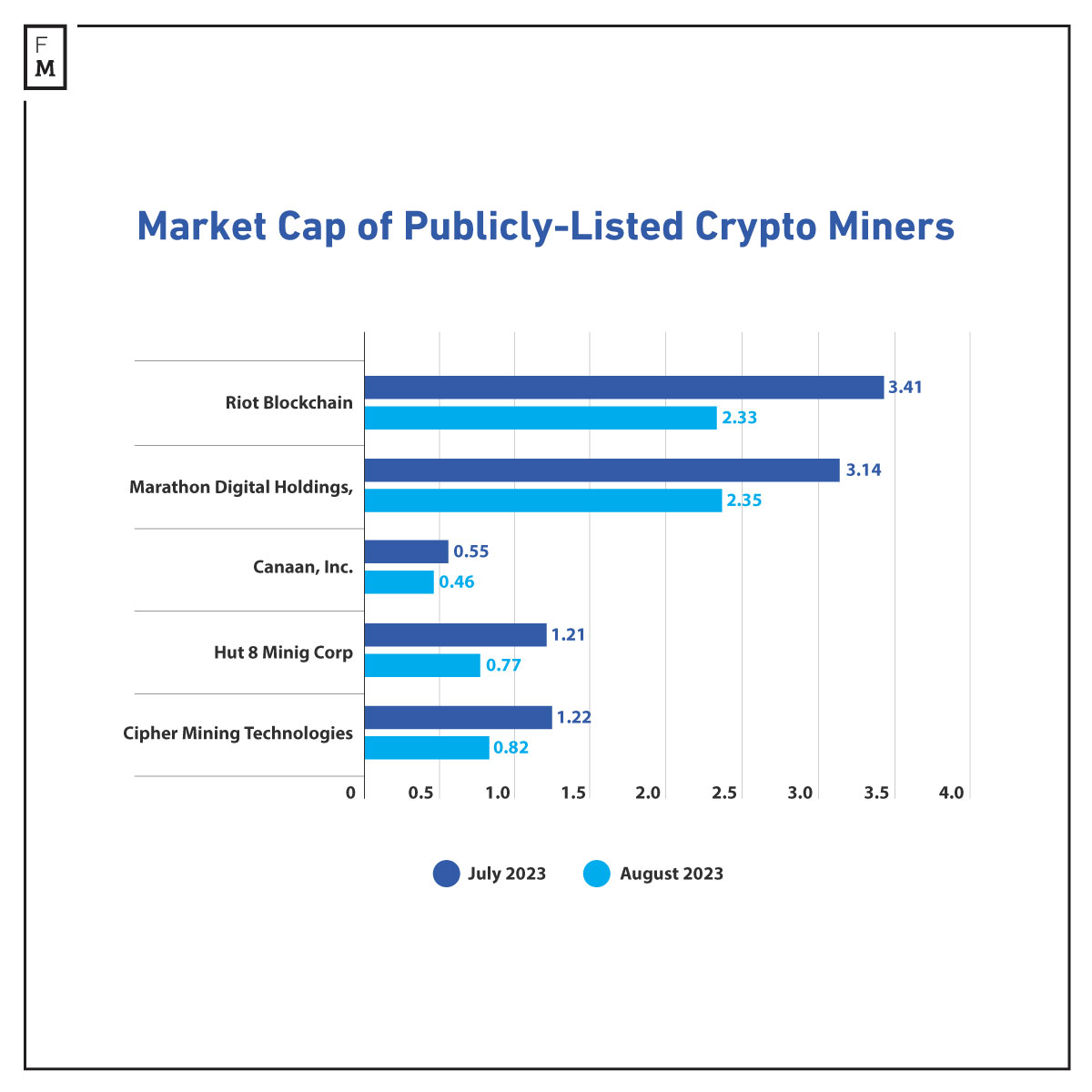 Development despite Difficult Conditions
Although market conditions are not favorable, Cathedra Bitcoin is constantly trying to grow its business. The company managed its debts effectively, converting C$2.5 million of its 3.5% senior secured convertible debentures into 18.5 million common shares. As of the end of August 2023, the company holds approximately C$4.4 million in cash and Bitcoin, providing a solid liquidity position.
The company completed the deployment of Bitmain Antminer S19J Pro and XP machines at its data centers in Washington and a facility in Kentucky. A renewed hosting agreement with a partner in Tennessee and a new strategic partnership with 360 Mining in Texas further expanded its operational footprint.
"This focus is exemplified by our recent partnership with 360 Mining, under which we will continue to deploy idle hash rate and infrastructure with minimal capex, as well as our ongoing efforts to underclock our machines using custom firmware to ensure profitability. As always, we thank our shareholders for their continued support," the company added.
Cathedra Bitcoin aims to enhance its energy efficiency by underclocking its mining machines, thereby reducing the break-even hash price by 12%. This move is expected to maintain the machines' positive cash flow.