Amid a challenging 12 months for Bitcoin (BTC), with the leading cryptocurrency being traded as low as $15,480 in the last quarter of 2022, after reaching its all-time high of $69,000 one year before, the Bitcoin mining industry is also struggling to keep their operations going with negative reported earnings.
Data retrieved by Finbold from CompaniesMarketCap shows that the 16 publicly traded Bitcoin mining companies have accumulated over $4.47 billion in losses in the past 12 consecutive months (TTM).
Core Scientific (OTC:CORZQ) is the top loser with $1.66 billion in losses for the period. Followed by the two largest Bitcoin mining companies by market capitalization, which are both owned by BlackRock (NYSE: BLK), a recent major shareholder in the Bitcoin mining industry.
Both Marathon Digital Holdings Inc. (NASDAQ:MARA) and Riot Platforms Inc. (NASDAQ:RIOT) accumulated over $600 million in losses year-over-year (YoY) each. All nine Bitcoin mining companies with bigger losses have negative yearly results of over $100 million.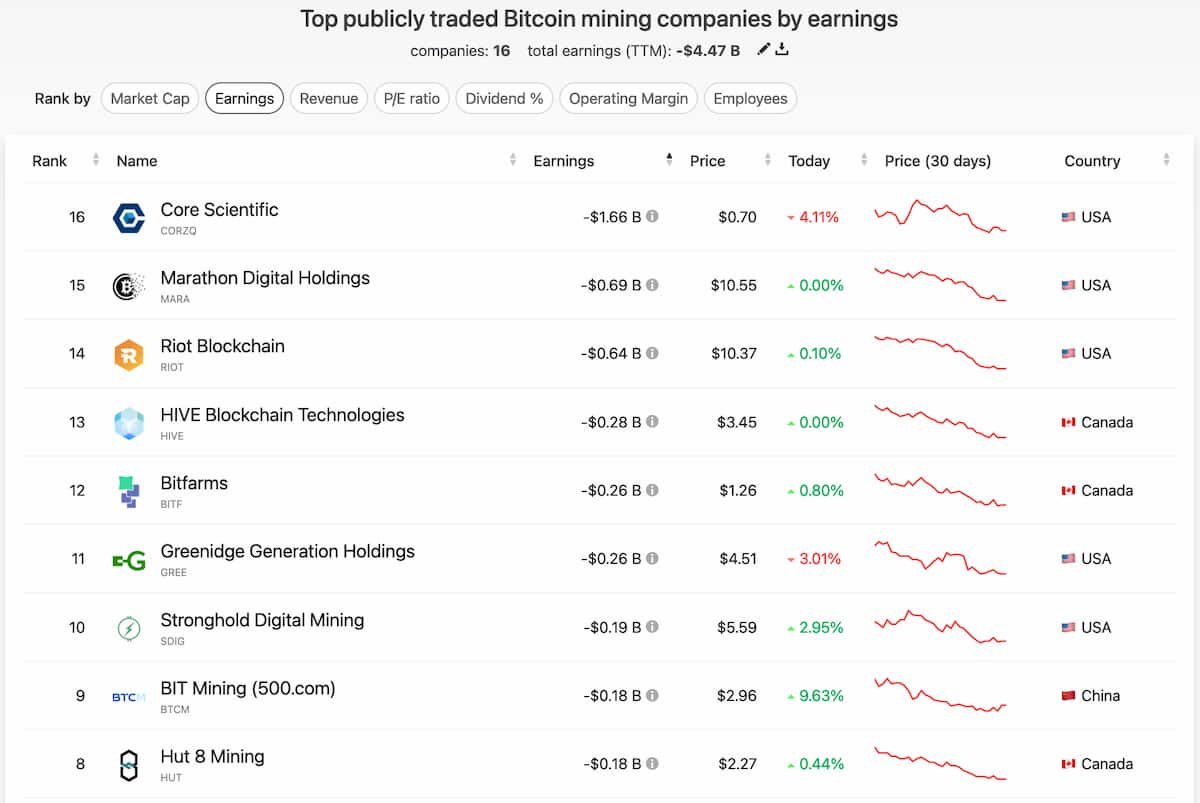 Canaan Inc (NASDAQ:CAN) is the only positive company among the 16 industry leaders, with $92.33 million in earnings for the last 12 months.
Bitcoin mining industry at a loss
The Bitcoin mining difficulty increased by 6.17% on August 22, reaching an all-time high of 55.62 trillion hashes.
With a sustained increase in mining difficulty over time, Bitcoin miners are working 'underwater,' as the average cost to mine one single BTC has been superior to the average price of 1 BTC in the spot market year-over-year since August 2022.
The average mining cost is calculated by Cambridge University and plotted in a chart by MacroMicro. On August 27, it registered an average cost of $45,877 per mined BTC, against a spot price of $26,089 on the same day — accounting for a loss of $19,588 per unit of the leading cryptocurrency produced coins.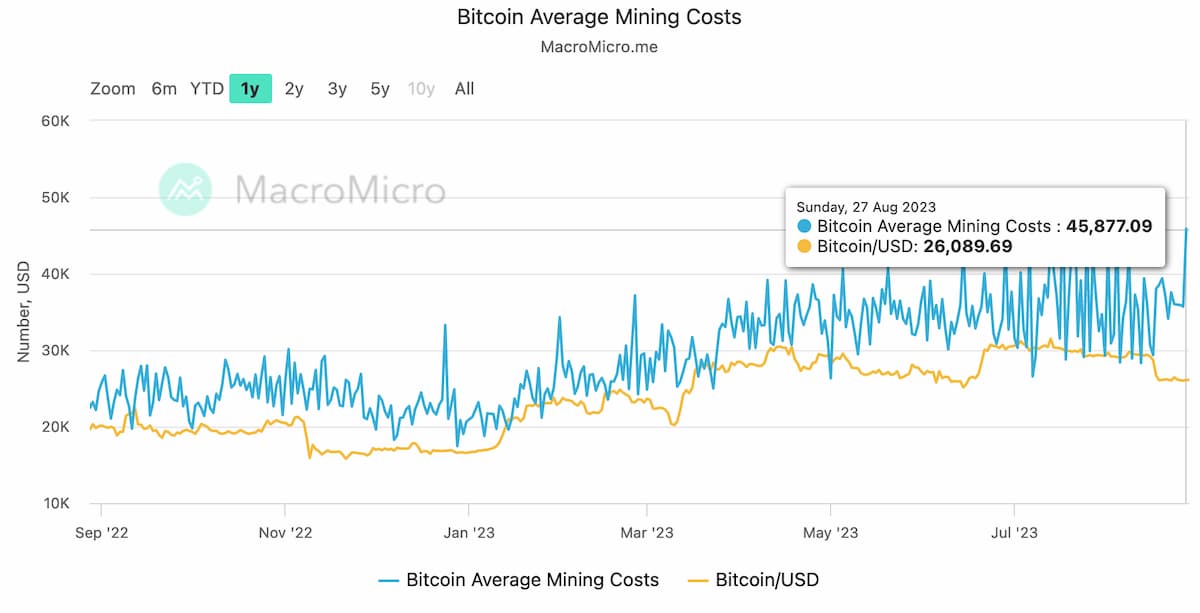 Notably, the challenges faced by the Bitcoin mining industry not only negatively affect each of these companies, but could also impact the whole Bitcoin ecosystem. Possibly affecting its decentralization and security, as well as the market's perception of the value of BTC as a reserve currency and digital asset.
Expected to happen in April 2024 is the Bitcoin halving, which will halve (cut by half) the block subsidy paid to miners for each mined block. Lowering, even more, the Bitcoin mining companies earnings unless there is a meaningful surge in price for BTC.