In a remarkable Bitcoin network development this year, a solo miner successfully solved block 803,821, securing the coveted 6.25 BTC block reward valued at over $160,000.
The remarkable event unfolded on August 18, and the miner became the 277th solo miner in Bitcoin's history. This occurrence is uncommon because a lone miner of this magnitude typically solves a block roughly once every seven years.
Solo Miners Are Cutting it
A miner, identified with the tag bc1q2za4ejga366sn288273pty8trasn5zs4y9hqg6, achieved the impressive feat using the Solo CKpool mining service. Con Kolivas, the administrator of Solo CKpool, speculated that this miner was using an S17 Bitcoin Miner and only had a hash power of roughly 1 PetaHash, which is miles lower than most BTC mining entities.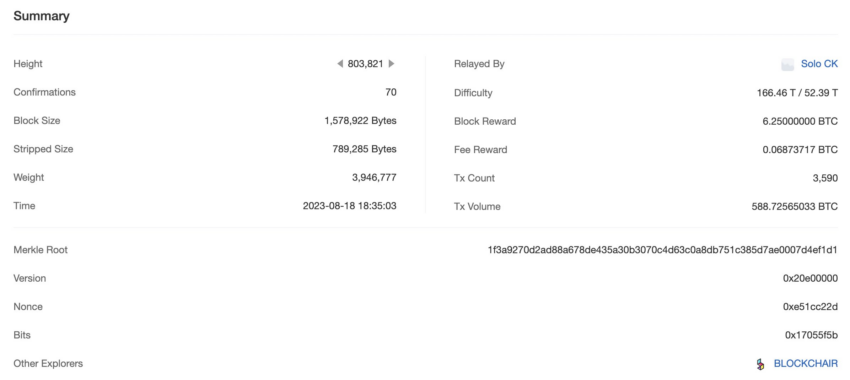 Solo Bitcoin Miner. Source: BTC.com
As most BTC miners have hash rate capacity in exahashes, an independent miner with only a few petahash does not stand a chance. According to its website, the Solo CKpool allows miners with "old/inefficient miners that will never earn any rewards through regular mining that wish to leave it mining as a lottery."
When users are lucky enough to solve a block, it allows them to keep 98% of the reward.
Meanwhile, this is the third time this year that a solo miner using the Solo CKpool has processed a block. Two independent miners were able to solve BTC blocks in March and June.
BTC Hashrate Increasing
Meanwhile, BTC's mining hash rate has increased over the past week despite the asset's price struggles. Data from blockchain.com shows that Bitcoin's hashrate rose to a new high of 414 EH/s on August 18 before dropping to its current level of 410.0 EH/s.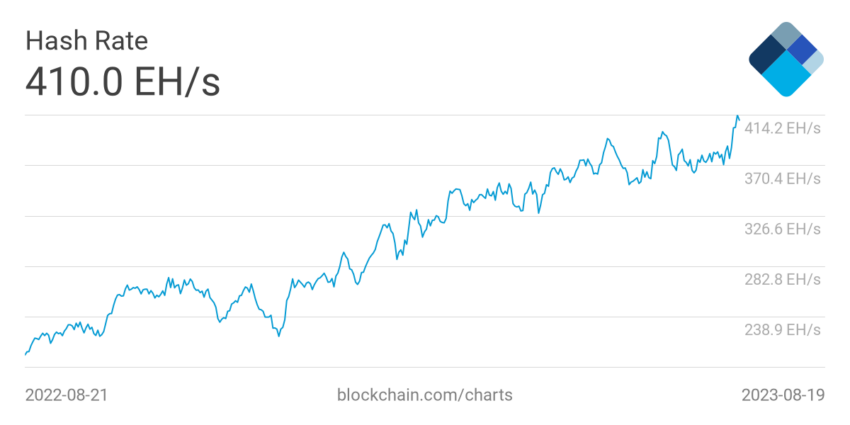 Bitcoin Hash Rate. Source. Blockchain.com
This represents a challenge for miners, given that the price of BTC is already down. However, profitability could take another hit next week when the mining difficulty changes. BTC's increased hashrate is expected to lead to a 7% rise in mining difficulty, according to Bitrawr.
Meanwhile, miners in Texas might be more affected by the current conditions, given that energy prices in the state have increased. This is due to heat waves, and the state electricity provider Electric Reliability Council of Texas (ERCOT), has started asking for voluntary shutdowns.