Genesis Digital Assets (GDA), one of the world's largest Bitcoin mining companies, has announced the opening of three new data centers in South Carolina's Western region. This expansion is part of the company's strategy to establish a stronger presence within the United States, as currently, GDA accounts for 2% of the total hash rate of the Bitcoin network.
Since February 2023, the first data center has been operating near the town of Anderson, SC, boasting a total capacity of 18 MW. Not long after, in March 2023, the other two facilities located between the towns of Union and Lockhart commenced operations with a combined capacity of 15 MW.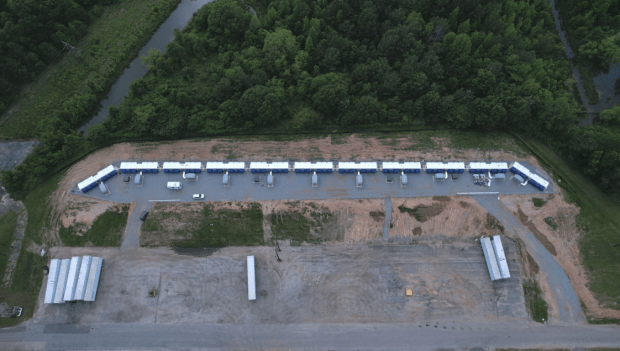 IWS data center in Anderson, SC
The Anderson data center was constructed using North American-built infrastructure equipment, repurposing an abandoned textile warehouse. 95% of the personnel involved in constructing the two other facilities were hired locally within South Carolina, fostering economic growth and creating nearly 150 jobs, with 125 of these positions being filled by local contractors instrumental in setting up the data centers.
"I am extremely proud of the entire GDA team for opening these new facilities in only a few months," said Ankit Joshi, GDA's Head of North American operations. "We were impressed to see how these local communities welcomed us so warmly as an opportunity for their economy."
The choice of South Carolina as the location for these data centers was not accidental. The state's abundance of clean energy sources played a significant role in the decision-making process. One of the data centers, the Pacolet facility, is situated just 3 miles away from two hydroelectric generation plants operated by Lockhart Power, a major renewable and clean energy supplier in the region. Additionally, the Anderson data center is equipped with Hitachi's environment-friendly dry type distribution transformers, and it will serve as a vital resource for Duke Energy in strengthening the local energy grid by returning excess power when needed.
"The opening of these new data centers is perfectly in line with our commitment to expand our fleet on clean energy resources," said Andrey Kim, the CEO of GDA. "Our goal is to be industry leaders and show the world that Bitcoin mining can be very ESG-friendly."