Over the past two weeks, bitcoin cash has experienced a significant surge, increasing 182% against the U.S. dollar and attracting more hashrate to its network. Approximately 22 bitcoin cash mining pools are now allocating SHA256 hashrate to the chain as BCH is currently 2.7% more lucrative to mine compared to BTC.
Bitcoin Cash Hashrate Sees Surge in Interest as Mining Profitability Outshines Bitcoin
In the last 24 hours, the crypto market has been quite unstable, particularly following the release of May's personal consumption expenditure (PCE) data by the U.S. Department of Commerce, which showed a 0.1% increase.
Although several major cryptocurrencies lost value in response to this news, bitcoin cash (BCH) remains up by over 20% in just one day and more than 100% in a week. Two-week statistics reveal a 182% increase for BCH, while it is up 158% over the past month.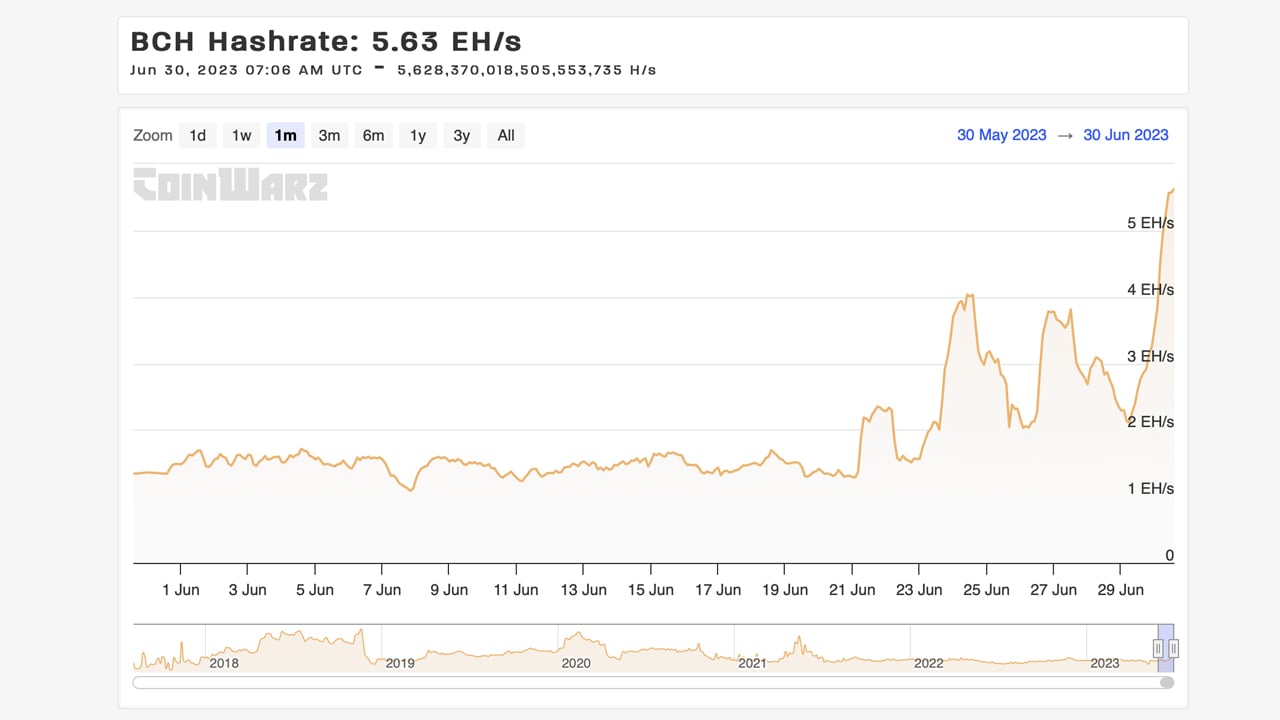 This recent upswing in BCH's value has prompted miners to direct significantly more hashrate toward the network. As of June 30, 2023, data reveals that BCH's hashrate stands at around 5.6 exahash per second (EH/s).
This is a substantial leap from May 11, 2023's rate of approximately 1.55 EH/s, which then saw a major spike on June 21st. Presently, on Friday, about 22 mining pools contribute hashpower to BCH, with Viabtc leading the charge with 603 petahash per second (PH/s).
Following Viabtc's contribution are Antpool, Zsolobid, F2pool, Pool Moscow, Trust Pool, and Poolin in descending order. Present statistics from Coin Dance reveal that as of June 30th, mining on the Bitcoin Cash blockchain yields a profit 2.7% higher than that of its SHA256 counterpart BTC.

Although BCH's current hashrate is remarkably higher than it was a few weeks ago, it still falls short of the all-time high of 14.36 EH/s recorded at block height 622,407 on February 15, 2020. So far, the upward trend suggests that both the BCH's USD value and overall hashpower have endured, but only more time will confirm if this outcome will sustain.