Crypto mining operations are a great source of revenue until the price of the mined asset is well above a certain threshold. After that, it's a headache for miners as well as regulators and the general public. Tether, the issuer of USDT, recently announced an initiative for Bitcoin (BTC) mining in Uruguay.
Uruguay a Perfect Place to Set up Mining Shops
Tether CTO Paolo Ardoino said, "By harnessing the power of Bitcoin and Uruguay's renewable energy capabilities, Tether is leading the way in sustainable and responsible Bitcoin mining." He added that,"Our unwavering commitment to renewable energy ensures that every Bitcoin we mine leaves a minimal ecological footprint while upholding the security and integrity of the Bitcoin network."
The company chose Uruguay for its renewable energy resources. 94% electricity generation in the country is done through these power sources only. The South American nation's reliable grid system can cope up with modern industry demands, rendering it a perfect ground to set up crypto mining shops.
Proof-of-work (PoW) blockchains require heavy electricity to mine crypto assets. Traditional fuel usage leads to greenhouse gas emissions which in turn deliver a negative impact on climate. Tether's initiative might hopefully prove an aid to the environment.
According to Blockchain.com, a Bitcoin blockchain explorer, BTC hashrate reached its all-time-high near 440.7 Million terahash per second on May 1, 2023. It plunged close to 156 Million during December last year. China's crackdown on the sector in 2021 sent a huge blow to Bitcoin hashrate considering the Dragon accounted for almost two/third of global crypto mining operations.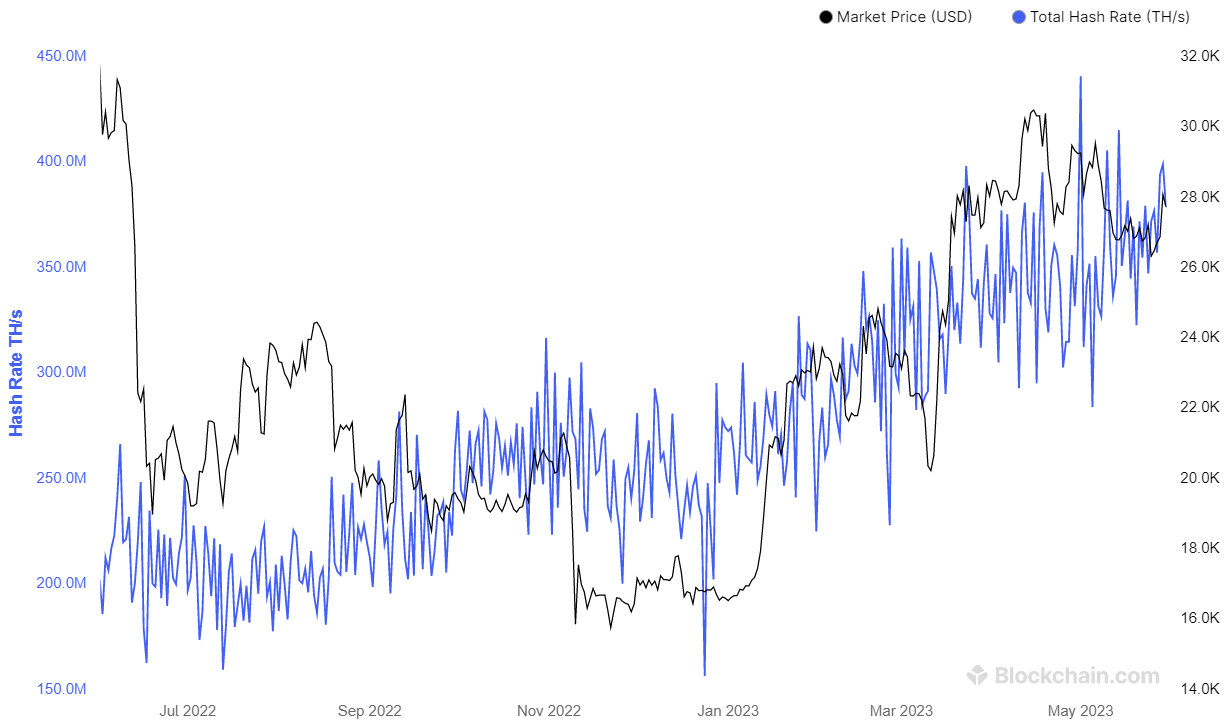 Source: Blockchain.com
Bitcoin was trading at a market price of $27,099 at publication time. The flagship crypto asset currently holds 46% sector dominance according to CoinMarketCap. Moreover, with the arrival of Ordinals, experts believe that the future of the flagship crypto asset is remarkably great.
Crypto Mining is Still a Peril Against Environment
Rocky Mountain Research, a sustainability-focused research organization, highlights that Bitcoin consumes around 127 TWh annually, more energy than the power required to light up a country. Furthermore, crypto activities in the U.S. leads to 25 to 50 Million tons of carbon emissions.
Price fluctuations influence crypto mining operations, and hence, the environment. While increased value may convince a miner to use clean energy as a fuel, weak prices may cause them to turn towards cheap energy leading to greenhouse gas emissions. As of now, fossil fuel remains the primary energy source in mining ops.
The U.S. is the leading nation in terms of development of technology and crypto services. However, it can prove a hindrance for the nation to attain the target of net zero emissions by 2050 considering how energy intensive these assets are. Companies are coming up with innovative ways to generate power to reduce carbon emissions.
Crusoe, an energy-focused company, is developing technology to capture energy from flaring. The process is necessary to prevent potential explosions from underground pressure. Russia is currently the leading nation involved in the activity. The World Bank, an international financial institution, has urged countries to stop flaring by 2030.