The White House is pushing to tax cryptocurrency miners to "pay their fair share" for the costs inflicted on local communities and the environment.
Electricity used in crypto-mining was similar to what is used to power all of the country's home computers or residential lighting, the White House's Council of Economic Advisers noted in a blog post published on Tuesday.
Crypto-mining usage was more than computers, clothes washers and dishwashers among U.S. homes, according to a chart within the post.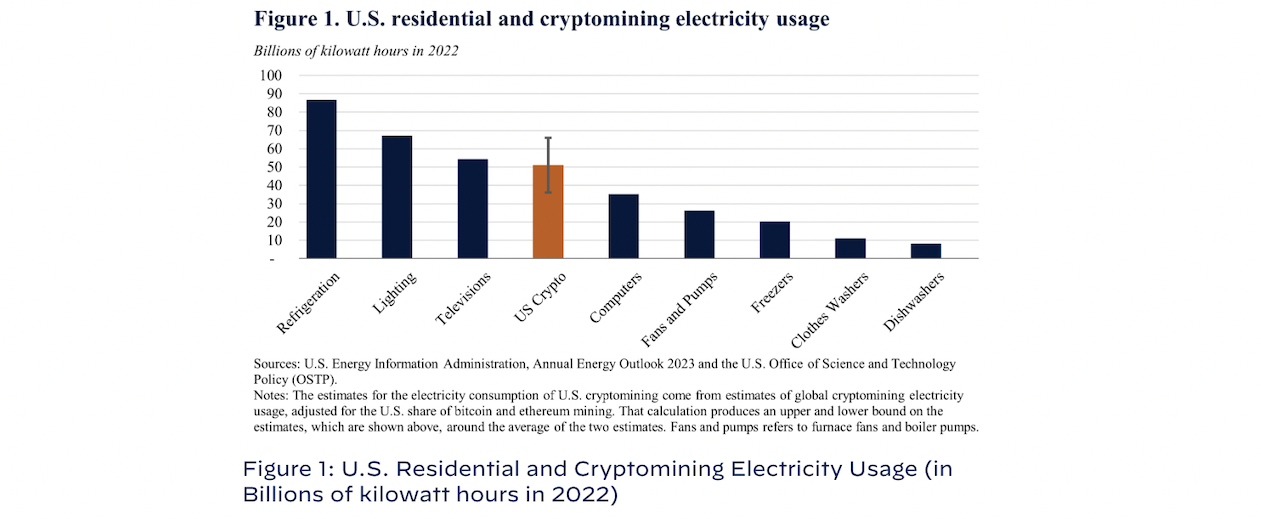 The Biden Administration proposed what is dubbed the Digital Asset Mining Energy excise tax, or DAME, in its budget for fiscal year 2024 in March.
Under that proposal, firms would contend with a tax equal to 30 percent of the cost of the electricity used.
The tax would be implemented next year and phased in gradually over a period of three years at a rate of 10 percent a year to then reach the target 30% rate by the end of 2026, according to previous cryptonews reporting.
"Currently, cryptomining firms do not have to pay for the full cost they impose on others, in the form of local environmental pollution, higher energy prices, and the impacts of increased greenhouse gas emissions on the climate," the council said on Tuesday. "The DAME tax encourages firms to start taking better account of the harms they impose on society."
Pollution from generating electricity falls disproportionately on low-income neighborhoods and communities of color, the council said.
The Council of Economic Advisers is an agency within the executive office of the president and is charged with advising the president on economic matters.
"Cryptominers' intensive and often volatile power consumption also can push up electricity prices for consumers and can increase risks for local electrical grids—straining equipment, causing service interruptions and safety hazards," the council said.
Environmental concerns
President Biden has been very vocal about fighting the climate crisis with plans to reduce U.S. greenhouse gas emissions 50-52 percent below 2005 levels in 2030 and achieve net-zero emissions by 2050.
Congress would have to bring up the tax proposal since it has the sole authority to enact legislation.
That may be unlikely given that Republicans have control over the House of Representatives.
Many Republican lawmakers have been unfriendly to tighter restrictions on crypto, while cheering on innovation in the sector.
Condemnation on Twitter
Some, including former White House Communications Director Anthony Scaramucci, took to Twitter on Wednesday morning to criticize the tax.
Former U.S. Commodity Futures Trading Commission's Brian Quintenz argued against the administration's views on how electricity is used.
"So, apparently it doesn't matter where the electricity comes from - coal, gas, 100% renewable, etc. If the government doesn't like how you USE the energy, you'll be penalized," Quintenz said.

Quintenz was a Republican commissioner at the CFTC and now is head of policy at crypto venture capital firm Andreessen Horowitz, also known as a16z.