The Council of Economic Advisers announced that it would push for a 30% tax on crypto mining to combat its effect on the environment. The new tax is called the DAME tax and will have a phase-in period.
The Biden administration is attempting to tack a 30% tax on cryptocurrency mining, according to an official announcement published by the Council of Economic Advisers. The latter believes that the crypto mining industry is associated with a strong negative impact on the environment and that this must be countered.
DAME Tax Proposed by the CEA
The new tax is called the Digital Asset Mining Energy (DAME) excise tax. It is a bid to hold crypto companies accountable for their environmental impact. The concern about environmental costs has been discussed frequently over the past year. The United States is not the only country deliberating related actions.
The CEA proposed the tax rules, which would come into effect after a phase-in period. The tax would be equal to 30% of the cost of electricity used. The body feels that this is necessary because currently, crypto mining firms "do not have to pay for the full cost they impose on others, in the form of local environmental pollution, higher energy prices, and the impacts of increased greenhouse gas emissions on the climate."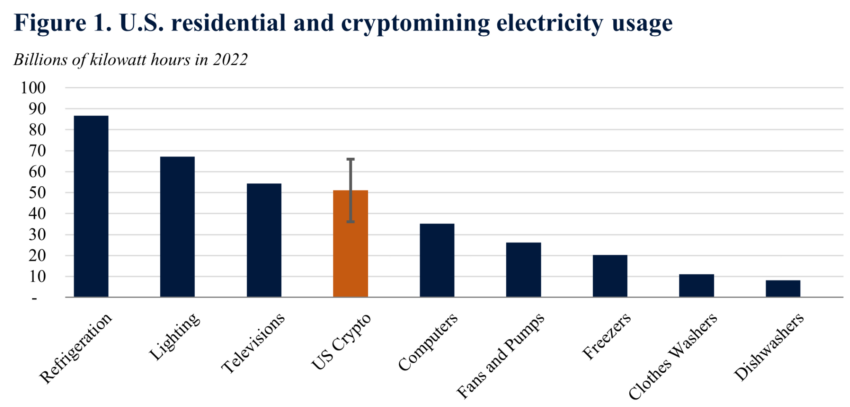 Cryptomining Electricity Usage: The White House
The CEA's post also references a New York Times article, which was criticized by the crypto industry, that spoke of the impact of 34 crypto mining operations. It also said that there are environmental impacts when clean energy sources are used for mining.
Crypto Community Calls DAME Tax Unfair
The crypto mining community has called the DAME tax unfair. They have also stated that the tax does not incentivize the use of clean energy. Even those outside the crypto space have criticized the structure of the tax scheme.
Riot Platforms VP of Research Pierre Rochard, who criticized the NYTimes article, said that it was "the worst moment imaginable for the White House to be drawing attention" to Bitcoin.
Rochard also criticized the current state of the global financial system, specifically the banking system. Others focused on the fact that other industries were also culpable of some of the issues mentioned in the post.
Crypto Mining Popular in the US, but There's Some Pushback
Bitcoin mining has surged in the United States since China banned crypto mining. Bitcoin mining stocks have also outperformed tech stocks in 2023, with Core Scientific being the biggest gainer.
However, the environment for cryptocurrency mining is changing. North Carolina recently discussed enforcing a moratorium on crypto mining, not long after Texas also removed mining-related incentives.