Bitcoin hashrate fell by 35% in 24 hours as several miners in the US powered off their machines due to the harsh winter storms in the country.
According to BTC.com, the hashrate fell to 156 EH/s on December 24. In the 14 days before that, the average hashrate was 237 EH/s. The winter storms in the US have already led to the cancellation of thousands of flights.
The effects of the storms, such as power outages, also mean that Bitcoin miners have had to shut down. Website tracking utility reports PowerOutage, said that over 1.4 million homes and businesses are in the dark.
With energy suppliers urging for the conservation of electricity, it is not surprising that Bitcoin miners are also shutting down. However, the hashrate appears to have picked up again and is now at 234.26 EH/s as of press time.
Texas Miners Voluntarily Shut Operations
But the significant decline in hashrate has raised questions about how centralized Bitcoin mining is and what this could mean for the network. CEO of Satoshi Act Fund, Dennis Porter, noted that the network worked as designed. He compared this with big tech companies such as Amazon and Google, noting that if one-third of their data centers went offline, the impact would be very different.
Porter, citing data center operator Lancium's decision to shut its operation, added that this was evidence that miners are good for the grid.
Since China banned Bitcoin mining in 2021, the US has taken an increasingly important role in Bitcoin mining. Several miners are based in Texas because of its cheap power and favorable regulations -these mining firms tend to shut down when grid demands increase massively.
Meanwhile, FutureBit founder John Stefanop said the hashrate going offline is due to highly centralized miners.
According to him, the Bitcoin network is too dependent on weather and geological disruptions. Due to weather events in the US alone, transactions are now 30% slower on the Bitcoin network. He added:
"If hashrate was distributed evenly around the world by 10's of millions of small miners instead of a few dozen massive mines, this event would not have even registered on the network."
BTC Price Performance
Over the last 24 hours, BTC declined by 0.05% to $16,832 as of press time. According to available data, the flagship digital asset has enjoyed enormous patronage from retail investors who have found the asset's current price attractive. On the other hand, Bitcoin whales have been selling their holdings due to the bear market situation.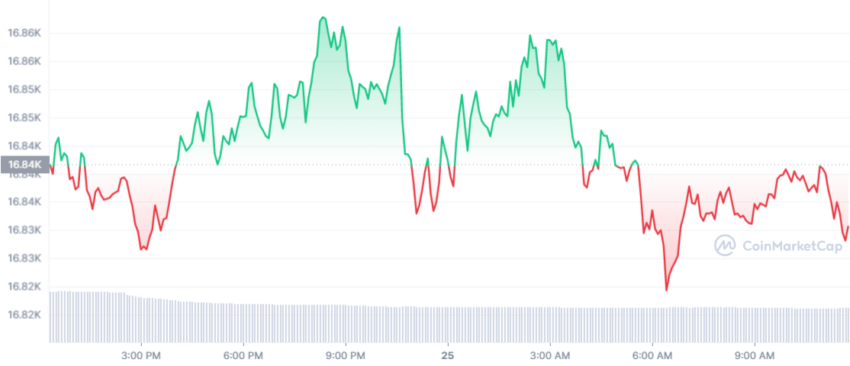 Source: CoinMarketcap