Back to the list
Universal Token Gamers Can use Across All Metaverses
beincrypto.com
20 May 2022 00:29, UTC
Reading time: ~2 m
---
Universal token: A new blockchain gaming token used in conjunction with a seamless transfer system means that gamers only need one single token across all platforms. This token is expected to enable a fully connected metaverse. Players will be able to move seamlessly between virtual worlds.
The blockchain gaming outfit behind this token is called Pocketful of Quarters. And they mean business. They have been granted a patent for the innovative new way to move assets across different games. They call it a 'Zero-Click' transfer.
Zero-Click lets gamers play games with in-game tokens, NFTs and cryptocurrencies. But they don't have to use hardware wallets, browser extensions, or other complex web3 experiences.
Quarters is the first interoperable game token on the blockchain. Currently, it can be used across more than 100 games and platforms. But the company expect more companies to sign up.
Michael Weiksner is the co-founder and CEO of POQ. "Players want the metaverse to be fun, safe and interoperable, but today's video games are fragmented, with millions of incompatible virtual currencies and experiences."
Universal Token: How it Works
After logging into POQ, Zero-Click stores public and private keys. Each gamer can both use and earn game tokens, NFTs, and cryptocurrencies with participating games. But they don't have to go through separate paywalls. And they don't have to buy separate premium game tokens in each game.
Zero-Click uses Quarters (Q), this is the universal game token on the blockchain. Quarters is a game-agnostic and platform-agnostic digital currency. It lets players seamlessly move tokens and assets between games. They can do this across hundreds of genres and gaming titles and genres.
Says Weiksner, "We're always looking for new and innovative ways to make video games better for players. Zero-Click makes playing games easy, seamless, and hassle-free, and with Quarters, friends and competitors can finally have one premium game token that is interoperable and compliant."
For Developers
Quarters say that the cross-platform currency also gives more flexibility to developers over how they "build, distribute, monetize and cross-market games, ultimately empowering them to create rich, new multiplayer experiences without losing creative and economic control to publishers."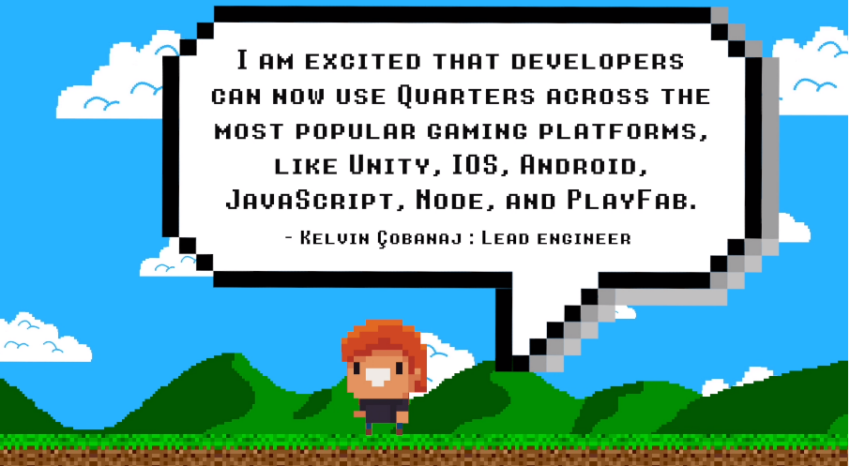 The company also say that POQ offers Q2 tokens. "It is a unique governance and burn tokens that allow investors to participate in revenue through the sale of Quarters. Q2 tokens give players, influencers, developers and investors the ability to help govern the new Quarters multiverse."
---
Source
---
Back to the list