Back to the list
Shiba Inu Metaverse On Fire, Unveils First Concept Art of A New Hub " Tech Trench"
thecryptobasic.com
16 November 2022 09:35, UTC
Reading time: ~2 m
---
Shiba Inu Metaverse Unveils the First Concept Art of A New Hub " Tech Trench."
The team behind the development of Shiba Inu Metaverse has unveiled the project's first concept art of a new digital location.
According to a blog post today, the team has shared the first concept art of the new hub, dubbed Tech Trench, to give users an idea of its role.
The blog post stated that the idea of the Tech Trench hub was to create an immersive environment in ancient times, which evolved into a hyper-technological space as community members acquire relevant knowledge and education.
"This hub allows for a deeper connection with the cultural reassurances and lessons learned from the innovative and daring journey SHIB as a project & community has endured," the blog post read.
Concept of Tech Trench
Shiba Inu describes Tech Trench as a digital location where users can find community distribution of cultural learning experiences, majorly for people who shape the future of educational foundations and decentralized ecosystems.
A black and white image was attached to the blog post showing the first concept of the SHIB Metaverse Tech Trench.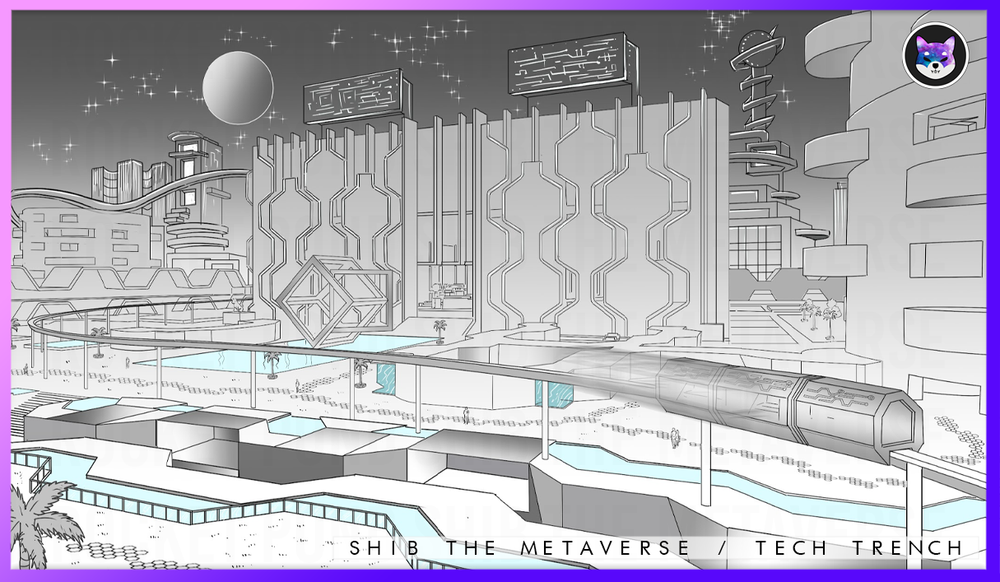 Inspiration Behind the Design of Tech Trench
Notably, the visual concept of the new hub's design was inspired by different learning environments, such as three universities in the U.S., including Princeton University, Yale University, and Mori Hosseini Embry Riddle Aeronautical University.
SHIB Metaverse's Tech Trench design inspiration also comes from Japan's Otemon Gakuin University, Switzerland-based Rolex Learning Center, Nanyang Technological University in Singapore, and Mode Gakuen Cocoon Tower in Japan.
While making up the first art concept of Tech Trench, the developers also got their inspiration from different faunas such as owls, ravens, magpies, crows, etc.
The development team has scheduled a Fireside chat for November 18, 2022, at 01:00 (UTC) to share more details about the newly unveiled SHIB Metaverse hub. The Fireside chat will take place on the official Shibtoken discord channel.
Efforts Towards the Success of SHIB: The Metaverse
It is noteworthy that the release of the first concept art of Tech Trench comes hours after the team shared the third concept for the Dunes hub. Shiba Inu and its partner, THE THIRD FLOOR, have been committed to the success of the SHIB-themed metaverse. The teams have made significant progress toward this goal, including onboarding top entertainment veterans like Marcie Jastrow to strengthen the team further.
In addition, the metaverse team has also released the concept art of other important project hubs such as Canyon, WAGMI Temple, and Rocket Pond.
---
Source
---
Back to the list