Singapore-based exchange, Bitrue experienced a hack that lost them a total of $4.5 million worth of XRP and Cardano (ADA) just couple of hours ago. 
Crypto exchange, Bitrue just experienced a hack just couple of hours today. The exchange announced the incident via their official Twitter account.
Before explaining the details about the hack, the team assures their 16.6K followers about the current status as well as the lost funds.
"First of all, please let us assure you that this situation is under control, 100% of lost funds will be returned to users," Bitrue team tweeted.
They continued by saying, "And we are reviewing our security measures and policies to ensure this does not happen again."
The hack that lost them about USD 4.5 million in XRP and Cardano (ADA), with current price, happened on June 26th at 5pm, when a hacker exploited a vulnerability in the exchange's Risk Control team's second review process to their 90 users' funds.
The hacker used what they learned from this breach to then access the Bitrue hot wallet and move 9.3 million XRP and 2.5 million ADA to different exchanges.

— Bitrue (@BitrueOfficial) June 27, 2019
Fortunately, the team realized the attack soon after, immediately suspended the activity and notified receiving exchanges, such as Huobi and Bittrex to freeze the funds and accounts.
The attack was soon detected, and activity was temporarily suspended on Bitrue. We alerted the receiving exchanges about the situation, and wish to extend our thanks to @HuobiGlobal, @BittrexExchange and @ChangeNOW_io for their help in freezing the affected funds and accounts.

— Bitrue (@BitrueOfficial) June 27, 2019
As of now, the exchange is still down for "unexpected maintenance" as can be seen on the website.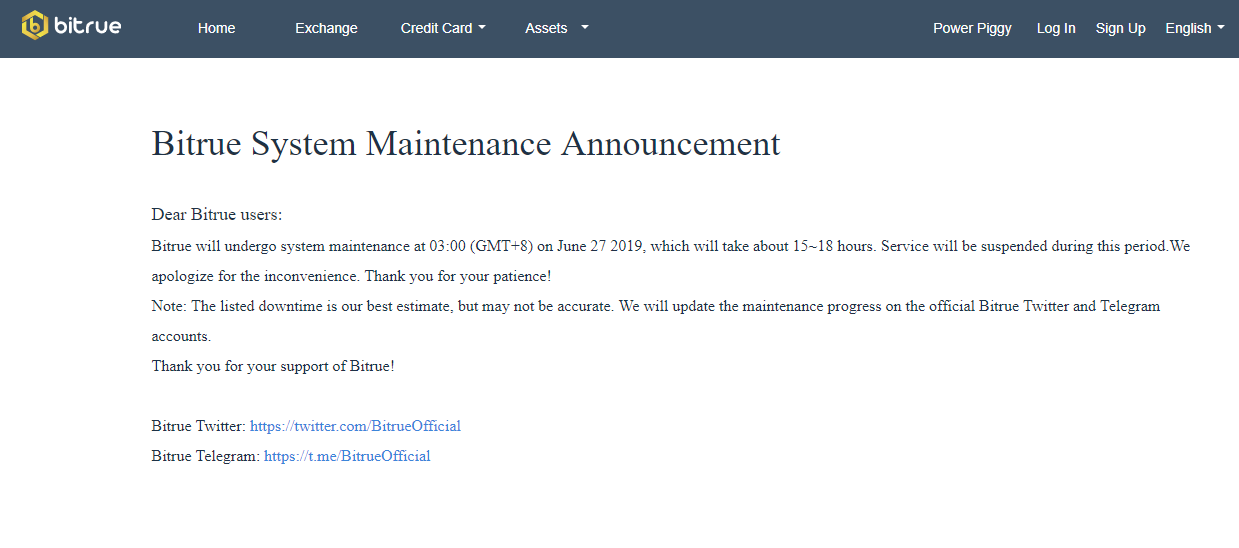 Bitrue reiterated that all affected funds will be replaced and that all funds are insured, while also informing the steps they take to handle the incident.
We have also contacted the relevant authorities in Singapore to assist us in tracking down the culprit and retrieving the stolen funds. We will update everyone when we have more news to share.

— Bitrue (@BitrueOfficial) June 27, 2019
Lastly, the team also provided a link through which users can track the stolen funds.
The flow of the stolen funds can be tracked here - https://t.co/oH5GWmJjdG . If you have any information about this breach, please contact us at support@bitrue.com or DM us on twitter, @BitrueOfficial

— Bitrue (@BitrueOfficial) June 27, 2019
The responses for the announcement are mostly very supportive, given the transparency of the Bitrue team regarding the incident.
As long as it's resolved I'm not mad.. that's for being transparent.

— Ant Man (@Anthony77101057) June 27, 2019
Thank you @BitrueOfficial for being a class Act. 🎉🥳 A great way to regain trust and build credibility.

— Kasum Capital (@Kasum_Capital) June 27, 2019
Thanks for the update! Your team are handling an exceptionally difficult circumstance with integrity and professionalism. I have no doubt @BitrueOfficial will be stronger and more prepared moving forward @Curis_Wang

— Jstified (@jstb4udie) June 27, 2019