Back to the list
EU Antitrust Boss Flags Facebook Crypto Libra for Monopoly Risks
www.ccn.com
05 September 2019 21:30, UTC
Reading time: ~3 m
---
EU regulators are investigating if the Facebook Libra "cryptocurrency" poses a threat to competition by being a potential monopoly.
Margrethe Vestager is the outgoing antitrust chief of the European Union. She's gravely concerned that Libra could violate antitrust laws.
EU: Facebook Libra must not stifle competition
To address this, Vestager says European regulators are examining the potential anti-competitive threats posed by Libra.
"We can even look at new services even before they're introduced," Vestager said at a conference in Bergen, Norway. "That's what we're doing right now, with Facebook's plan for a new cryptocurrency, known as Libra."
"We're looking at whether those proposals create risks for competition, so we can be ready to act swiftly if an intervention were to prove necessary."
'Competition makes champions'
Vestager says it's important to deter monopolies because "competition makes champions."
It does so by forcing corporations to do better to serve customers, she explained. And "our job is to protect consumers."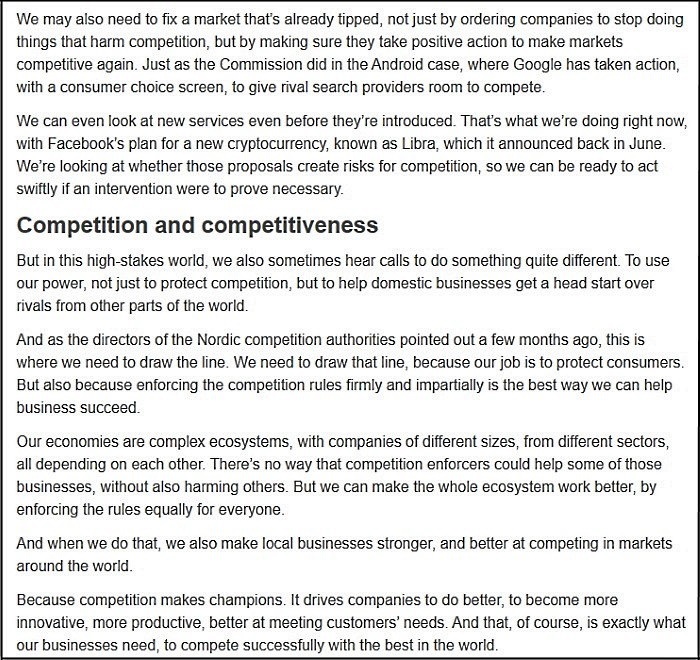 ECB: Libra is 'treacherous and cartel-like'
Margrethe Vestager joins a growing chorus of European regulators who are sounding the alarm about the potential risks posed by Libra.
As CCN reported, a member of the European Central Bank's executive board blasted the "treacherous, cartel-like" Facebook Libra.
Earlier this week, Yves Mersch warned that the Libra network will be centralized and will essentially operate like a monopoly. After all, Facebook is itself a social media monopoly.
In contrast, cryptocurrencies like bitcoin brag that its hallmark is its decentralized network that democratizes financial services.
ECB Exec Rips 'Cartel-Like' Facebook Libra in Blistering Takedown https://t.co/LX6xyGMqr8

— CCN Markets (@CCNMarkets) September 2, 2019
Notably, Mersch warned that Facebook's data-breach scandals prove that Libra poses a risk to the public. Why? Because "unaccountable private entities with a questionable track record in matters of trust" should not be entrusted with people's confidential financial data.
Some US lawmakers declare war on Libra
In the United States, some lawmakers are demanding that Libra be banned — before it even launches.
Congresswoman Maxine Waters is urging Facebook to suspend development on Libra because she's concerned that it could be used to facilitate money-laundering and terrorism financing.
Similarly, Democratic Congressman Brad Sherman is so alarmed by the potential dangers posed by Libra that he's calling for a ban on bitcoin and all cryptocurrencies.
Sherman claims the ban is necessary because cryptocurrencies like bitcoin and Libra will undermine the U.S. dollar and will only be used for criminal activity.
Meanwhile, venture capitalist Fred Wilson chirped that Libra is a "bright spot" for the crypto industry.
In a blog post dissing Ethereum, Wilson praised Libra and bitcoin, saying they're driving the future of the crypto-sphere.
While many bitcoiners agree with Wilson's bullish outlook on bitcoin, some are not sure that his fortune-telling skills are reliable.
Flashback: In 2017, Wilson ominously predicted that the market cap for Ethereum's ether token would crush bitcoin's by the end of that year. As we all know, that never happened.
Click here for CCN's real-time bitcoin price chart.
---
Source
---
Back to the list