The top Russian anti-money laundering regulator says that it is "monitoring" over 25,000 crypto users – and claims it has sophisticated tools that let it detect illegal activities.
Per Finam, Yury Chikhanchin, the head of the Federal Financial Monitoring Service (Rosfinmonitoring) recently held a crypto-themed meeting with President Vladimir Putin.
Rosfinmonitoring is a federal executive body charged with combating money laundering and terrorist financing. It answers directly to the offices of the President.
Chikhanchin was quoted as stating that "unfortunately," the "volume of use" of "cryptocurrencies" was "growing" in Russia.
The Rosfinmonitoring chief said that the body was "unsettled" by the growth of crypto. And he said the agency suspected cryptoassets were being used as a money laundering tool in many instances.
He said:
"We are monitoring more than 25,000 participants in [crypto-related] operations. Some 10 financial organizations have been identified. We believe that they are assisting these participants."
He claimed that Russia's crypto "turnover" is "in the region of over Bitcoin (BTC) 630,000."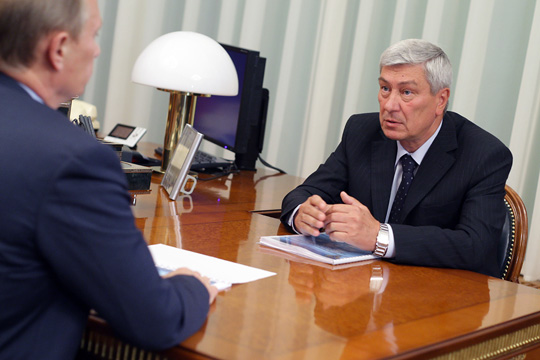 Yuri Chikhanchin, the long-serving head of Rosfinmonitoring, meeting with President Vladimir Putin. (Source: premier.gov.ru/CC By 4.0)
Chikhanchin added that Rosfinmonitoring had conducted "about" 120 crypto-related investigations, which had led to "more than 60" criminal prosecutions.
How Is Russian Regulator Monitoring Crypto Users?
The Rosfinmonitoring chief claimed that advances in blockchain analytics software had helped the body increase its monitoring capabilities. In 2020, the body began using a de-anomyzing solution in conjunction with VTB Bank.
The solution initially allowed the parties to monitor transactions on the Bitcoin blockchain protocol.
But the parties have since expanded the capabilities of the software, Chikhanchin said. He stated that the same tool could now be used to monitor "over 20" blockchain networks.
The regulatory chief noted that testing with the same tool was now "underway" at other government organs, such as the Ministry of Internal Affairs, the Federal Security Service, and the Investigative Committee.
Chikhanchin concluded that regulators in "a number of Commonwealth of Independent States countries" had asked Rosfinmonitoring to provide them with the solution.
Earlier this week, some of the leaders of Russia's cryptoasset and blockchain industry said they wanted to meet Putin for face-to-face talks about crypto regulation.