Apart from a brief spike and the subsequent sharp retracement, bitcoin has remained relatively calm, around $54,500. In contrast, some altcoins continue with charting gains against it and have reduced BTC's market dominance even further to below 49%.
Bitcoin's Unsuccessful Attempt to Breakout
After bitcoin bounced off from its 3-week low at $47,000 on Monday, the cryptocurrency has been primarily trading around $54,000 – $55,000. The asset tried on a few occasions to surge higher, as reported a few days ago but failed at just shy of $56,000.
The situation seemed somewhat similar yesterday as BTC was calmly trading around $55,000 again. However, the much-anticipated Facebook Q1 earnings report, which crushed rumors alleging that the social media giant holds bitcoin on its balance sheet, impacted the asset's price.
In the moments before the paper went public, BTC's price spiked to a new weekly high of $56,500 (on Bitstamp). But, as it became apparent that bitcoin was not even mentioned in the report, the asset quickly retraced to its previous price line.
In the following hours, BTC dipped to an intraday low of $53,500 but has recovered roughly $1,000 since then. Consequently, bitcoin's market capitalization remains above $1 trillion.
However, the primary cryptocurrency's market dominance keeps suffering as altcoins continue to outperform it. The metric comparing BTC's market cap with all other crypto assets is down to a new near 3-year low beneath 49%.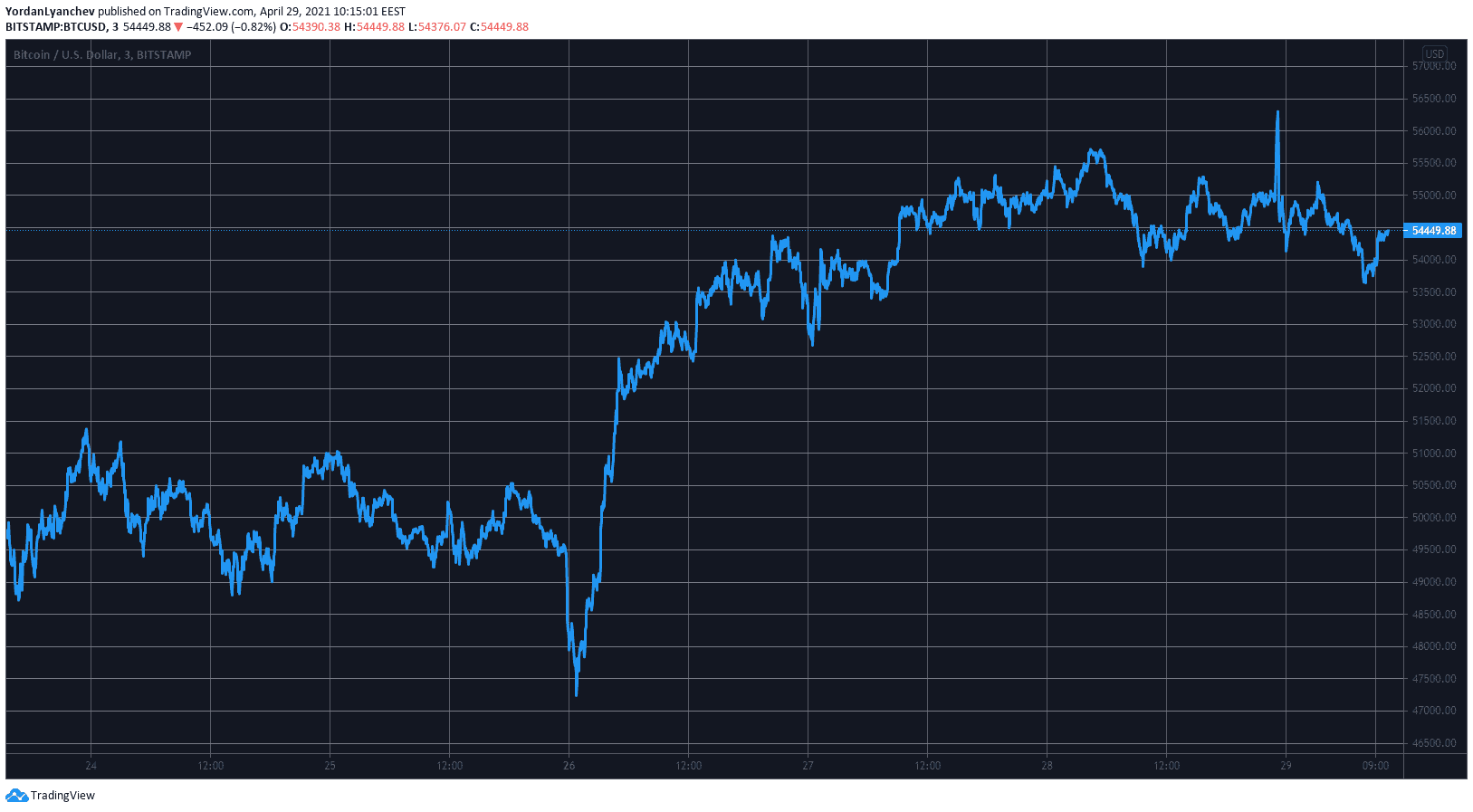 Alts in Green; ETH's Latest ATH
As mentioned above, most alternative coins have performed quite well lately. Ethereum has led the charge with impressive gains which only intensified in the past 24 hours. The second-largest crypto spiked to a new all-time high above $2,700 as reported, but it didn't stop there.
ETH jumped to yet another record hours ago – this time above $2,760. Binance Coin (5.5%), Ripple (7%), Cardano (9.5%), Polkadot (3.5%), Litecoin (2.5%), Chainlink (1.6%), and Dogecoin (1.3%) are also well in the green.
Uniswap's governance token has surged the most from the larger-cap alts with a 12% increase. As a result, UNI trades well above $42.

Even more notable gains come from Fantom (54%), 1inch (20%), Chiliz (20%), Polygon (18%), PancakeSwap (17%), Theta Fuel (15%), ICON (14%), Decentraland (12%), and Enjin Coin (12%).
Ultimately, the cumulative market capitalization of all crypto assets has neared $2.1 trillion.
---