Back to the list
Turkish Lira Volatility Raises Banking Sector Concerns Ahead of Bitcoin Regulations
www.trustnodes.com
26 April 2021 19:13, UTC
Reading time: ~7 m
---
Speculation is hot on Turkish Lira (TRY) currently with it seeing significant volatility as it touched 8.5 to the dollar.
It quickly dropped within minutes down to 8.28, bouncing off to 8.3 currently, as the currency clearly faces resistance with many bets off if it does take that 8.5.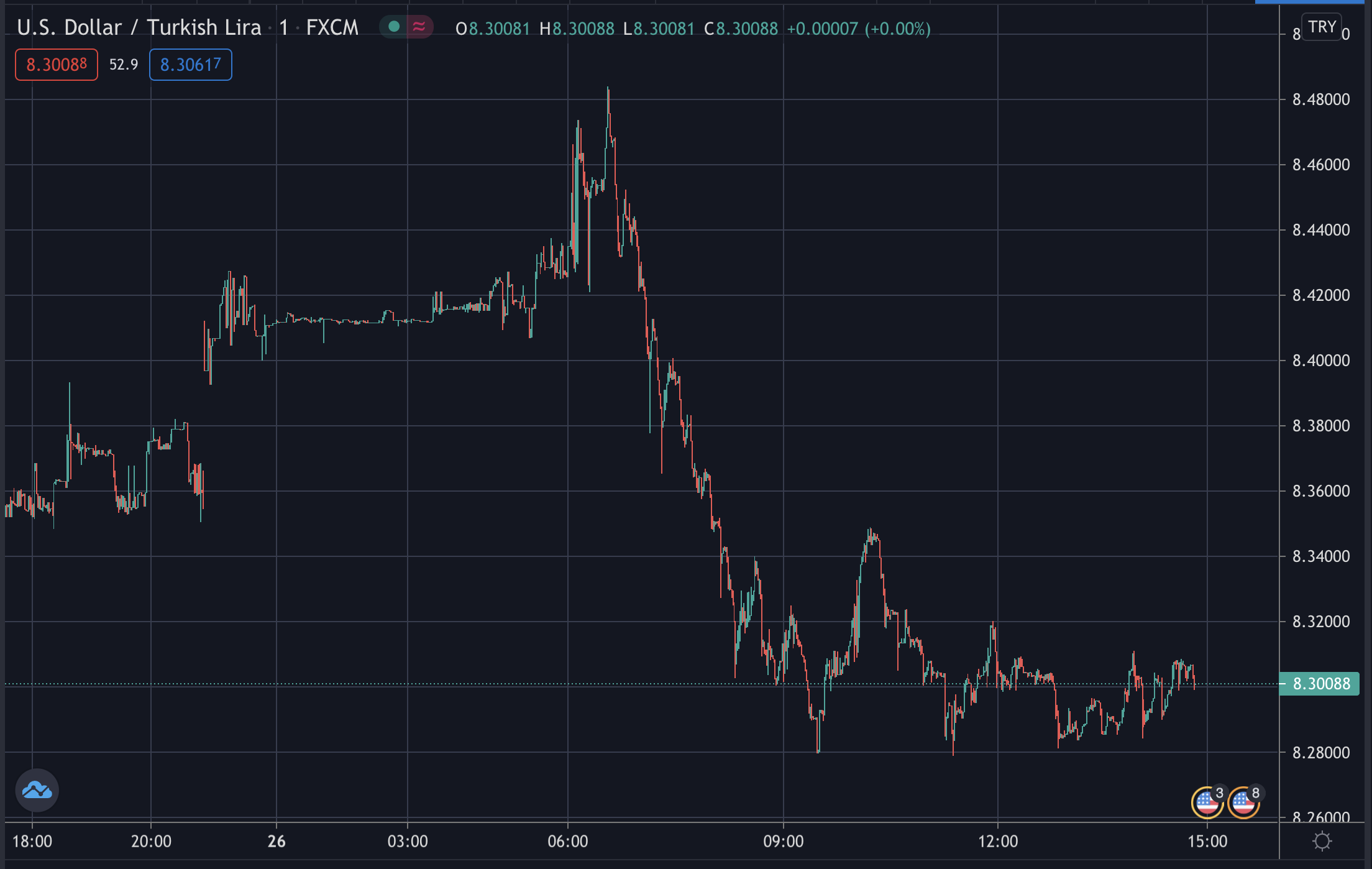 The new Central Bank Governor Sahap Kavcioglu has ruled out any interest rate increases, leading to much speculation whether interest rate cuts are on the table.
Turkey's inflation is the highest in Europe and one of the highest in the world at 16.19% with the previous chief increasing interest rates from 10% to 19%, to only see inflation rise almost in step.
That has led Recep Erdogan, the elected Turkish president, to form a theory that the rise of interest rates is what causes inflation, so lowering them lowers inflation too.
Past Turkish data appears to somewhat support this, but a distinction is necessary between internal inflation and foreign or external 'inflation' because interest rates may well also affect the latter, in particular the value of Turkish Lira against other fiat money.
What also affects the latter is speculation, the betting on not just the present situation, but also how it might develop.
There, the big question in Turkey is: where is $128 billion. This is the purported sum used to prop up the lira when Berat Albayrak, Erdogan's son-in-law, was the chief back in late 2018 and in 2019.
Erdogan said the sum is actually $165 billion, and apparently they've been turned from assets to liabilities. So can be used "again when needed" according to Erdo.
Looking at the above chart some may wonder whether they haven't just been used, but the public is probably in a wondering mood following the optics of the Turkish police taking down a banner asking where is $128 billion at the opposition's HQ.
In any democracy, such act would be accompanied by wide protests, which is perhaps why, according to the opposition, they came furnished with water canons and riot police.
As it happened, the opposition just put up the banner again, but foreign reserves have increased by 20% in the Turkish system last year.
They are not out of ammo. Earlier this April Fitch said "liquidity is sufficient to cover a short-lived market closure and a moderate outflow of foreign currency deposits."
With each weakness of the Lira, it becomes harder to serve foreign debt, something that in 2018 led to Turkish banks being shut out from international markets.
"The good news is that, for now at least, borrowing costs have jumped since the sacking of Mr Agbal, but not to the extent that these banks are locked out of international capital markets. Under Mr Agbal, banks utilised that period to rebuild some of their FX holdings at the central bank," says Jason Tuvey of Capital Economics.
Amid all this, the little known new chief Kavcioglu, has come out to say they've seen an "alarming" amount of funds leaving the country with cryptocurrency.
He has come out to say they have no plans to ban crypto altogether, but they will come out with regulations within two weeks, as was expected.
That's what Erdogan's chief advisor, Cemil Ertem, said before him. Meaning this is a government decision, rather than a central bank diktat, although it is very unclear how the government can make such law to ban crypto payments without going through due process.
It is somewhat clear however that this indicates they are worried about capital outflows, but they are perhaps walking blind as we have seen no evidence more money is going out than in through bitcoin.
We suspect both chiefs, whether this noob Kavcioglu or Ertem, have probably no clue whatever about bitcoin or much related to it based on their cowboy approach of shoot first – banning payments – and then ask questions later – regulations.
It's a confrontational and hostile approach towards an innovative sector that not only can play chess but has invented it – the digital version.
Suggesting thus Erdogan lacks young smart people around him. The grandpa of course can't be expected to have much of a clue while managing ten wars, but presumably he has sons, and if he doesn't, his key ally does to the right of him.
We'll only say that bitcoin is misunderstood, especially at these levels. Regulations of course are necessary, but it is perhaps somewhat unfortunate that the only 'regulation' is trial by fire which the west went through in 2013 with MT Gox and South Korea went through in 2017 and Turkey is maybe going through right now where exchange security is concerned.
The state can not only assist but may be necessary to facilitate the upgrade of finance. However as China learns by the day, in this space the state is subservient to the citizens – whatever form that state might have – in fact and not just words.
If bitcoin is being used for capital outflow, you need to figure out how it can be used for inflow, and banning payments with it is certainly not a way of doing it as those payments may come from outside and so be inflow.
If bitcoin is being used to cushion from inflation, and so keep foreign exchange parity, you perhaps need to figure out how the bank can tap into it too, and not muse that ancient outdated gold is to serve forever.
For whether you like it or not, you can not go against a conductor, just as much as you can go against electricity. So you can upgrade your villages from candle-light, or be foolish enough to see Tesla feed pigeons in godly defiance of your lack of autorita.
If thus Turkey is facing another currency crisis, Erdogan may perhaps think it best to get a new mandate from his countrymen and women, with elections this time having as ground observer Merkle herself since she is now retiring, so that whether right or wrong in these twilight matters, the course of action is pursued fully.
For mistakes can be grave as Russia knows too well. Their 90s were not great, but compared to their starving 80s, when breadlines were running wild in the then Soviet Union, the 90s were an era of optimism for Russia.
It could only go up and did, 10% yearly growth in the 2000s, until Putin made the biggest mistake by a leader in our lifetime, by deciding to retake power from Medvedev, and since Russia not only hasn't recovered, but has only fallen economically.
Unlike Putin, Erdogan has not declared himself a Sulltan. And unlike Putin, Erdogan has not played with term limits either. Yet the economic chart of Turkey and Russia are mirroring.
Now knowing what he does, we don't know whether Putin would have taken over again in 2012 if he could go back in time. But Erdogan needs to consider whether ten years hence he can tell himself he was right to do whatever he wants to do without a mandate from the people at this stage.
Turkey needs an election, for ultimately it is for the Turkish people to decide all internal matters that concern Turkey, including their foreign policy and much else.
Without an election, Turkey risks a failure to consolidate its in our view well earned gains as actors in their objective thought can always slide between a lame duck and this is maybe Turkey.
Without a renewed mandate there is little to lower down Biden, and show him as simply self-interested, therefore not quite a voice.
Because after the immense transformation of Turkey and in our view its first sign of mis-stepping by banning bitcoin payments, only a mandate can renew or cement the course.
The opposition apparently has for some time stated Erdogan will call a snap election. We think he should. Let the debate please the pen in Istanbul as Germans have theirs and thus this generation can at least for some moments rule.
Or, wear the name grandpa, someone to be waited, for ours the times.
---
Source
---
Back to the list