Inflation in the United States continues to rise as it climbed at its fastest rate in 40 years since February 1982. Statistics from the U.S. Labor Department's Consumer Price Index (CPI) jumped 7.5% higher than it was a year ago.
US Inflation Continues to Surge
On Thursday, the U.S. Labor Department published its CPI report which shows inflation is not abating any time soon. The Consumer Price Index (CPI) essentially measures the average change over time that U.S. citizens pay for a basket of assorted consumer goods. The CPI for all the items jumped 0.6% last month which increased the country's overall inflation by 7.5% since this time last year. Moreover, core inflation rose to 6% and data further indicates that the citizenry's salaries increased 0.1% on the month.
The news has sparked a great number of conversations on forums and social media. The co-founder of the cryptocurrency exchange Gemini, Cameron Winklevoss said it was an opportune time for the leading crypto asset bitcoin (BTC). "Inflation hit 7.5% in January," Winklevoss tweeted. "[The] highest in four decades. It continues to accelerate. The best way to shield yourself from this pernicious, silent tax on your life's work — your blood, sweat, and tears — is bitcoin," he added.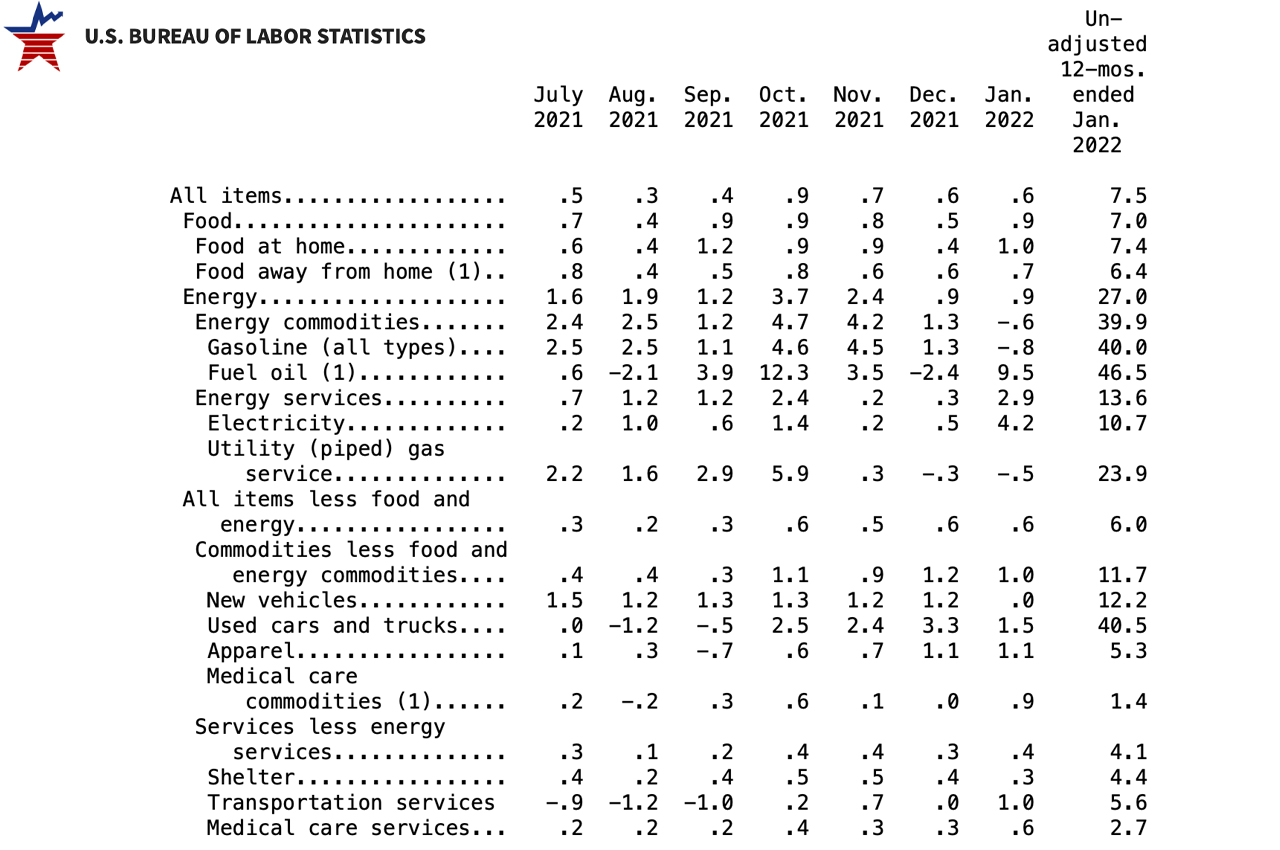 The U.S. Labor Department's CPI report data for January 2022.
The economist and gold bug Peter Schiff threw in his two cents about the rising inflation as well. Today the yield on the ten-year U.S. Treasury hit 2%," Schiff said. "With official inflation at 7.5% and actual inflation much higher, buyers are guaranteed to lose. If the Fed doesn't expand QE the yield will soon hit 3%. If by then QE hasn't been expanded the rise to 4% will be even quicker." Schiff continued:
Because the Fed has no ability to fight inflation without crashing the markets and the economy it pretended that inflation was transitory to justify its failure to start a fight. Now that it stopped pretending inflation is transitory it's now pretending it's prepared to fight it.
Market Analyst Sven Henrich: 'The Entire Fed Board Should Resign'
The founder of Northman Trader, Sven Henrich, mocked the Fed after the inflation report was published and said that the "entire Fed board should resign." "Not only were they completely wrong, they kept misleading the public with their transitory narrative and persisted on it when the data was already showing they were wrong. And still they keep injecting liquidity. Reckless," Henrich added. The market analyst continued to mock the U.S. central bank when he stated:
Sending the assets of the rich to the moon, showering the poor and middle class with 7.5% inflation [and] negative wage growth. We are the U.S. Federal Reserve and we're here to help.
Meanwhile, both precious metals markets and cryptocurrencies dropped quickly after the announcement but then rebounded back. Bitcoin (BTC) jumped 4% higher in USD value around 11:45 a.m. (EST), and gold's price per ounce jumped 1.15% from $1,821 to $1,842 per ounce. Equities markets saw most of the carnage as Nasdaq slid 90 points lower and the Dow Jones Industrial Average slipped 129 points lower around 11:45 a.m. (EST).
Tags in this story
7.5%, analyst, Bitcoin (BTC), Cameron Winklevoss, CPI, CPI report, data, DOW, economics, Economist, equities, Federal Reserve, Gemini co-founder, Gold Bug, gold price, inflation, nasdaq, Northman Trader, Peter Schiff, Precious Metals, Price of Gold, QE, stocks, Sven Henrich, the fed, U.S. Labor Department, United States Inflation, US Inflation rises
What do you think about the rising inflation in the U.S.? Do you think inflation will abate any time soon? Let us know what you think about this subject in the comments section below.