A new report by one of the Big Four accounting firms, KPMG, reveals that investment in the crypto and blockchain space grew 5.5 times the previous year to more than a record $30 billion in 2021. KPMG called 2021 a "Blockbuster year for crypto and blockchain."

'Blockbuster Year for Crypto and Blockchain'
KPMG published a report Monday on investments in the cryptocurrency, blockchain, and fintech space.
Noting that global fintech reached $210 billion last year, the Big Four accounting firm wrote: "We saw growing deal sizes in a wide variety of fintech subsectors — from crypto and blockchain to wealthtech and cybersecurity."
Describing 2021 as a "Blockbuster year for crypto and blockchain," KPMG detailed:
Investment in the crypto and blockchain space soared in 2021, rising from $5.4 billion in 2020 to over $30 billion.
"Globally, there was an incredible increase in the level of recognition for the potential role of crypto and its underlying technologies in modern financial systems," KPMG noted.
"Increasing activity in the space has also sparked further action from central banks, some of which are considering the development of digital currencies in the footsteps of the digital yuan in China," the global professional services firm further stated.
The KPMG report also highlights that global VC investment reached a record $115 billion in 2021, surpassing the previous high of $53.2 billion set in 2018.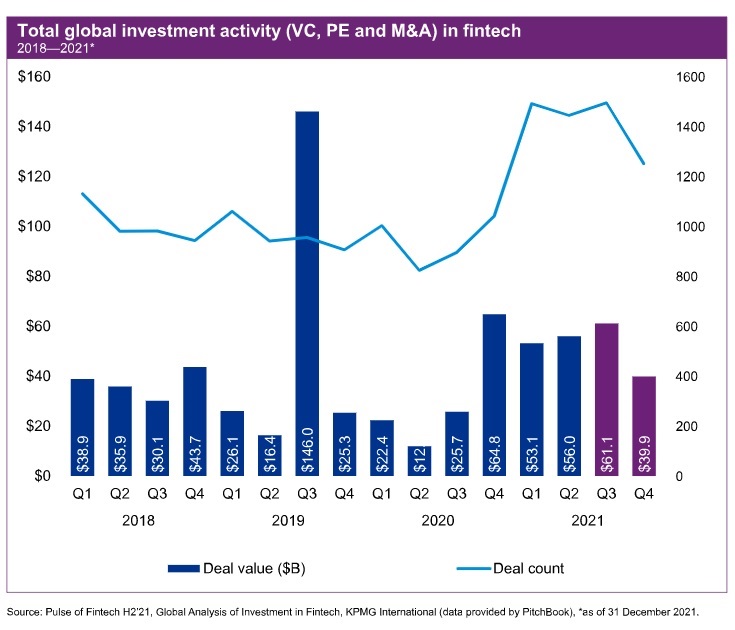 Meanwhile, KPMG is investing in cryptocurrency. On Monday, KPMG in Canada announced that it has invested in bitcoin and ether, putting the cryptocurrencies in its corporate Treasury. "This investment reflects our belief that institutional adoption of crypto assets and blockchain technology will continue to grow and become a regular part of the asset mix," said the Big Four accounting firm