Back to the list
Crypto market surpasses Apple's market cap
www.thecoinrepublic.com
15 October 2021 04:27, UTC
Reading time: ~2 m
---
The Crypto market has once again taken the market capitalization of Apple
Bitcoin market cap has crossed the benchmark level of $1 trillion
Recent Musk comment on DOGE has also boosted the price of the flagship crypto asset
Elon Musk agrees that DOGE miners should update their software
The Crypto market has grown tremendously over the past several days. The prices in the industry have seen tremendous gains that have attracted and satisfied investors. Besides the scenario, we have also observed that celebrities like Elon Musk have also helped boost the price of the assets. Comments related to the cryptocurrency projects from such personalities have been found to impact the prices seriously. Recently, Bitcoin has been found to continue its bullish rally. The total market cap of the leading crypto coin has been observed soaring by more than 50%. Notably, behind the recent bullish spark in BTC price, we have found celebrity wordings as one major factor.
Bitcoin nears to surpass Silver's market cap
Over the past seven days, we have observed that the total market capitalization of Bitcoin is up by more than 6.5%. At press time, the leading cryptocurrency was trading at the price level of $57,499 with a total market capitalization of more than 1 trillion. Overall we have observed that the entire crypto market capitalization with $2.38 trillion has already surpassed Apple's capitalization, according to CoinMarketCap. However, still BTC has to double its capitalization to surpass Apple alone.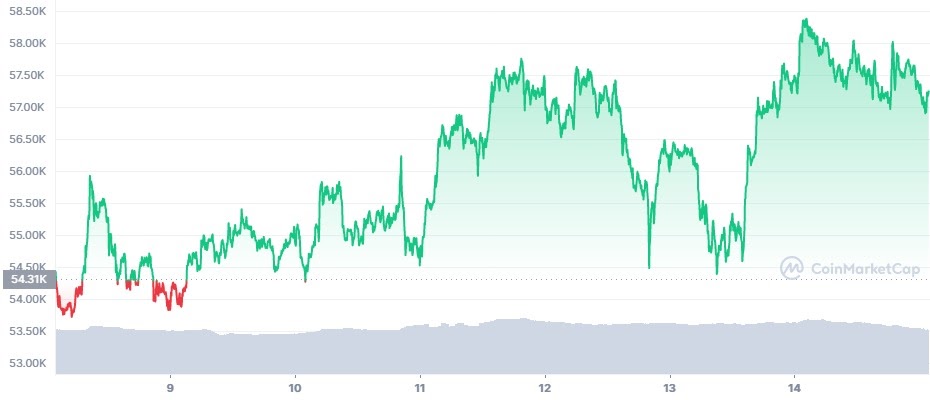 Elon Musk words boost prices in the crypto market
Since the beginning of this year, Elon Musk has helped the entire crypto market to gain traction and value. Recently, the SpaceX CEO has renewed his support for the meme-based crypto asset. It is also noteworthy that the price of DOGE has exploded by more than 10k% within a year. Indeed, it is Musk's words that helped the crypto asset propel in the list of top 10 cryptocurrencies in terms of market capitalization.
While comparing DOGE with the leading crypto asset, we observed that BTC only gained more than 400% over the same period. Also, much of BTC's gains came as Tesla announced to acquire $1.5 billion worth of BTC.
DOGE miners should update their software
Elon Musk agreed with Billy Markus, founder of tongue-in-cheek Bitcoin rival, and asked the DOGE miners to upgrade their system. According to Markus, currently, it is essential for the meme-based coin community, that the mining pools get up-to-date. Indeed, the latest version of the software is designed to prepare the network for lower transaction fees. Undoubtedly, the factor is essential for cryptocurrency, to make things like purchasing movie tickets more viable.
---
Source
---
Back to the list