Back to the list
Germany's recession triggers responses from the crypto community
cointelegraph.com
25 May 2023 17:33, UTC
Reading time: ~2 m
---
After contracting in the first quarter of 2023, the German economy has officially entered into a recession, according to data from the country's statistics office.
A recession is generally identified when there is a fall in Gross Domestic Product (GDP) in two successive quarters. In Germany's case, the country's GDP reportedly fell by 0.3% for the quarter following a decline of 0.5% in the fourth quarter of 2022.
Members of the crypto community were split on the potential effects of the recession on the crypto economy. While some believe that it's a bullish signal for crypto, others think that it might not have that much-desired effect on the space.
On Twitter, some were saddened by the news but believes that the event is still a bullish sign for crypto.

Community members believe that it's a bullish sign. Source: Twitter
On Reddit, a member of the community presented an argument that it's possible that interest rates in the country could be brought down in an effort to stimulate the economy. When this happens, the Redditor thinks that more investment could flow into crypto and trigger a bull market.
Related: German banks slowly adopt crypto, mostly for institutional investors
However, some believe that it might have a negative effect in the short term. A Reddit user believes that in the case of a recession, "all speculative markets will lose ground." Despite this, the community member still believes that it could offer a big opportunity for those who perform dollar-cost averaging (DCA) when things look the bleakest.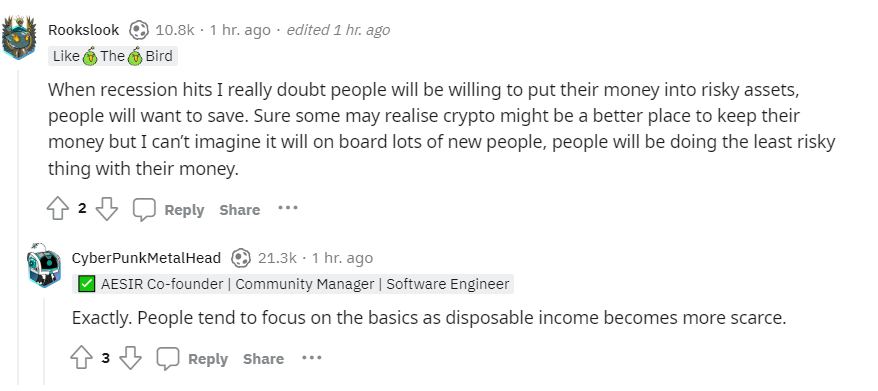 Community members sharing their thoughts on the recession. Source: Reddit
In the long term, a community member believes that there could be a positive outcome. A Reddit user pointed toward the performance of the markets after the COVID-19 pandemic where Bitcoin (BTC) reached new all-time highs.
Meanwhile, in the United States, the probability of further interest rate hikes resulted in a bearish sentiment and digital asset outflows worth $72 million. On May 2, investment firm CoinShares reported that crypto market funds had outflows across geographies, including Germany.
Magazine: Ripple, Visa join HK CBDC pilot, Huobi accusations, GameFi token up 300%: Asia Express
---
Source
---
Back to the list
Similar news