Back to the list
Celsius spikes 18% higher on release of 'Project Kelvin' recovery plan
cryptoslate.com
14 September 2022 07:35, UTC
Reading time: ~3 m
---
The Celsius (CEL) token posted 18% gains in the last 24 hours to trade at $1.70 as of press time on Sept. 14.
According to the New York Times, the bankrupt CeFi lender is plotting an audacious comeback based on providing crypto custodial services. The recovery plan has been dubbed "Kelvin," after the temperature measurement unit.
"… they hoped to rebuild the company with a focus on custody — storing people's cryptocurrencies for them, and then charging fees on certain types of transactions."
Celsius froze customer accounts in June, citing "extreme market conditions." Rumors the company was insolvent were being floated in the weeks preceding the announcement, which CEO Alex Mashinsky denied at the time.
Since then, revelations about the company showed that it had played fast and loose with customer funds, particularly regarding risky high-leverage trading.
CEL on a roll
Even before the company froze customer accounts, the Celsius token had suffered a steep decline in price.
CEL reached its all-time high of $8.05 on Jun. 4, 2021. By year-end, the token had almost halved. This trend continued into 2022 before bottoming at $0.086 on Jun. 13, when the company enacted account freezes.
Despite declaring Chapter 11 bankruptcy on July 13, the overall trend since then has been up, spiking as high as $4.66 just two months after bottoming. This equated to a 5,300% increase.
However, a sharp sell-off followed before reaching a local bottom of $0.8650 towards the end of August. The factors behind the higher move remain unclear.
More recently, the hashtag #CelShortSqueeze has been trending, leading to a revival in price appreciation. Since the end of the August local bottom, CEL spiked 145% to top out at $2.10 on Sept. 14.
Again, a sharp sell-off followed, giving up most of today's gains. However, the uptrend remains intact.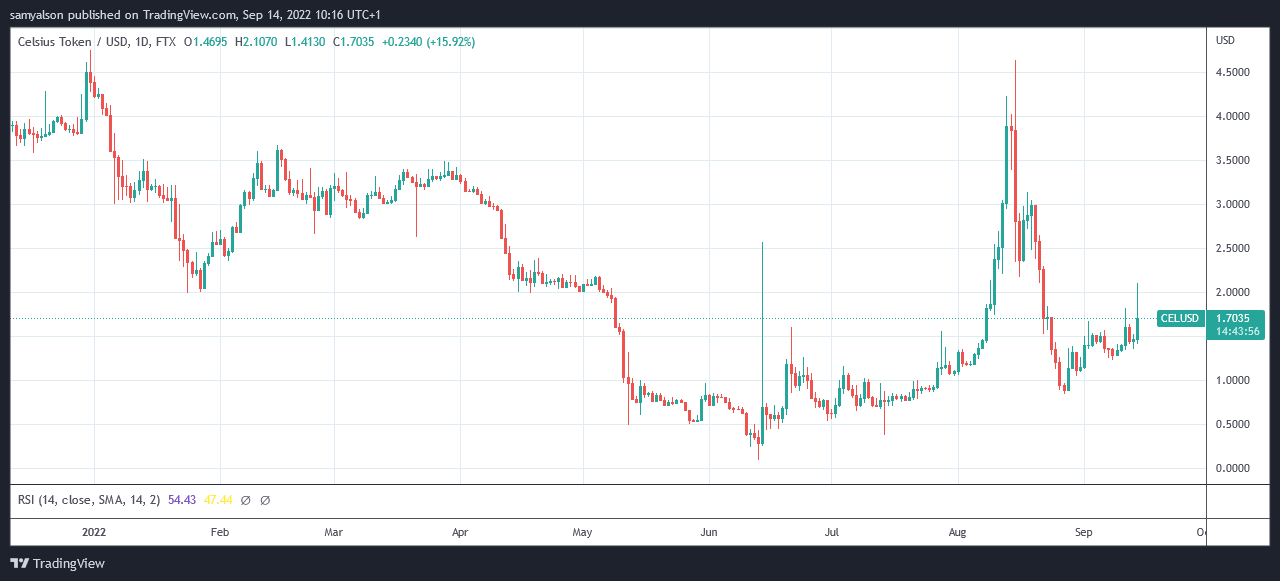 Celsius recovery plan "Project Kelvin"
Celsius customer Tiffany Fong posted a transcript of the "Internal all-hands meeting" held on Sept. 8, in which Mashinsky laid out a three-part plan to "come out of this stronger."
According to the Celsius CEO, the first part is to return customer deposits. Mashinsky elaborated that disagreements between depositor groups are holding this process up.
"Unlike what you read in the news or whatever, it's not like we don't want to give coins back, or we somehow are slowing down the process or anything else. It's in our best interest to allow as many people in custody to get their coins back as fast as possible."
The next part is "returning the rest of the coins," which refers to reimbursing investors' funds. Again, Mashinsky mentioned disagreements between parties as a factor in resolving this.
Part three is "Kelvin," a plan to reopen the business based on a strategy of not requiring customers to "trust us in anything."
"So we are planning to basically reopen with a process that does not require you to trust us in anything."
It was later explained that crypto custody is the "foundational product" in Project Kelvin or Celsius 2.0, as Mashinsky called it.
The Celsius Committee of Unsecured Creditors voiced their disapproval of Kelvin, saying current, more pressing matters, namely the return of user funds, have yet to be finalized.
No, we do not support Kelvin or any other particular exit plan. We support finishing our ongoing investigation and opening up a full, open, transparent process that benefits account holders—not insiders. More to come at today's hearing at 2:00.

— Celsius Official Committee of Unsecured Creditors (@CelsiusUcc) September 14, 2022
" 
---
Source
---
Back to the list