Back to the list
Ethereum (ETH) Price Hits 3-week High As ETH 2.0 Staking Crosses $13 Billion Milestone
coingape.com
07 July 2021 12:10, UTC
Reading time: ~2 m
---
Ethereum (ETH) price hit a new 3-week high of $2,409 earlier today as the second-largest cryptocurrency starts building bullish momentum in the run-up to the London Hardfork. The upcoming hardfork would implement key changes to the Ethereum network including EIP-1559 that promises to resolve the critical gas fee problem. The gas fee on the Ethereum network has started to grow again reaching near 100.
The current gas fee rise is being attributed to SHIBA swaps. Thus the upcoming EIP-1559 implementation would play a crucial role in making the Ethereum network a go-to choice for Defi as well as spot traders again.
Ether has also managed to win over several financial giants this bull season including the likes of Goldman Sachs and JP Morgan who see the altcoin taking over BTC as the lead store of value in near future. Both JP Morgan and Goldman Sachs beleive Ether's growing use cases and market depth could make it the true store of value over Bitcoin. JP Morgan also predicted ETH 2.0 staking could make way for a $40 billion staking industry.
ETH 2.0 Staking Reach $13 Billion Milestone
Ethereum network's ETH 2.0 transition is also in full swing as more number ETH continue to move into ETH 2.0 staking contracts. Recently, Swiss bank Sygnum became the world's first bank to offer ETH 2.0 staking. The total valuation of staked ETH in the ETH 2.0 staking contracts breached $13 billion recently as ETH volume on exchanges continues to dip.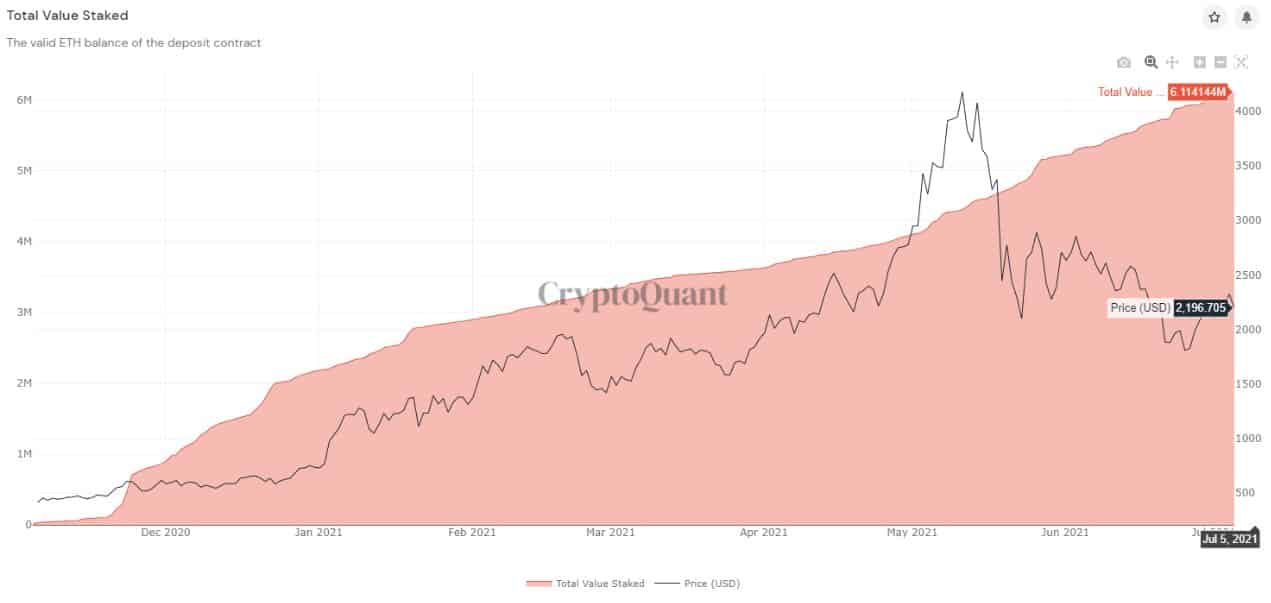 ETH 2.0 is being lauded as the biggest network update for Ethereum that would see it transition from Proof-of-work mining consensus to Proof-of-stake. The transition is to make Ethereum one of the fastest blockchains as the current network fails to keep up with the growing ecosystem. The transition promises to make the network as fast as a centralized payment processor giant.
In the short term, the London Hardfork is quite an important event as it promises to eradicate the gas fee problem with a base transaction fee proposal.  The ETH 2.0 transition could take another year or maybe more, until then EIP 1559 would ensure a smooth transaction experience.
---
Source
---
Back to the list