Back to the list
ETH Technical Analysis: It Is Dangerous To Buy Below $1200-$1400
cryptoknowmics.com
06 July 2022 14:29, UTC
Reading time: ~3 m
---
Unfortunately, the situation on the ETH market is rather ambiguous. We did not see active buy protection in the $1400 range during ETH last bearish impulse. The ETH price during the trading week of 13 June touched the mark of $894. After such an aggressive move, sellers did not feel any struggle. In fact, buyers could not organize even an elementary rebound to the $1400 mark. And this is the range of the former historical high. Such a lack of interest in one of the largest cryptocurrencies is a bit alarming.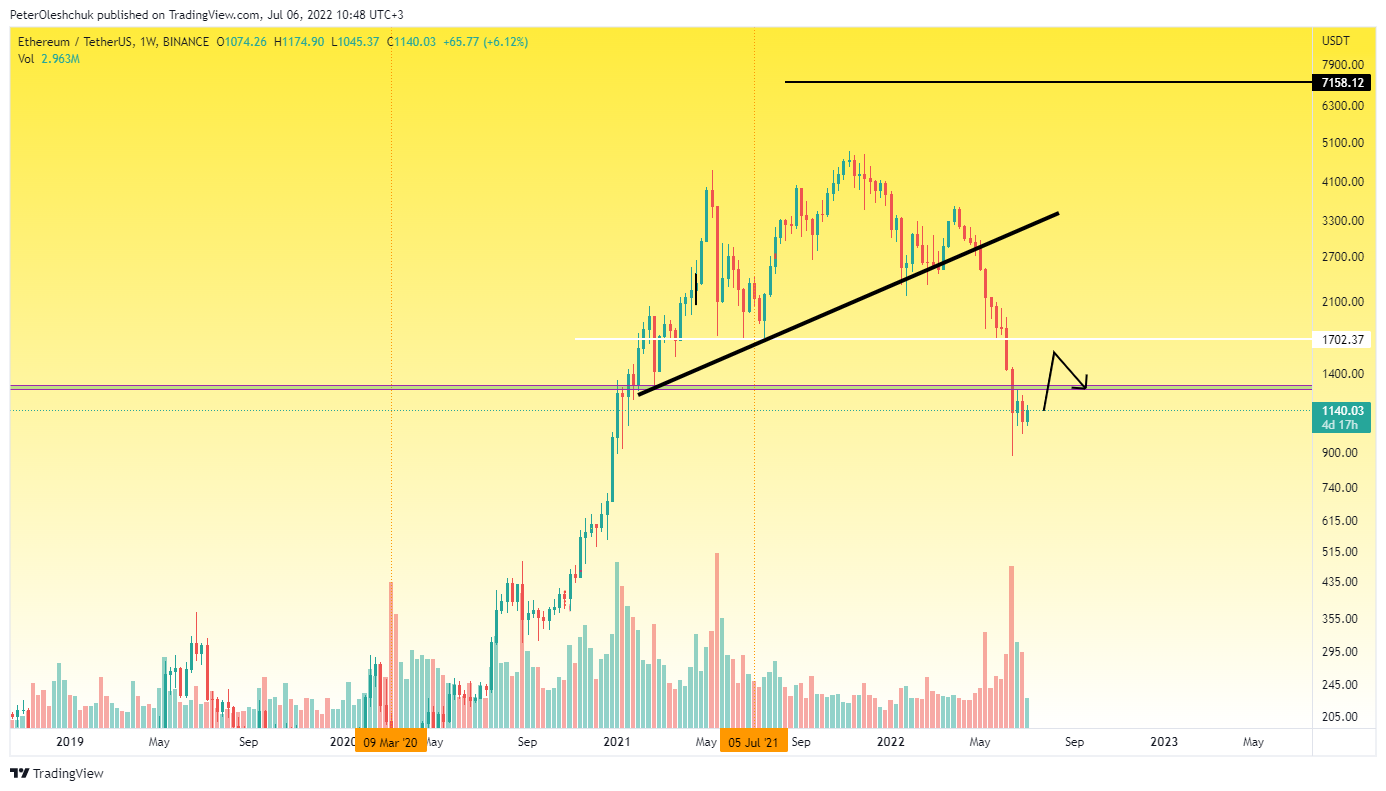 Source: https://www.tradingview.com/x/oeSfySdc/ If buyers fail to take control of the $1200-$1400 range during July, we see no obstacles for sellers to continue the fall with a final target of $570. A continuation of the fall to this mark without a correction will mean the collapse of the ETH cryptocurrency. How long it will take to restore the market, accumulate positions for growth and buy out all sellers is unknown. Thus, in such a scenario, you should not rush to buy ETH right away. Agree, there is no point in investing in a cryptocurrency that is just starting a global consolidation after a long fall wave.
ETH Technical Analysis On The Daily Timeframe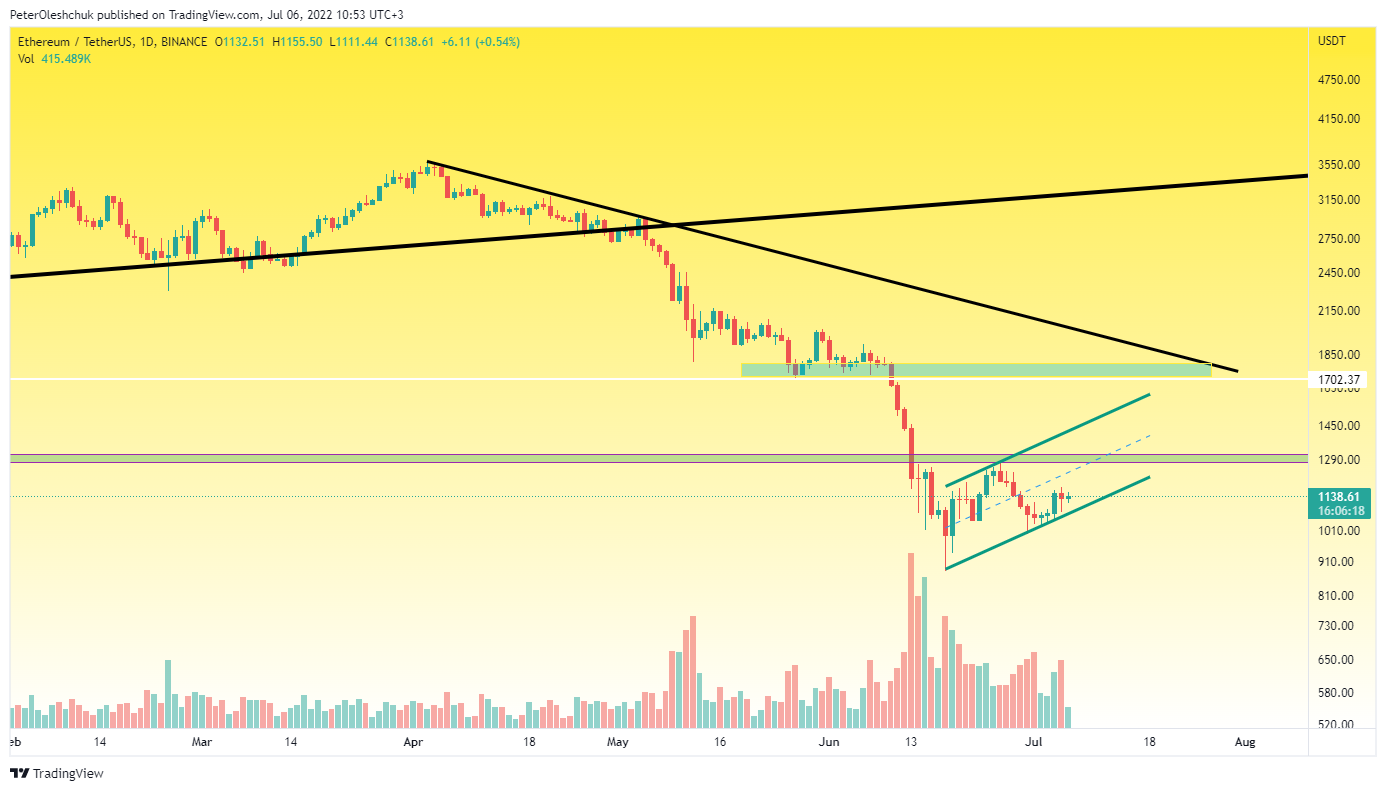 Source: https://www.tradingview.com/x/cX26q8t4/ Analyzing the ETH price movement on the daily timeframe, we see that buyers are trying to form a local growth trend. The local range of $1270-$1300 is the main problem of buyers, which restrains them to test the upper trend line of the corrective channel. But, looking at the pattern that formed on the daily timeframe, buyers are preparing for a breakdown of the $1270-$1300 range upwards. The critical point of this local scenario is at $1040. Below this mark, buyers will lose the initiative and will not keep the price. The global target, after which sellers can start a new fall wave with the local low update - $1700 mark. Unfortunately, the nature of the price growth does not signal that a new growth wave has begun. Rather looks at the formation of a correction of the previous ETH fall wave.
The ETHBTC Price Is Preparing To Break 0.06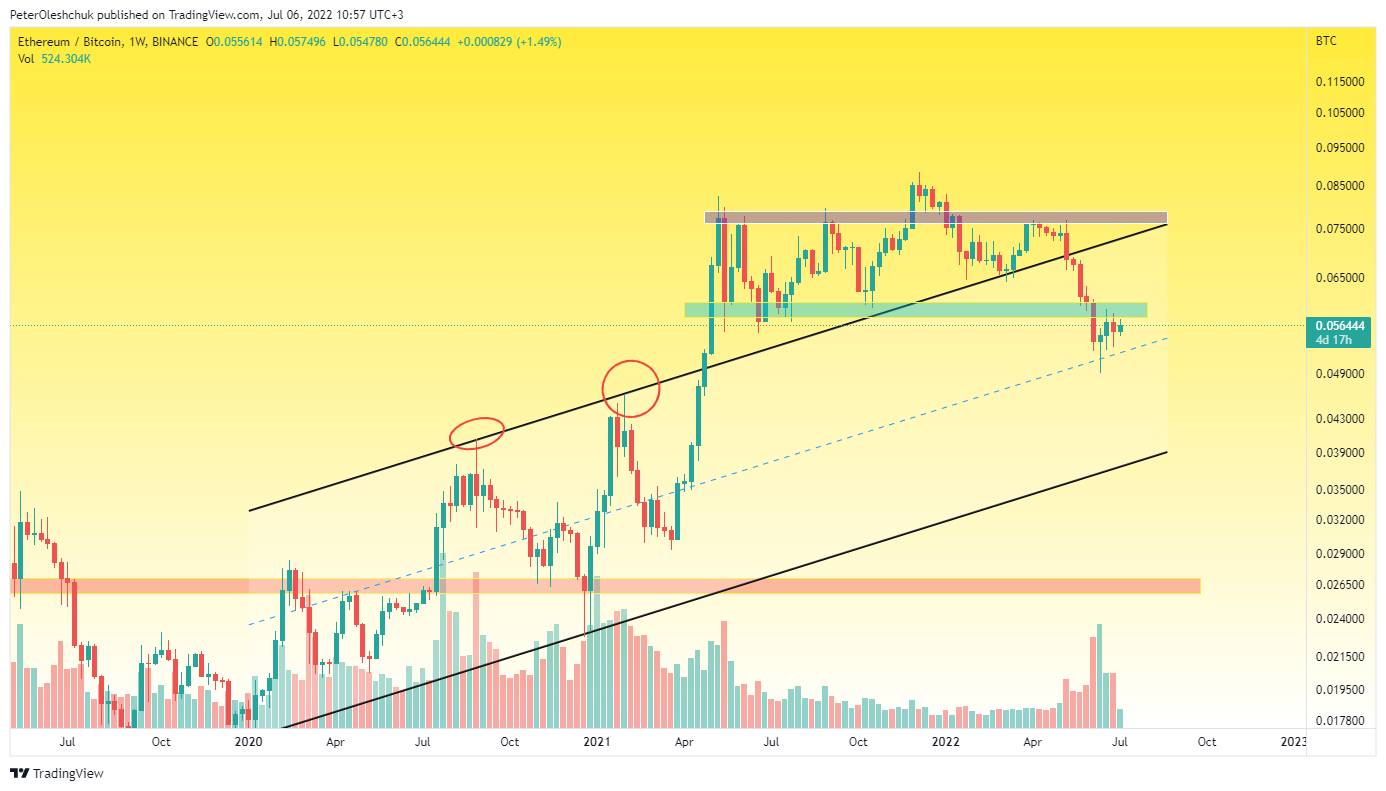 Source: https://www.tradingview.com/x/ymMAoCCh/ The weekly chart of the ETHBTC price movement shows that the buyers managed to stop the fall wave in the price from April 2022. The ETHBTC price stopped at the middle line of the growth channel, which the price has returned to. Tight consolidation on increased volumes indicates an attempt by buyers to turn the market around. Therefore, until the ETHBTC price is fixed above 0.06, you should not risk and spend your Bitcoins to buy this cryptocurrency. Fixing the ETHBTC price above the 0.06 mark will open the way for buyers to continue the growth to 0.078. At the time of writing, this is our main scenario.
---
Source
---
Back to the list