Back to the list
Ether Skyrockets Past $3k – Here's Why It's Much More Promising Than You Think
zycrypto.com
03 May 2021 16:18, UTC
Reading time: ~2 m
---
Ethereum has now become one of the first few digital currencies to hit a new level at the beginning of the market's second quarter. This marks a huge milestone in the Ethereum market as it reaffirms the promising future of the asset, that has for a long time been critiqued by onlookers.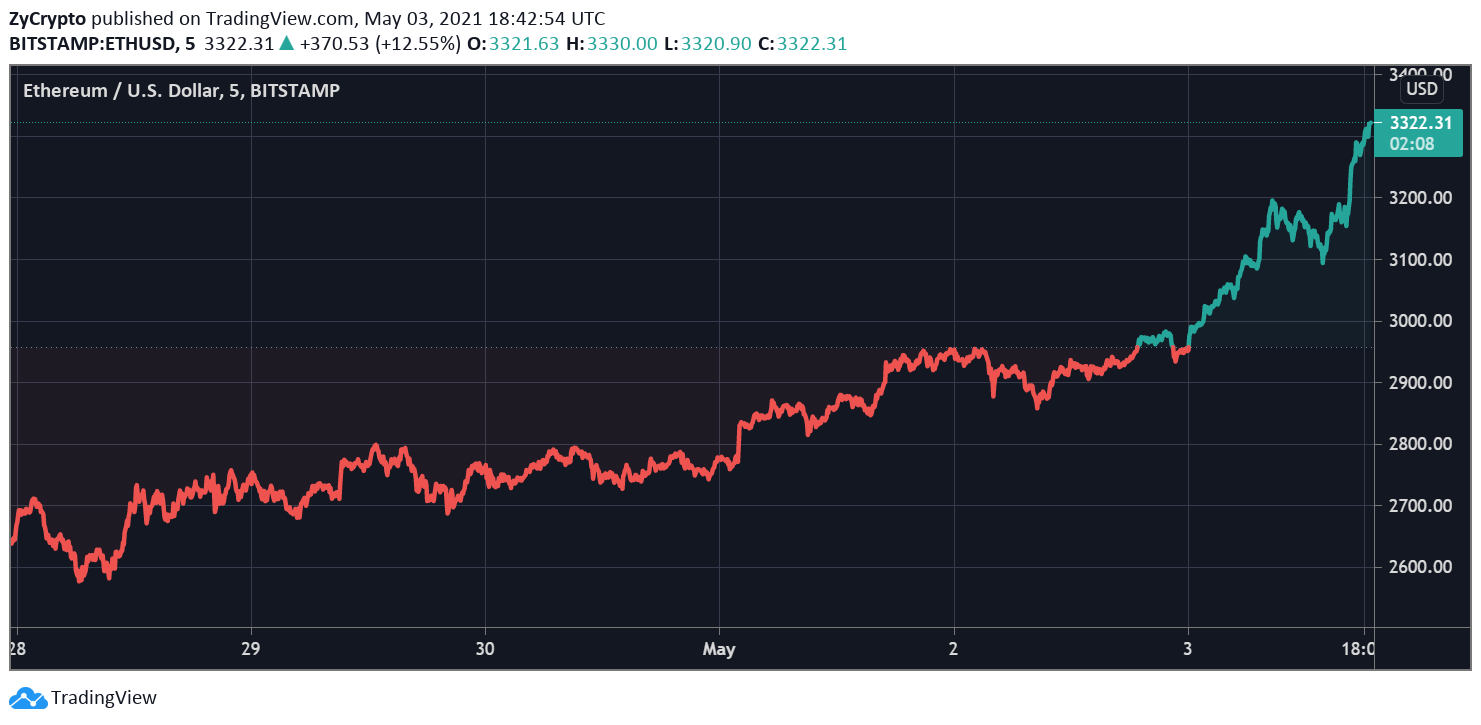 With Ethereum's rise to $3000, the second most valued digital currency now has a market value greater than the bank of America, although Bitcoin was the first asset to hit this milestone.
Ethereum hits new price levels, but the naysayers are still present
Contrary to the bullish sentiments shared by Ethereum proponents, entrepreneur and Crypto investor Alistair Milne fears that the asset is not strong enough to maintain this momentum. He argues that Ethereum's meteoric upsurge could be temporary as he expects the bulls to slow down in the near term while correcting gains. He also expects that Bitcoin will reclaim the spotlight when it hits $60,000 once again.
According to his tweets:
"ETH now going too fast, expecting an interim blow-off and some much-needed humility to return. BTC outperforms again for a while once >$60,000. Just IMO."
The journey to $3k may be proof that Ethereum isn't moving too fast at all
ETH closed 2020 with a price of $737. The Ethereum bulls may be considered slow, but they are extremely consistent as they successfully pushed the asset to $1000 in the first week of January. Ether would go on to remain range bound below $2000 as bulls continued to add vim to price movements.
Over the course of the next two months, Ethereum would sustain daily gains, although not the most significant. But the game of survival of the fittest was effectively played by the asset. Come April, Ether hit $2000 for the first time. The altcoin bull wave had already become intense during this period and Ethereum led the market into an all-green state, at least this was the case for most of the top 20 altcoins. Post Ethereum's surge to $3000, we can now say that the asset has soared by 307.6% since December.
Ethereum may not be as talked about as bitcoin, but the institutional wave behind the asset is as commendable as bitcoin. Investors are silently adding the asset to their portfolio too. Corporate treasuries are also not blind to the potential of the asset, as a size number has also accumulated Ether. The launch of EIP-1559 is one of the other significant events that could send Ethereum's price value to new levels.
---
Source
---
Back to the list