The Ethereum price has recovered from a five-month low.
A potential price decline to $1,431 if $1,538 support is breached.
Ethereum, the second-largest cryptocurrency has been on a rollercoaster ride over the past week. Starting with a recovery phase from its five-month low of $1,538 on September 12th, it managed to climb to $1,666 by September 18th. However, a subsequent three-day drop saw its value fall to $1,576. Despite the optimism surrounding the network because of the recent fee stabilization and the introduction of ERC-7512 by Ethereum developers, bears continue to exert control over its price.
Let's first understand what ERC-7512 is. It is a proposal developed by a consortium of blockchain experts which aims to standardize how audit reports are presented on the Ethereum blockchain. This is done by allowing smart contracts to extract valuable information such as participating auditors and verified standards, directly from the audit reports.
The GAS of the Ethereum mainnet has soared from less than 10 to about 300. The main reason may be the sudden increase in a large number of transfers on Binance 14. The GAS consumption of this address today reached 362 ETH, and the number of transfers reached 94,000, which is far…

— Wu Blockchain (@WuBlockchain) September 21, 2023
Meanwhile, the Ethereum mainnet has witnessed a significant spike in gas fees, surging from less than 10 to approximately 300 Gwei. This increase is attributed to a sudden rise in transfers on Binance. One particular address on Binance has seen a staggering gas consumption of 362 ETH with 94,000 transfers. It is far exceeding typical levels, according to prominent Crypto reporter Wublockchain.
However, Binance responded by explaining that they were aggregating wallets during times of low gas fees to facilitate user withdrawals and ensure fund security.
Notable Whale Activity
A substantial Ethereum whale recently withdrew 5,040 ETH from the Binance cryptocurrency exchange, totaling $8.17 million. This withdrawal follows a series of large transactions, with the whale having moved 24,548 ETH worth $40 million from Binance since September 5th, at an average price of $1,631. And very recently, Ethereum co-founder Vitalik Buterin transferred 300 ETH (approximately $493,000) to Kraken.
Analyzing Ethereum's Future
An analysis of the daily Ethereum price chart indicates that bears currently dominate the market. The 9-day exponential moving average (EMA) remains below the trading price at $1,614, underscoring the bearish sentiment. The daily relative strength index (RSI) sits at 40, nearing oversold conditions. Furthermore, trading volume has declined by 2% over the last 24 hours, reaching $5 billion.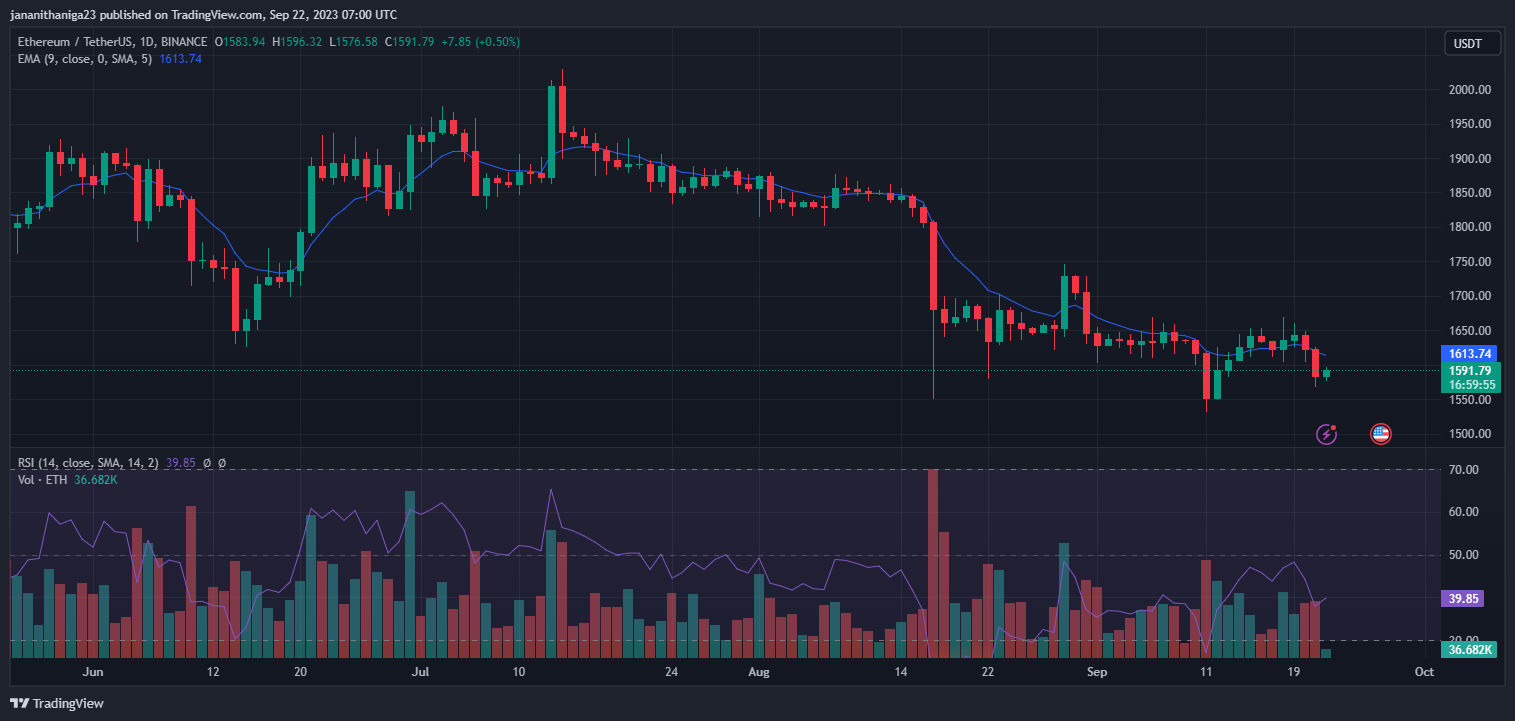 ETH Daily Price Chart (Source: TradingView)
Looking ahead, Ethereum faces a critical juncture. If the price breaches the key support level at $1,538, it could potentially decline further to $1,431. Conversely, breaking above the $1,666 mark may set the stage for a rally toward the $1,737 level.