Ethereum (ETH) price rebounded mildly on Tuesday after an industry-wide retracement induced by SEC's lawsuit against Binance and Coinbase. An in-depth analysis of the on-chain data shows how investors are reallocating capital away from troubled altcoins.
On-chain data shows that staking activity on Ethereum has increased significantly this week as investors reallocate capital away from memecoins and troubled altcoins. With ETH demand piling across exchanges, how much will Ethereum price benefit from the ongoing industry turbulence?
Spike in Staking Activity Could Trigger ETH Price Rebound
As altcoin prices continue to drop, holders now appear to be turning to ETH staking yield to mitigate their losses. The chart below shows that Ethereum holders have staked an additional 1 million ETH between June 1 and June 8.

Ethereum (ETH) Price Rebound – June 2023. Supply in Smart Contracts – Source: IntoTheBlock
The ETH Staked metric tracks the number of coins currently staked on the Ethereum beacon chain. Typically, when holders lock up more tokens, it reduces the supply available to be traded on crypto exchanges.
The momentary shortage on the market can trigger ETH price gains if demand begins to outpace supply.
Investors are Queuing Up to Buy the Dip
In further confirmation of the bullish outlook, the order books of exchanges suggest that Ethereum market demand is starting to outpace supply. The Exchange On-Chain Market Depth chart shows an aggregate of ETH holders' total buy/sell orders across different crypto exchanges.
Currently, investors have placed orders to purchase 213,500 ETH. Meanwhile, sellers have placed just 145,190 Ethereum tokens up for sale.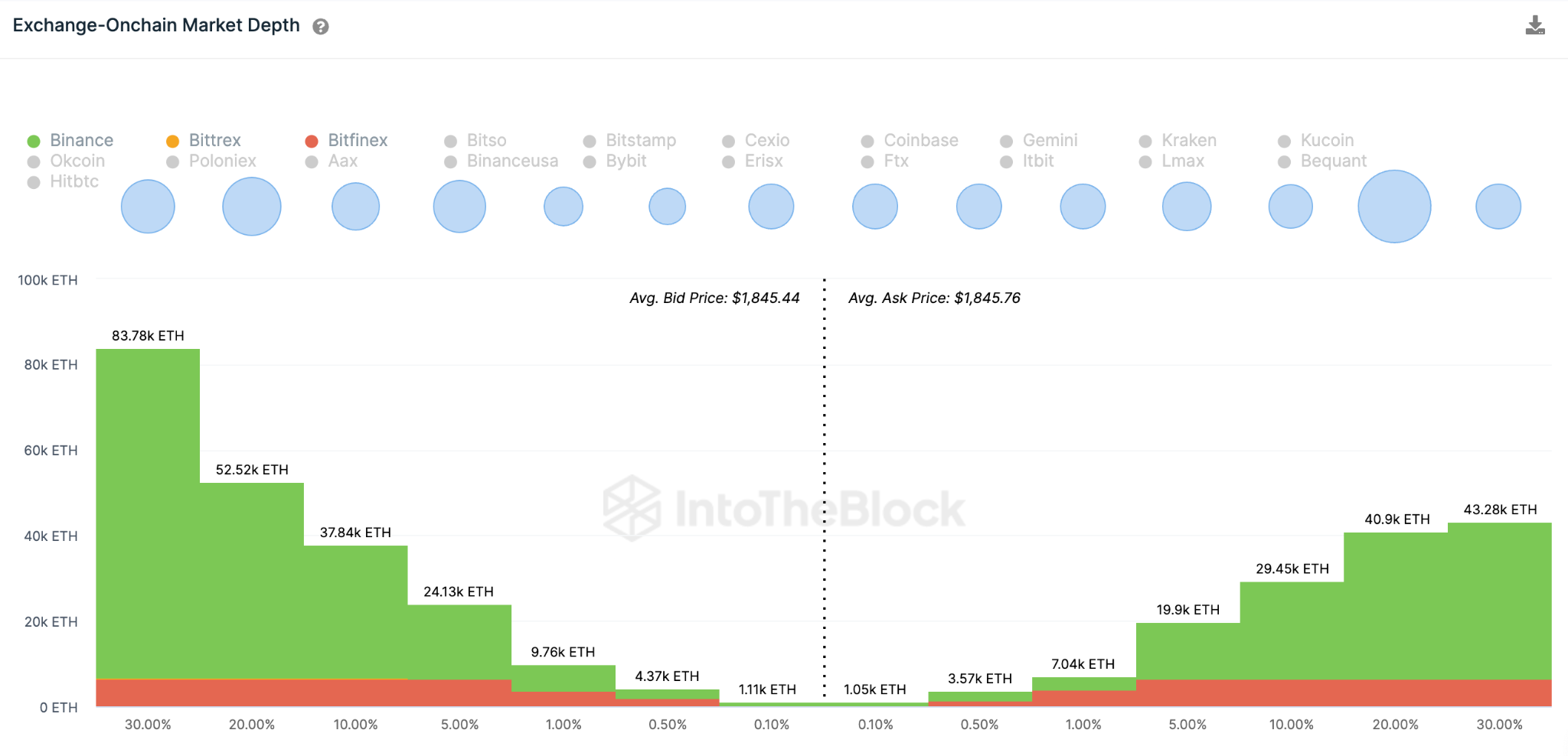 Ethereum (ETH) Price Rebound, June 2023 – Aggregate Exchange Order Books. Source: IntoTheBlock
When demand for an asset exceeds the volume of sell orders, competition increases, and buyers are inclined to increase their bid price to get their orders filled quickly.
Currently, there is a supply shortage of 68,310 ETH across exchanges. This suggests that the Ethereum price will like to rise further when buyers begin to compete.
ETH Price Prediction: $2,000 on the Horizon
Considering the general gloomy sentiment in altcoin markets, ETH will likely benefit from its rebound above $2,000 in the coming weeks.
However, IntoTheBlock's In/Out of The Money Around Price (IOMAP) data suggests that ETH will face its initial major resistance of around $1,900.
At that zone, 3.05 million addresses that bought 5.31 million ETH at the maximum price of $1,905 could cause a pullback. But if ETH can scale that resistance zone, it could head toward $2,000 again.

Ethereum (ETH) Price Rebound, June 2023 – IOMAP. Source: IntoTheBlock
​​On the other hand, the bears could invalidate the ETH price rebound prediction if it unexpectedly drops below the critical $1,795 support zone. But, the 3.51 million investors that purchased 9.51 million ETH coins at the minimum of $1,795 will try to shore up the price.
Although unlikely, ETH could retrace further toward $1,650 if that support level is breached.