Back to the list
Ethereum adds 130,000 new unique addresses daily on average in 2023
finbold.com
30 January 2023 13:29, UTC
Reading time: ~2 m
---
The Ethereum (ETH) network, which officially marked its transition from the Proof-of-Work (PoW) to the Proof-of-Stake (PoS) algorithm after the Merge upgrade in September 2022, is currently showing some positive signs ahead of the Shanghai update in 2023.
Ethereum added 129,869 new unique addresses daily in the first month of 2023, according to data gathered by Finbold from Etherscan on January 30.
Indeed, on January 1, 2023, Ethereum had 217,599,463 unique addresses, whereas, on January 29, 2023, the number of Ethereum unique addresses was 221,365,692, indicating that ETH gained 3,766,229 between the two dates.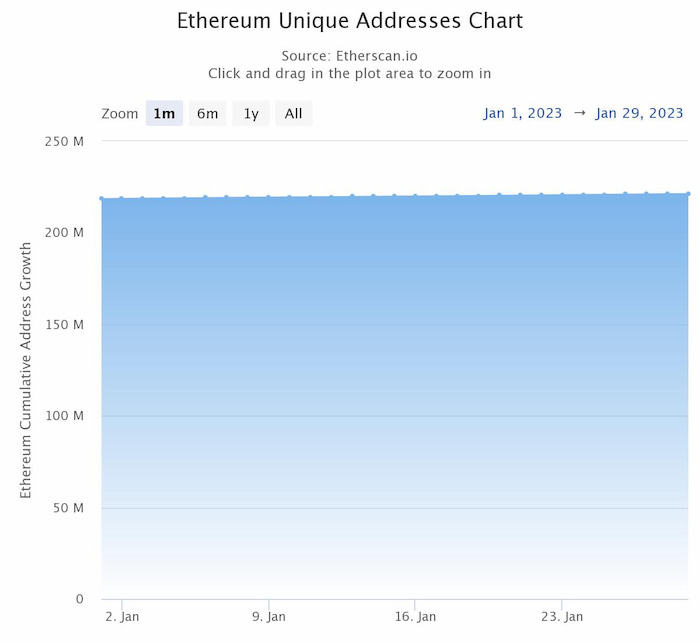 Additionally, the number of unique Ethereum addresses has reached an all-time high of 221 million. Over the last half year, the statistic has seen a growth of almost 10%.
Ethereum ROI
As the crypto market rebounds, Ethereum's on-chain activity is increasing as on-chain measurements show growing use and engagement. All of this has been boosting demand for the asset since the start of the year with several measures, such as ERC-20 daily token transfers, which have lately been gradually rising.
It was also observed that the utilization of the network in terms of addresses has also increased significantly. Over the weekend, PrimeXBT reached a new record high of 92.5 million addresses.
🚀 #Ethereum's price may be on the rise, but the real story is in the network's usage!

❄️ With a record high of 92.5 million addresses and growing active usage. It's clear the @ethereum ecosystem is thriving despite the crypto winter. pic.twitter.com/BorPy2LTKe

— PrimeXBT (@PrimeXBT) January 27, 2023
The Ethereum network will also undergo another significant upgrade in the form of its Shanghai update in March 2023. The key points include a drop in the gas fee for layers 2 solutions, which has the potential to enable Ethereum usage post-Shanghai both quicker and more cost-effective.
In addition, the number of transactions on the Ethereum network each day has stayed relatively constant at around 1 million. This means that network use and activity have not decreased over the previous three months, along with the pricing of the network's services.
Ethereum ROI
Notably, Ethereum topped crypto assets ranked by their return on investment (ROI) since their ICO as per the data retrieved from the crypto analytics platform CryptoRank on January 25. Ethereum has grown its ROI 5,163 times since its ICO on July 22, 2014, considering that its original sale price was a measly $0.311 and, at the time of publication, it was changing hands at the price of $1,584.
Finally, Ethereum's current price represents a daily decrease of 1.52%, in addition to losing 3.12% across the past week, whereas the market capitalization of ETH stood at $193 billion.
---
Source
---
Back to the list
Similar news