The International Cricket Council has partnered with NEAR Foundation to build a blockchain-powered, Web3 fan engagement app for the 2023 Cricket World Cup in India, which promises to reach hundreds of millions of fans over the next six weeks.
Cointelegraph spoke exclusively to ICC head of digital Chris Donovan and NEAR CEO Finn Bradshaw, who unpacked details of the Web3 mobile app that is aimed at driving fan engagement before, during and after matches at the global showpiece in India.
Related: From cricket to crypto: AB de Villiers ventures into Web3
The ICC's first foray into the world of Web3 was the creation of an NFT platform called FanCraze in 2022 that gave fans the ability to own highlights of historic moments from various ICC tournaments. Donovan said that it laid the foundation for future Web3 exploits:
"We loved the community that grew around that product, so we have been looking for other use cases that help strengthen our fans' love of cricket."
The app will allow fans to play prediction games requiring strategy selections for games during the competitions. Fans will earn points reflecting their selections and the actual outcome of matches, counting towards leaderboards and rewards during the competition.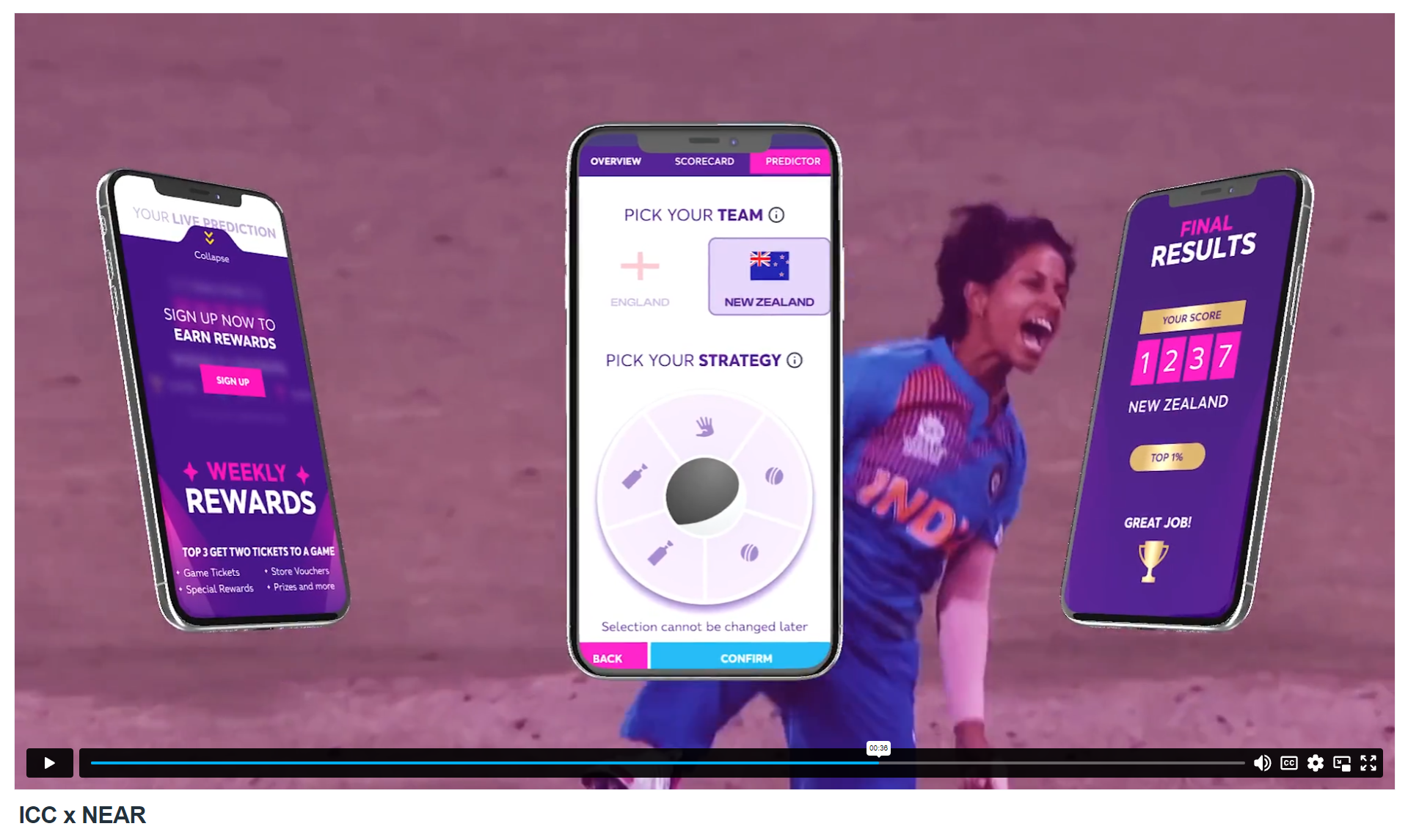 The ICC's fan engagement app - as featured in its announcement video.
Donovan said that cricket's governing body and NEAR share a similar vision for how Web3 technology can improve digital experiences for fans and that NEAR's Blockchain Operating System's interoperability with other networks was a key factor in the partnership:
"A big part of that is about creating products with greater interoperability across blockchains."
While NEAR is a layer-1 blockchain, it features scalable infrastructure supporting communication, smart contract and transaction capabilities with other blockchain ecosystems. Bradshaw said that this feature could prove useful as more use cases are explored in the partnership that ends in December 2025:
"The ICC is only focused on working with a single layer-1 blockchain partner for now, but they are aware of the Blockchain Operating System's interoperability capacity."
As Cointelegraph has explored at length, marketing and advertising in various sports codes has been a driver in the adoption of cryptocurrencies and Web3 in general. Bradshaw believes that a Cricket World Cup being hosted in India presents another opportunity to present working use cases of blockchain technology.
"In partnering with the most popular sport on the sub-continent, we expect it to be a showcase for the ecosystem's technology and partners in demonstrating what a mass-market web3 application looks like."
According to Bradshaw, NEAR Foundation's business development team worked alongside the ICC for four months researching and identifying use cases for the Cricket World Cup. The tournament gets underway on Oct. 5 and the final is scheduled for Nov. 19.
Magazine: Recursive inscriptions: Bitcoin 'supercomputer' and BTC DeFi coming soon