Solana's AI ChatGPT plugin is shaking up the blockchain scene.
The integration of AI and blockchain can revolutionize how users interact with crypto.
Solana's ChatGPT plugin offers capabilities such as buying NFTs, transferring tokens, and analyzing transactions.
Just recently, giving commands to a computer in human language sounded like something from science fiction. Thanks to OpenAI's ChatGPT, this is now a reality, and Solana is taking advantage of that fact.
On Tuesday, May 23, Solana Labs unveiled its ChatGPT plugin. The pioneering plugin allows users to use the AI chatbot to interact with its blockchain network.
This comes as a significant step towards a seamless integration of artificial intelligence with blockchain technology.
Solana's ChatGPT Plugin Can Buy NFTs, Transfer Tokens, etc
Solana's AI ChatGPT plugin, a first for a Layer 1 blockchain, offers a new way of interacting with Solana's blockchain. Instead of manually performing every transaction, users can simply type in what they want to do in ChatGPT.
So far, users can use the ChatGPT plugin to buy a specific NFT, transfer tokens, or ask for on-chain information. For instance, if a user wants to buy a specific NFT, they just have to ask ChatGPT, provide the NFT's address and their own.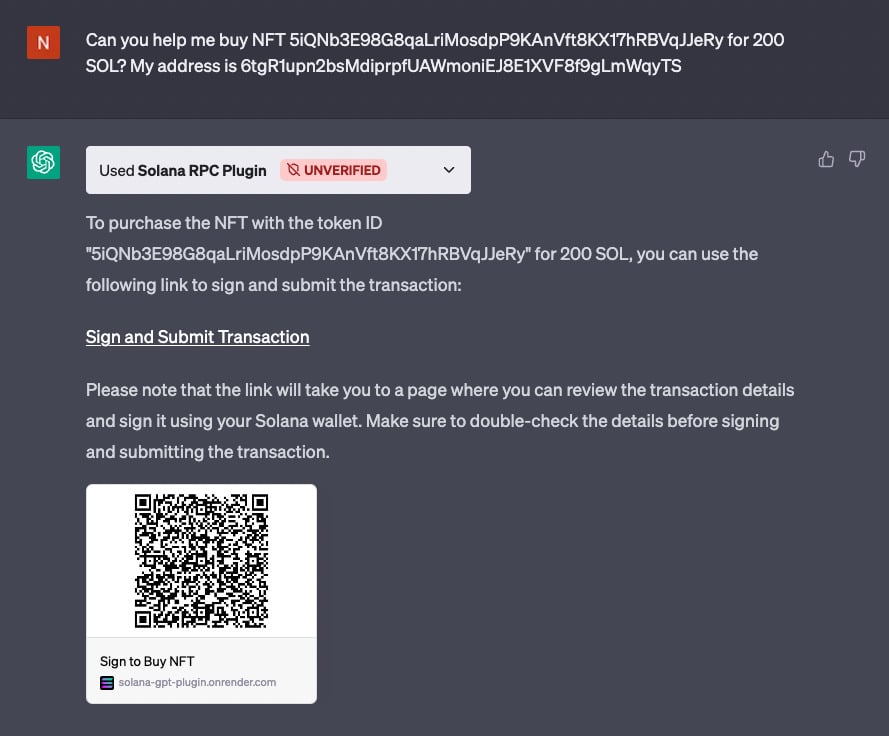 Source: Solana GPT Plugin Github
Additionally, users can use the plugin to find public data on the blockchain. For instance, it can help sort NFT collections on Solana by their floor price.
The plugin has the potential to make interacting with the Solana blockchains easier and more user-friendly. Solana Labs hopes that this AI integration will make Solana's blockchain more accessible to a wider user base.
On the Flipside
ChatGPT has the potential to power natural language interfaces for all sorts of applications. Users may soon start navigating through their phones, laptops, or online platforms by writing natural language commands.
Solana's ChatGPT plugin has the potential to eventually become a safer way to interact with blockchain networks. However, the plugin is still new, and users should proceed with caution.
Why You Should Care
Solana's plugin points to the potential for further integration of AI and blockchain technology. As blockchain tech goes mainstream, AI could significantly boost its growth potential.