Back to the list
Bitcoin rose 17% in July - its best month since October 2021; What will August bring?
finbold.com
01 August 2022 14:05, UTC
Reading time: ~2 m
---
In July, Bitcoin (BTC) continued to sustain its short-term upside price momentum while the capital inflow into cryptocurrency investment products continued to soar.
In particular, over the course of the month, Bitcoin increased in value by 17%, its highest monthly performance since October 2021, according to a CryptoRank Platform tweet on August 1.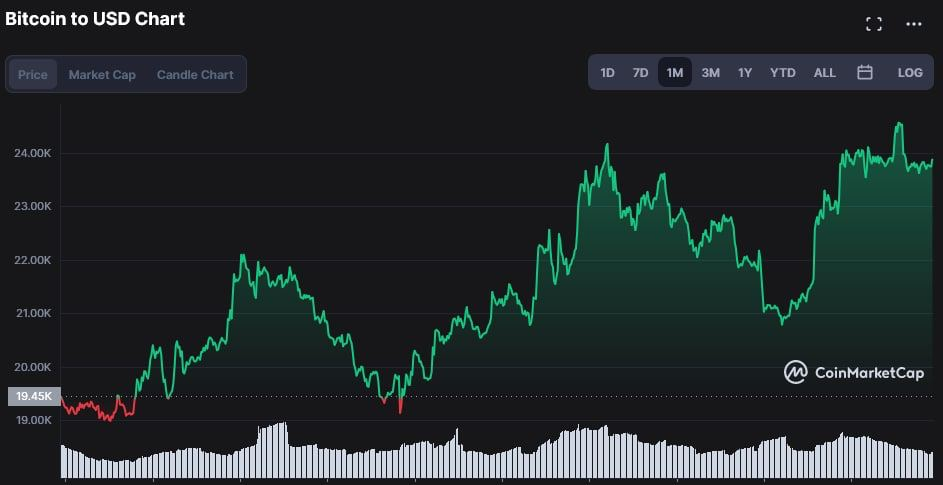 At the time of writing, Bitcoin is trading at $23,245, which is a 2.30% loss on the day, according to CoinMarketCap data.
Bitcoin's current market cap stands at $444.31 billion, which is a slight drop of 5.3% from the $469.16 billion it previously reached on July 30.
What does this mean for August?
When looking at all of the factors surrounding the market, the rest of the year could turn out to be a mixed bag not just for the crypto market but other financial sectors as well. 
Federal Reserve-induced volatility has influenced the equity market, and the commodity market has been shaken lately, especially with oil value going down for two months now.
However, according to macro analyst Alex Krueger, the situation with commodities is not that simple and could have an impact on the crypto market. In a tweet on July 30, he stated:
"Yes this is a bear market rally … for now. Thing is if inflation comes down fast enough, which is feasible, and Europe's energy crisis is not exacerbated by a harsh winter, also feasible, this could end up being the beginning of the bull market. Nobody knows as of now."
Until fresh Fed events hit the market and influence the future state of things, the existing state of affairs will likely remain in limbo.
Buy stocks now with Interactive Brokers – the most advanced investment platform
---
Disclaimer: The content on this site should not be considered investment advice. Investing is speculative. When investing, your capital is at risk.
---
Source
---
Back to the list