Back to the list
ProShares Short ETF Becomes Second-Largest Bitcoin Fund In Record Time
bitcoinist.com
29 June 2022 23:18, UTC
Reading time: ~3 m
---
The ProShares Short Bitcoin ETF had been highly anticipated due to the success of short bitcoin ETFs in the past. A reasonable amount of inflows was expected to flow into the ETF but with less than one week in the game, the ETF had surpassed expectations for it. This growth coincided with a decline of BTC's value on the spot market and shows how institutional investors are viewing the digital asset.
Second-Largest Bitcoin ETF
There have been a number of Bitcoin ETFs that have been in operation in the U.S. market, the largest one being run by ProShares. With this, ProShares had established its dominance when it comes to bitcoin ETFs and had taken the plunge to launch another bitcoin ETF in the market. This would prove to be the right move given the performance of the ETF.
The ProShares Short Bitcoin ETF (BITI) was launched last Tuesday, June 21st. This ETF caters exclusively to investors who are not looking to be exposed to the digital asset for a long period of time and has found acceptance in the space. Although it had started out slowly, inflows had quickly ramped up and by Monday, six days after launch, the ETF held about 939 BTC.
It made up the inflows into short bitcoin for the week as noted by CoinShares in their report, which has catapulted the ETF to the second-largest one in the U.S. ProShares' success with its first BTC ETF, the BITO, may have played a role in the inflows, and now it handles the two largest Bitcoin ETFs in the United States. There is more than 32,700 BTC held in ProShares Bitcoin ETF, BITO, as of Monday, June 27th.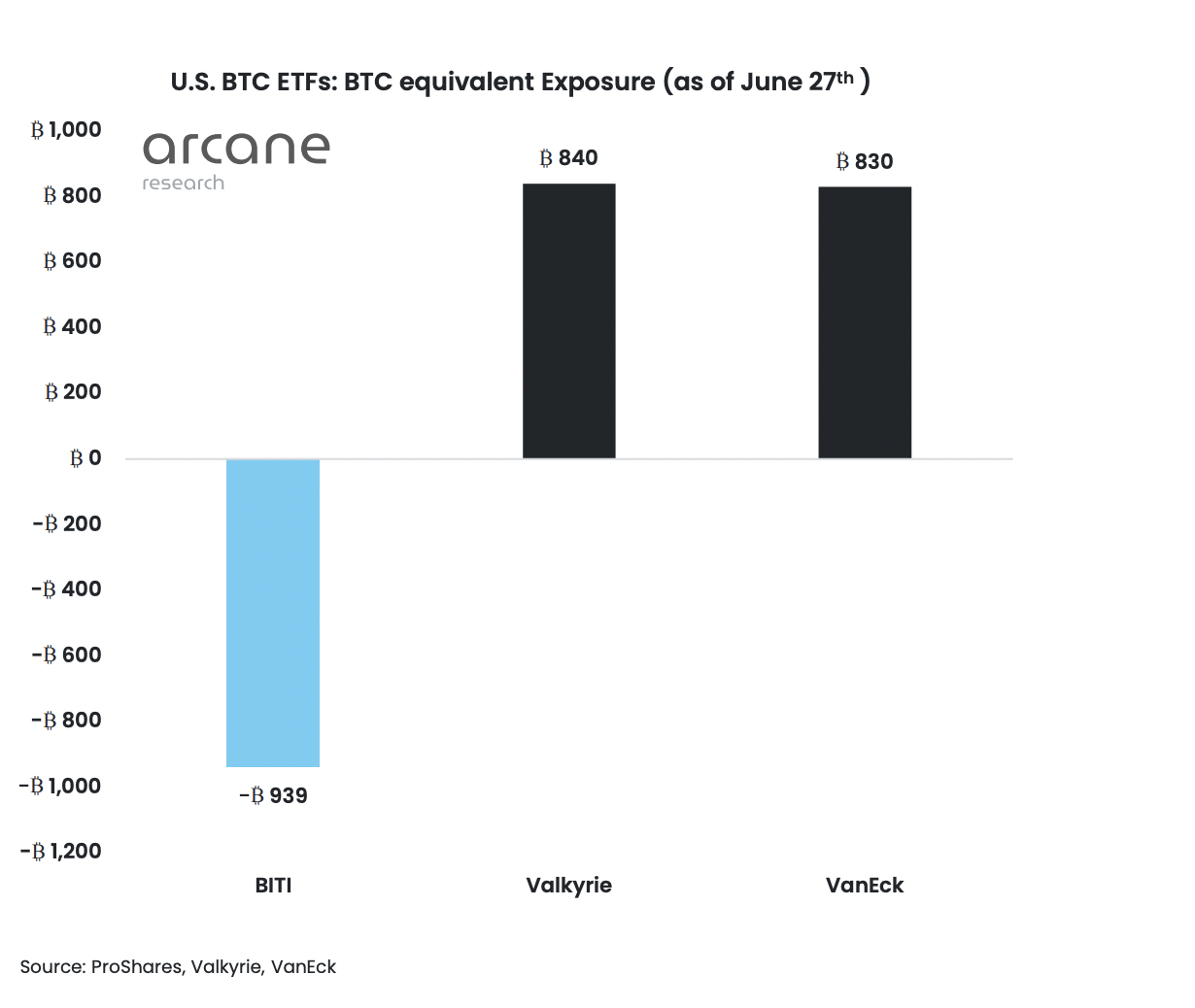 Short BTC ETF becomes second-largest U.S. BTC ETF | Source: Arcane Research
Giving The Bears A Chance
The streak of the Securities and Exchanges Commission approving ETFs has been mostly skewed towards long exposure to bitcoin. Hence, an ETF that caters to more bearish investors has been long due. The ProShares Short Bitcoin ETF gives bears the opportunity to bet against the cryptocurrency for the short term. Thus providing a good balance between longing the market and shorting it.
BTC holding above $20,000 | Source: BTCUSD on TradingView.com
The market is also looking toward the SEC for its verdict on other bitcoin ETFs. Bitwise had filed a spot-based ETF following the numerous rejections that have been levied by the regulatory body against such filings. A decision is expected soon, although it is more likely to be in the negative.
This refusal on the part of the SEC to green light a bitcoin spot ETF has drawn the ire of the community in the past and more criticism is expected if the Bitwise ETF is rejected. However, the approval of the ProShares Short Bitcoin ETF shows a step in the right direction as the market moves closer to a spot-based ETF approval.
Featured image from The Verge, charts from Arcane Research and TradingView.com
---
Source
---
Back to the list