Back to the list
Despite Crashing Under $50,000, Bitcoin (BTC) On-chain Fundamentals Showing Strength Once Again
coingape.com
14 May 2021 06:40, UTC
Reading time: ~3 m
---
On Thursday, the Bitcoin (BTC) price went crashing under $50,000 levels after Tesla announced that it's dropping Bitcoin (BTC) payments against its car purchases. Bitcoin has lost its trillion-dollar status and continues to remain under pressure.
However, there have been some positive shifts taking place in Bitcoin's on-chain metrics despite this price crash. The Bitcoin (BTC) dormant supply increases despite the price drop, meaning long-term holders have again resolved to accumulation by buying the dips. As Glassnode reports:
"Bitcoin (BTC) supply held by Long Term Holders has returned to accumulation mode. Whilst it looks similar to the 2017 peak, HODLers today actually hold +8% more of the circulating supply in dormant wallets. Dormant supply increases, even as price dips".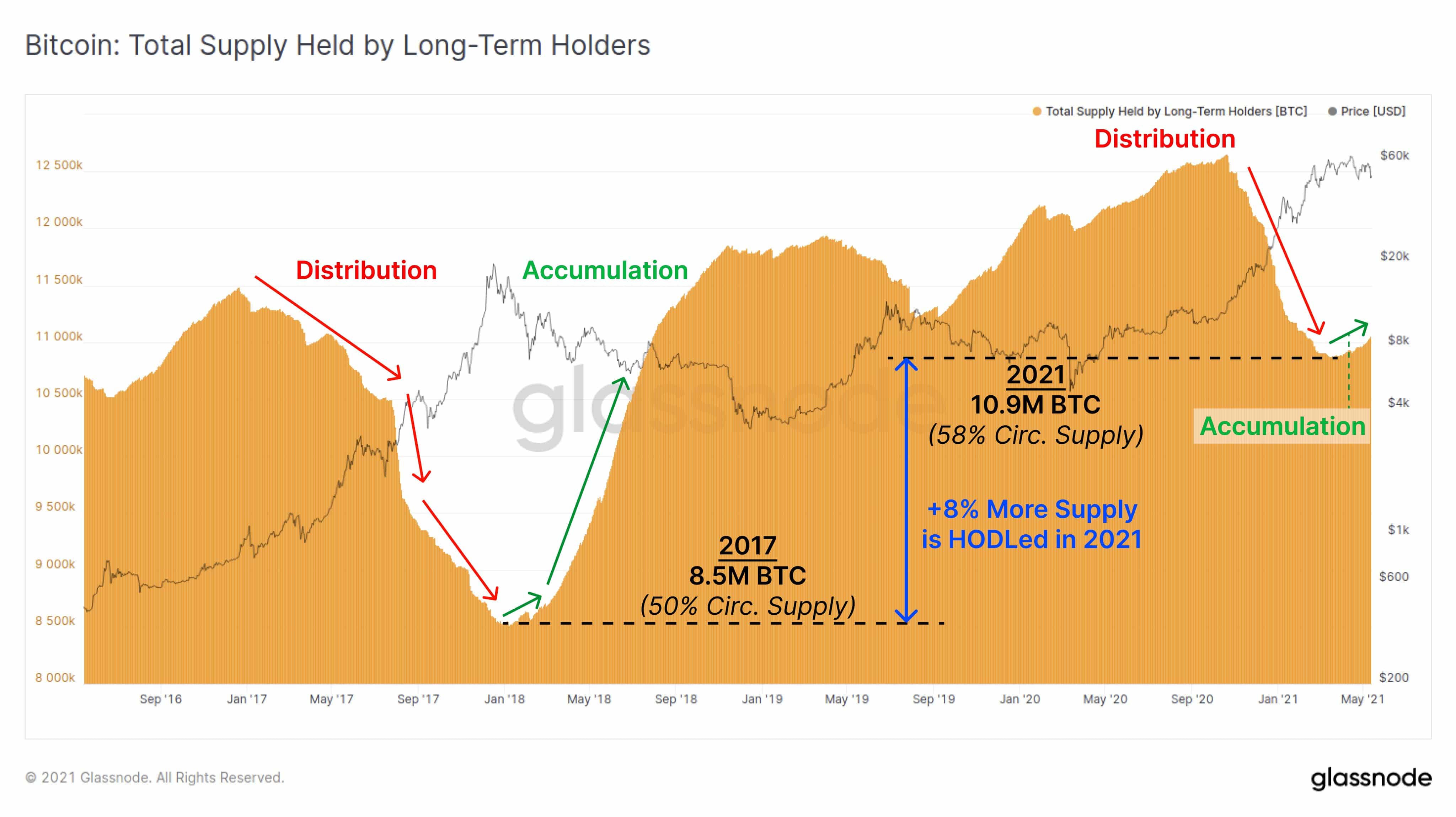 Bitcoin Exchange Outflows Continue
It looks like some of the big and smart players are grabbing this opportunity to buy BTC at lower rates. Yesterday, MicroStrategy CEO Michael Saylor announced an additional $15 million worth of Bitcoin purchases. On the other hand, Bitcoin exchange outflows continue reducing BTC supply. As reported by CryptoQuant, over 10,000 Bitcoins left Coinbase in the last 24-hours.
Buy ETH with up to 50% discount! ->
10,044 $BTC left Coinbase in an hour.

Chart👉 https://t.co/dcjhkuhzWc pic.twitter.com/7TaeHcTA9x

— CryptoQuant.com (@cryptoquant_com) May 13, 2021
Also, the Bitcoin Futures perpetual funding rates have flipped across exchange turning to positive. Meaning, the long-term holders are pretty confident of Bitcoin's price rise going ahead and have started paying the shorts.
That was quick: funding rates flipped positive again.

Longs are back to paying shorts.#Bitcoin

Chart: https://t.co/nUHBlGXJCy pic.twitter.com/HB0cWrBDba

— Rafael Schultze-Kraft (@n3ocortex) May 13, 2021
Recently, the Bitcoin (BTC) network also witnessed one of the biggest mining difficulty adjustments in over 7 years. On Thursday, May 13, the Bitcoin mining difficulty jumped a massive 21.5% in a single day as reported by Glassnode.
#Bitcoin mining difficulty has increased by 21.5% today.

It is the largest positive difficulty adjustment in almost 7 years.

Chart: https://t.co/VSa6oGAPZF pic.twitter.com/ynFPBBDBKh

— glassnode (@glassnode) May 13, 2021
All these improvements in the BTC on-chain fundamentals are a clear signal that Bitcoin is staging its recovery ahead. The Elon drop has contributed to a massive market crash with the overall crypto market losing over $300 billion. However, institutional players continue to remain net positive of Bitcoin's future. Speaking to CNBC, BlackRock CIO Rick Reider said:
"Bitcoin is an interesting asset. It is one that has not reached maturity yet. I think it's durable. I think it will be part of the investment arena for years to come".
---
Source
---
Back to the list