Back to the list
Bitcoin Fails to Break Past $60,000. Corrects Down to $57,000
cryptopotato.com
19 March 2021 07:28, UTC
Reading time: ~3 m
---
Bitcoin had a tough day. The fight between bulls and bears was fierce, but in the end, the bears succeeded in pushing prices down again, leading Bitcoin to correct by about 4% in the last 24 hours.
Bulls had started the week on a high note following several positive announcements that sparked optimism among investors. The first stimulus checks started to arrive in Americans' homes, and the global firm Meitu announced a $50 million purchase of Bitcoin and Ethereum —awakening memories of the MicroStrategy and Tesla era.
Bitcoin seemed to have rebounded after the bearish correction that followed its ATH. From March 14 through the 16th, it lost more than 13% of its value and was perilously close to $50,000 support.
But it recovered from the dip, and a solid green candle on March 17 gave hope to hodlers and bulls. Bitcoin climbed fast… until it hit an imaginary ceiling.
Round Numbers: The Silent Enemy
The $60,000 barrier proved to be a strong foe to beat. The bulls managed to push prices up to $60,083, and from there, the fall began, and within 3 hours, bitcoiners saw the price of the market's leading cryptocurrency plummet to $57,000.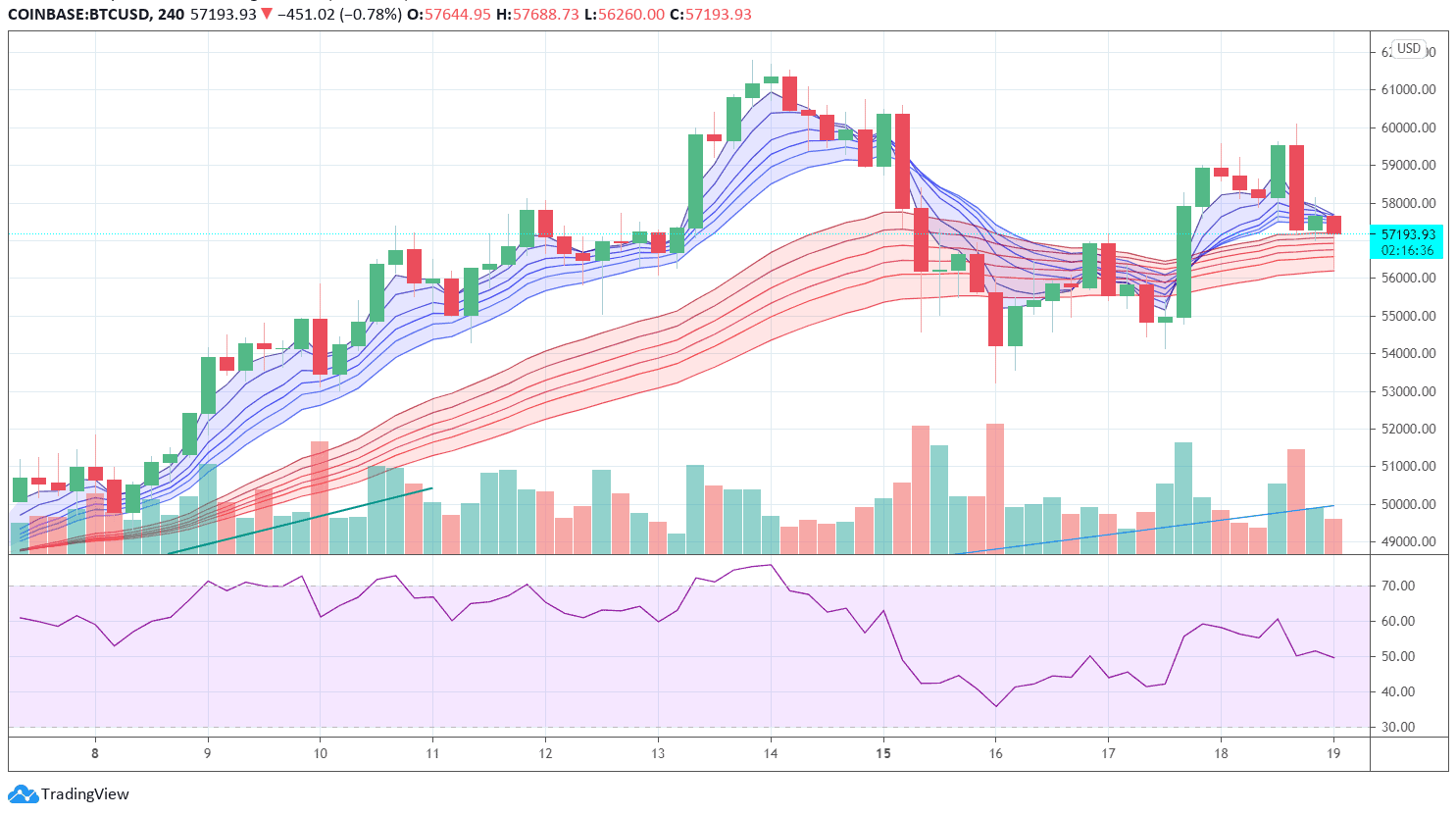 The drop at first glance appears to be more psychological than technical. During a phase of price discovery, round numbers always become barriers that markets watch closely. Many buy and sell orders are set at those price points.
Moreover, Bitcoin seems to have bounced precisely in an area that could indicate a trend change to the downside.
Bitcoin Still Seems Bullish for Swing and Position Traders
Similarly, history seems to be repeating itself. Since breaking the 2017 ATH of late December 2020, Bitcoin has had 3 strong upward impulses of similar dimensions.
In other words, from a charting standpoint, prices are rising with precisely the same acceleration after experiencing sharp corrections. This could point to an optimistic long-term outlook, as trend directionality has not yet been lost.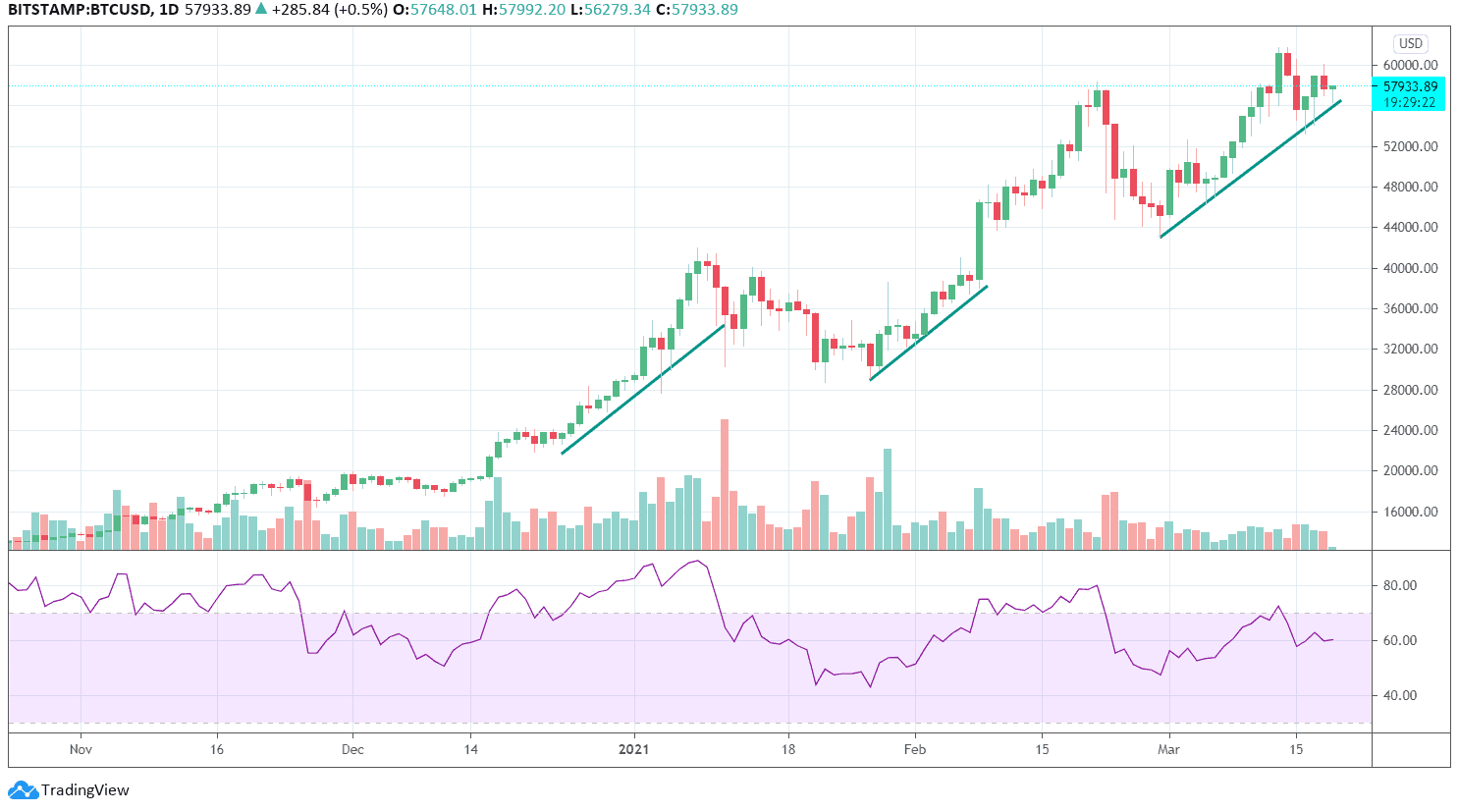 The Rest of the Altcoins Suffered As Well
Bitcoin's correction dragged the rest of the cryptocurrency market down with it. The top 10 cryptos with the largest capitalization showed all tickers in negative with the exception of XRP, which behaves erratically due to the special circumstances surrounding it. Expectations about a possible lawsuit and an elevated nervousness of traders make it especially risky to participate in this market.
Ethereum had a sharp drop of almost 3%. It is currently trading around $1789, according to Coinmarketcap.
BNB experienced a similar drop, and its current price gravitates around $266.
The big loser of the week was Cardano. Its ADA token fell 12% in a matter of hours, and it seems difficult for it to recover and break the records it set just a few days ago.
---
---
Source
---
Back to the list