Back to the list
Bitcoin Presses Range Highs Amid Russian Gas Payment Speculation
blockworks.co
25 March 2022 19:10, UTC
Reading time: ~3 m
---
Crypto markets led by bitcoin have been in a strong short-term uptrend this week, but several of the largest assets by market cap ran into an area of major resistance on Friday, bounded by the confluence of their 200-day exponential moving average price and previous range highs.
The Bitcoin CME Futures are up about 15% since the start of the week, at a level not seen since mid-February. If bitcoin ends the week above $43,000, it will be the first time since the end of September.
Renewed institutional interest is providing a tailwind, according to Noelle Acheson, Head of Market Insights at Genesis.
"Just this week alone, we had statements from BlackRock, Goldman Sachs, Bridgewater, Cowen and Virtu about crypto services and/or investments," Acheson told Blockworks.
Acheson also points to the steady stream of large fundraises in the crypto space, as well as an influx of new talent, including from traditional Wall Street firms.
Bitcoin has been oscillating between about $37,000 and $45,000 for the past two months, with long-term declining volatility that, like a tightly coiled spring, typically precipitates large price swings. On the five-day timeframe, bitcoin has not seen volatility this low since October 2020.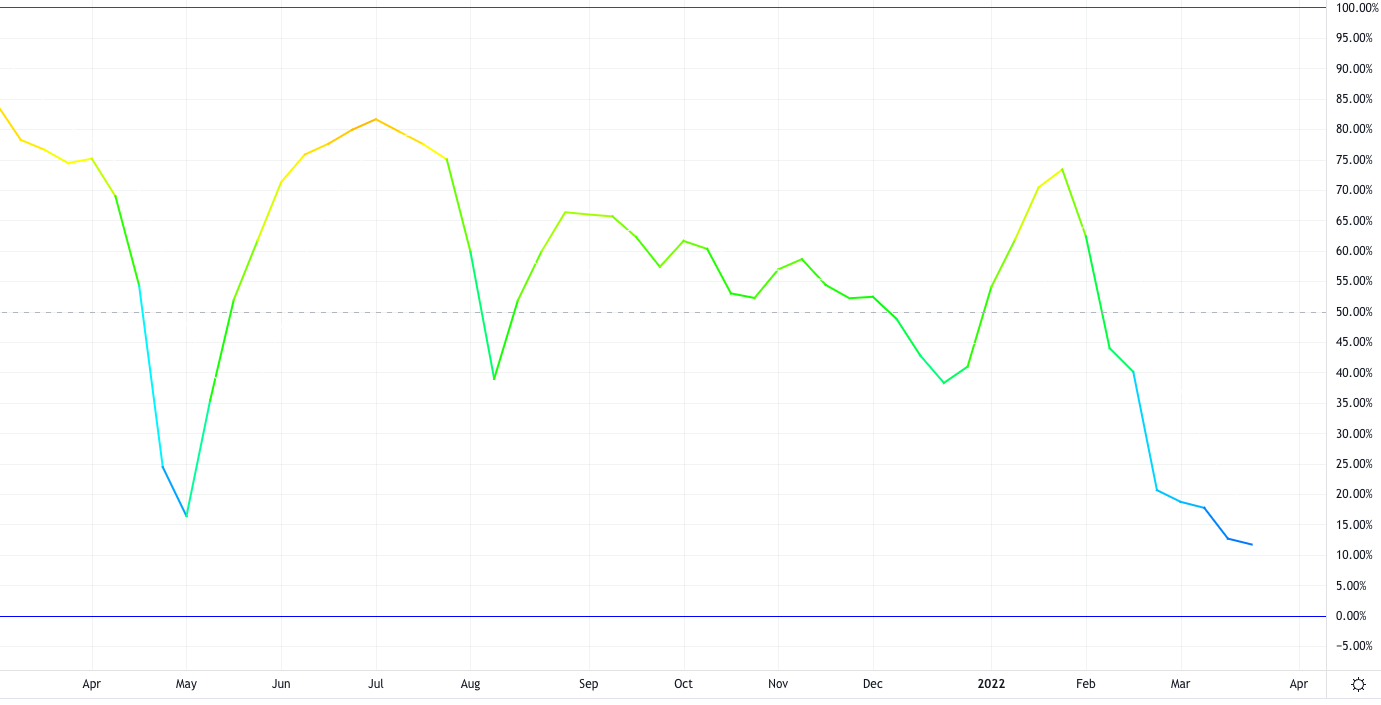 Bollinger Band Width Percentile, a volatility-based indicator, 5 day time frame; Source: TradingView
Both bitcoin and ether were bouncing off their daily 200-EMA in midday Friday trading.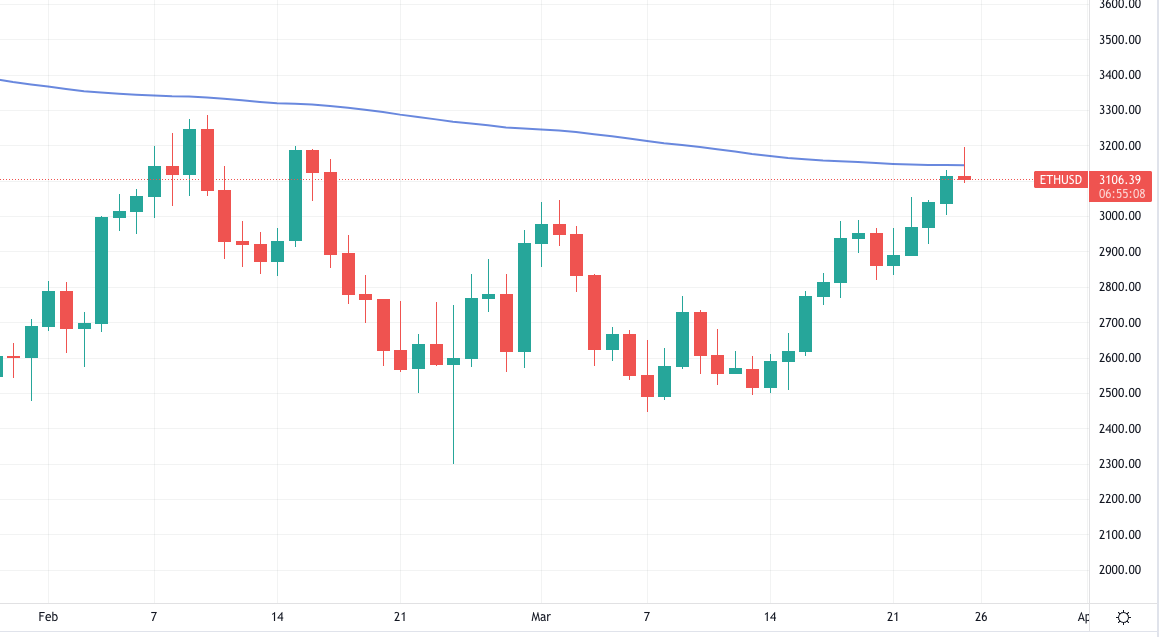 The ETHUSD daily chart on the Coinbase exchange, with 200-EMA (blue line); Source: TradingView
An uptick in bitcoin interest
Bitcoin's global open interest has reached upwards of $13.5 billion across all exchanges for the first time since the start of the year.
"In part, this uptick in interest is down to bitcoin's resilience and liquidity. A large part of it, though, is also driven by the growing attention on BTC's role on the global stage as a result not just of the war in Europe but also the extraordinary monetary policy framework central banks around the world are trying to navigate," Acheson said.
The war in Ukraine has become a fundamental driver of price action for another reason, Kevin Kang at BKCoin Capital, told Blockworks.
"Russia's chairman of the Energy Committee [in the State Duma], Pavel Zavalny, showed his willingness to accept bitcoin as payment for energy exports," Kang said.
Zavalny's comments came in a video interview with RIA Novosti, a Russian state-owned television station earlier this week, which were widely circulated on Twitter and picked up by Western media including CNBC and the BBC.
There is no indication that bitcoin is actually being used in this manner, and Jerry Brito, Executive director at CoinCenter, doubts their significance, noting on Twitter, "the reference to Bitcoin was clearly a throwaway line."
Kang also pointed to favorable news regarding bitcoin mining by major energy companies.
"Exxon [is] using excess gas to mine bitcoin. That is big, as Exxon could lead other energy producers to do the same," Kang said.
Morgan Chittum provided additional reporting for this story.
---
---
Source
---
Back to the list