Back to the list
Bitcoin Touches $50,000 on OKX
www.trustnodes.com
24 March 2022 13:13, UTC
Reading time: ~2 m
---
Bitcoin briefly rose to about $50,000 in one of the world's biggest exchange, OKX, which handles some $17 billion in daily trading volumes.
At 10:19 UTC this morning, bitcoin's price began to suddenly spike in one of the future contracts, 0624, as can be seen above.
In 15 minute candles, it all looks over as soon as it began, but if we zoom in, we see some story.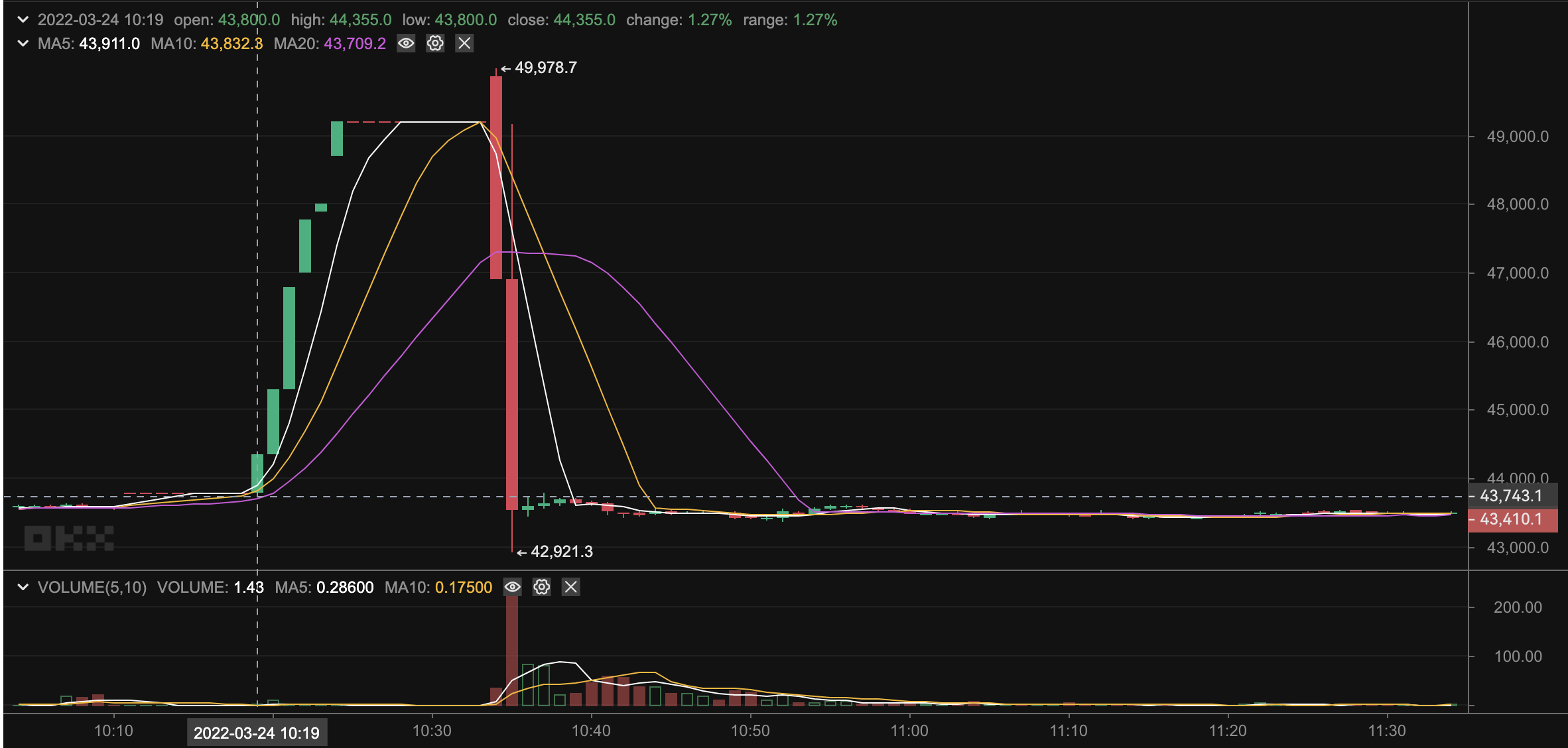 Rather than some sort of blip or fat finger with one long candle in a fakeout, here we have a green cascade.
Some bot maybe has malfunctioned to become extra bullish, giving us six green candles in six beautiful minutes.
What's more, suspense is held for an entire nine minutes with this in the future contract standing at a $7,000 premium.
Once trading begins again, price goes up! And then it's all over in two minutes as it returns to its normal premium of about $400 because this is the June futures, and so tend to have such premium when they're this far out.
What's caused this, isn't clear, but this is of course not the first time price has gone out of whack, though it is the first time it does so this 'season.'
In many exchanges, including Coinbase, price has gone down to pennies and up way above market price.
It doesn't necessarily mean anything, but it does clear the order book in a certain direction and the actual price sometime follows the bull or bear bot as it may be.
It also may be an indication of sentiment. There's clearly some excitement in the air as that's when this sort of thing happens, and most crucially that excitement is in the up direction if this bot is saying anything.
So maybe this futures contract is indeed telling the future. $50,000 perhaps is actually coming with Do Kwon charging the bulls.
---
Source
---
Back to the list