Back to the list
Analyst "Struggles" to See Bitcoin Bear Case Due to a Perfect Storm of 4 Factors
www.newsbtc.com
11 May 2020 00:10, UTC
Reading time: ~3 m
---
Bitcoin has embarked on a steep recovery over the past eight weeks. After falling as low as $3,700 in the middle of March, BTC has surged as high as $10,100 — a gain of over 170% in just the span of two months.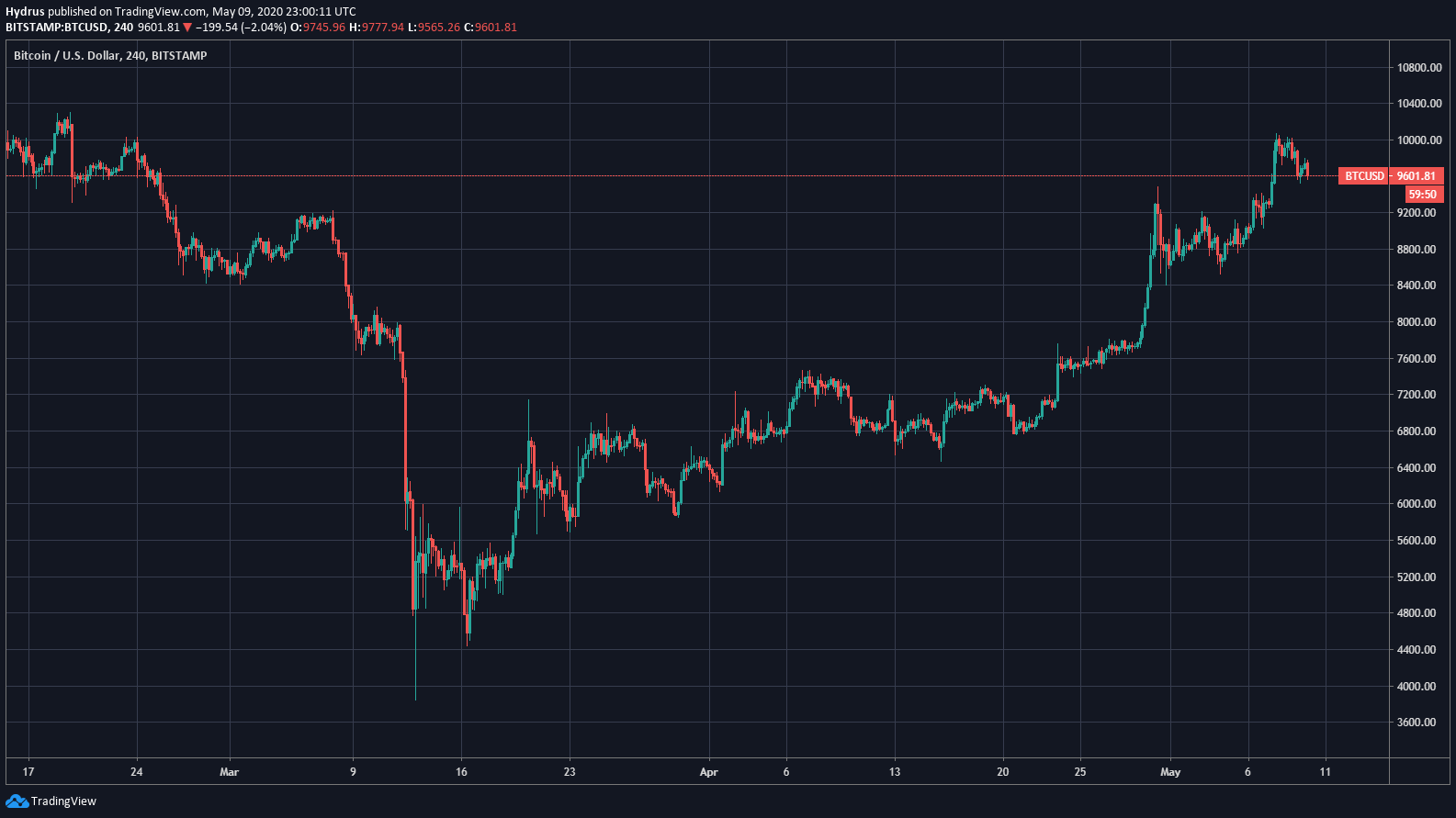 Chart from TradingView.com
It's a stunning performance that has allowed the cryptocurrency to outperform almost every other asset class.
While there has been a slight stagnation in the price of BTC, which is now trading at $9,600, a top analyst believes that Bitcoin is poised to head higher. He cited a confluence of four fundamental factors that in convergence are a potential perfect storm.
The analyst went as far as to say that he's so convinced by these factors that he is "really struggling to see a bearish case" for BTC here.
BTC is in an interesting place at the moment.

Halvening in a week

Economic hedge narrative showing potential

Incredible strength from the lows

Bitcoin exchange dynamics shifting…

I am really struggling to see a bearish case for bitcoin here…

— Mack (@PostOnlyLosses) May 4, 2020
#1: Bitcoin's Halving Is Imminent
The first he looked to the fact that the Bitcoin block reward halving is taking place in a few days, approximately three as of the time of this article's writing. This halving will reduce the inflation rate of BTC by 50%.
Analysts expect this event to be widely bullish for Bitcoin as assuming demand stays the same in the wake of the halving, the decrease in mined supply will skew the supply-demand dynamic in favor of market growth.
#2: The Hedge Narrative Is Strengthening 
Secondly, the analyst explained that Bitcoin's narrative as being a hedge against economic downturns is "showing potential," likely referencing how the cryptocurrency is the best-performing asset this year despite a global recession brewing.
He might also be referencing the fact that Bitcoin, which is scarce and decentralized, is gaining credence due to the money-printing by central banks around the world.
Paul Tudor Jones, a legendary macro investor worth over $5 billion, recently touched on this narrative. In a note titled "The Great Monetary Inflation," the Wall Street veteran argued that Bitcoin is a solid bet against monetary inflation.

Screenshot from Jones' note
#3: Bitcoin Has Rallied Strongly From the Lows
Thirdly, he remarked that Bitcoin's "incredible strength from the lows" is convincing him of the bull case.
Since the $3,700 lows, a variety of indicators have flipped bullish for Bitcoin. For instance, an indicator with a 100% strike rate recently flipped bullish on the one-day chart.
#4: Exchange Dynamics Are Shifting
And lastly, he claimed that "Bitcoin exchange dynamics are shifting" in favor of growth. The analyst did not expand on this specific point, but there are two main trends he is likely referring to:
There is less Bitcoin tradable on exchanges: Data from Glassnode indicates that investors are withdrawing their coins off exchanges en-masse and into personal wallets, suggesting a HODL mentality. This means that there is likely less BTC on the order books to be sold.
Spot exchanges have registered an increase in buying activity: Spot exchanges like Kraken and Coinbase have registered a noted increase in market activity and popularity over the past two months, suggesting retail investors are flooding in to buy Bitcoin.
Photo by Matt Hardy on Unsplash
---
Source
---
Back to the list