Back to the list
Bitcoin Whale Shorting BTC Vanishes After Crypto Surpasses $10,000
www.cryptoglobe.com
08 May 2020 23:00, UTC
Reading time: ~2 m
---
Popular crypto Twitter user and confirmed bitcoin whale Joe007 has left the social media platform and deleted his presence off of Bitfinex's leaderboards following BTC's ascent above $10,000
Joe007, who gained prominence for a series of trades during February and March's market volatility which netted a reported $20 million, announced that he was leaving Twitter following what he described as a brief "experiment."
In a farewell post to Twitter published May 7, the bitcoin whale said, 
So even though the journey was unexpectedly exciting, it has come to its end. From the very beginning, my CT involvement was a time-limited experiment since my detractors got something right: I can't really afford Twitter. There are many reasons why I can't stay, unfortunately.
The cryptocurrency whale proceded to update his profile on the microblogging platform to inform his over 30,000 followers he was ending his "experiment" and leaving the platform. His online presence has, effectively, been deleted.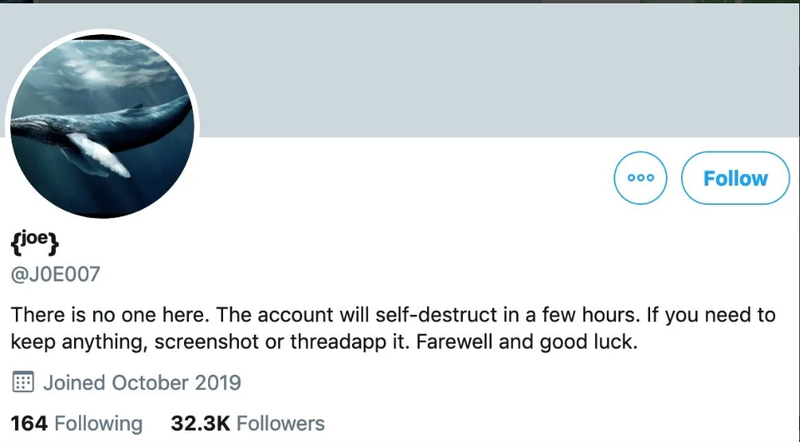 The post, along with Joe007's Twitter account, was subsequently deleted. The bitcoin whale also removed himself from the Bitfinex Leaderboard, which no longer reflects the profitability and losses of his trades. 
Joe007's sudden departure comes following bitcoin's ascent above $10,000, as the market leans towards bullish anticipation of next week's block reward reduction. The whale trader had been vocal about his bearish outlook for bitcoin over the last month, including placing a short contract on bitcoin around $6,800. According to the last Bitfinex Leaderboard update, Joe007 was sitting on $20 million in unrealized losses. 
Bitcoin's price, it's worth noting, has dropped below $10,000 since then and is trading close to it at press time.
---
Source
---
Back to the list