Back to the list
Top Crypto Trader Says Bitcoin Will Soon Hit 10k
newslogical.com
17 December 2019 08:10, UTC
Reading time: ~2 m
---
A cryptocurrency trader ranked all-time top author on Trading View has disclosed with an illustration that Bitcoin will soon rally up to $10,000 per unit early next year.
Known as Alanmaster on the financial visualization platform, the crypto analyst, while issuing altcoins market update, stated that Bitcoin will clinch $10K soon.
Alanmaster noted that Bitcoin trading volume, after hitting low, has come to halt. The trader said Bitcoin price against the US Dollar is now trading around support. Highlighting $6900 – $7100 as the support range, Alanmaster proclaimed that if Bitcoin manages to anchor above this level, then we can hope for an upward moved that will help develop a smooth ride on the upside trend.
Alanmaster furthered that contrarily, a break below the support will drive Bitcoin slightly below to $6700 – $6850, the strong support region.
With trend lines illustration on the 3-month chart, the top crypto trader said if Bitcoin manages to break above $6900-$7100 levels, then BTC will be poised to return on the upside trend, then, the next main target for Bitcoin would be EMA10 at $7240.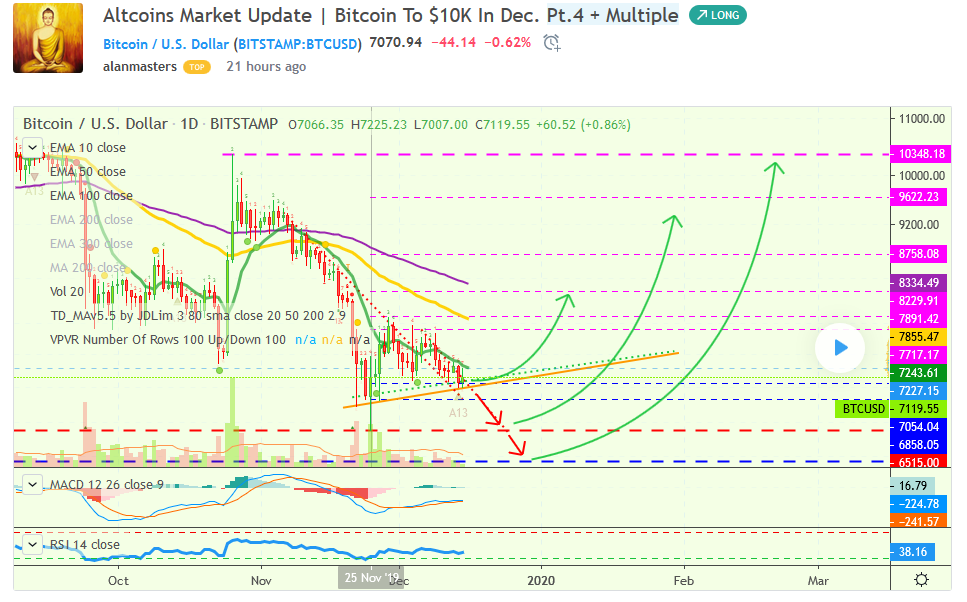 Image Credit: Trading View
Once this is achieved in the next few days, Bitcoin will remain on the upside trend, then we can hope that a bullish rally has set in. Afterward, Bitcoin will move to $7850 and then above $8K and $9K till it reaches $10,000, Alanmaster noted.
In the worst-case scenario, Bitcoin will move sideways rather than drop below $6700, Alanmaster stated, adding that a long sideways consolidation period will be seen before an additional growth sets in.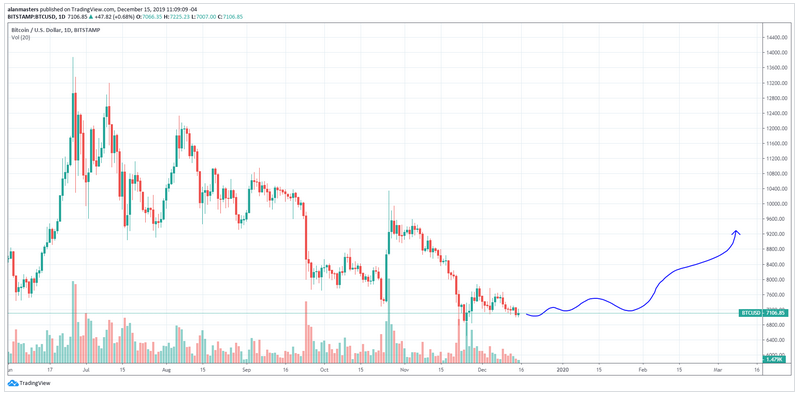 Image Credit: Trading View
BTC.TOP CEO Bullish on Bitcoin Despite V-Pattern Pull-Back
Jiang Zhuoer, the CEO of the 6th largest mining pool that holds roughly 7.1% of all mining shares, BTC.Top, has said he remains bullish on Bitcoin despite the present situation of the cryptocurrency and the cryptocurrency market at large.
Zhuoer noted that ongoing V-pattern reversal is a normal scenario that takes place before a bull run that comes after Bitcoin halving.
The CEO of the mining pool noted that investors are left with the opportunity of making proper use of the pullback by buying the dip before a resurrection takes place.
---
Source
---
Back to the list