Recent adjustments by JPMorgan in its estimation of Bitcoin's production costs have garnered attention. Previously standing at $21,000, JPMorgan's revised Bitcoin production cost has now been pegged at $18,000.
This move is closely tied to the Cambridge Bitcoin Electricity Consumption Index's (CBECI) decision to update its methodology, highlighting the interconnectedness of financial analyses and industry metrics. Notably, the CBECI is known for its critical role in tracking and estimating the electricity consumption of the Bitcoin network.
Revised CBECI Methodology's Impact On Mining Costs
JPMorgan analysts, under the guidance of Nikolaos Panigirtzoglou, noted in a recent report that the new methodology changes the landscape of Bitcoin's production cost estimations. The report revealed:
The current Bitcoin production cost falls to around $18,000 with the new methodology vs. $21,000 with the old methodology.
According to the analyst, this shift implies that future changes in electricity prices will have a comparatively lesser effect on mining costs.
The CBECI's adjustments have a broader impact than simply changing estimates. Analysts have discovered that changes in electricity costs can significantly reduce the cost of producing 1 Bitcoin.
With the new CBECI methodology, this sensitivity has decreased slightly to approximately $3,800, compared to the previous $4,300 change for every one cent per kWh (kilowatt hour).
According to the analyst, this sensitivity is expected to double after the 2024 halving event, which will decrease miners' rewards by half. This change will amplify the importance of cost management due to the higher impact of electricity costs on the overall mining expenses.
Bitcoin Latest Price Action
So far, Bitcoin is still very much in the red. Following the asset's 13% drop in the past month, slipping below $29,000, Bitcoin hasn't made any significant movement aside from a continued downward trend. However, over the past 24 hours, BTC has seen some gains.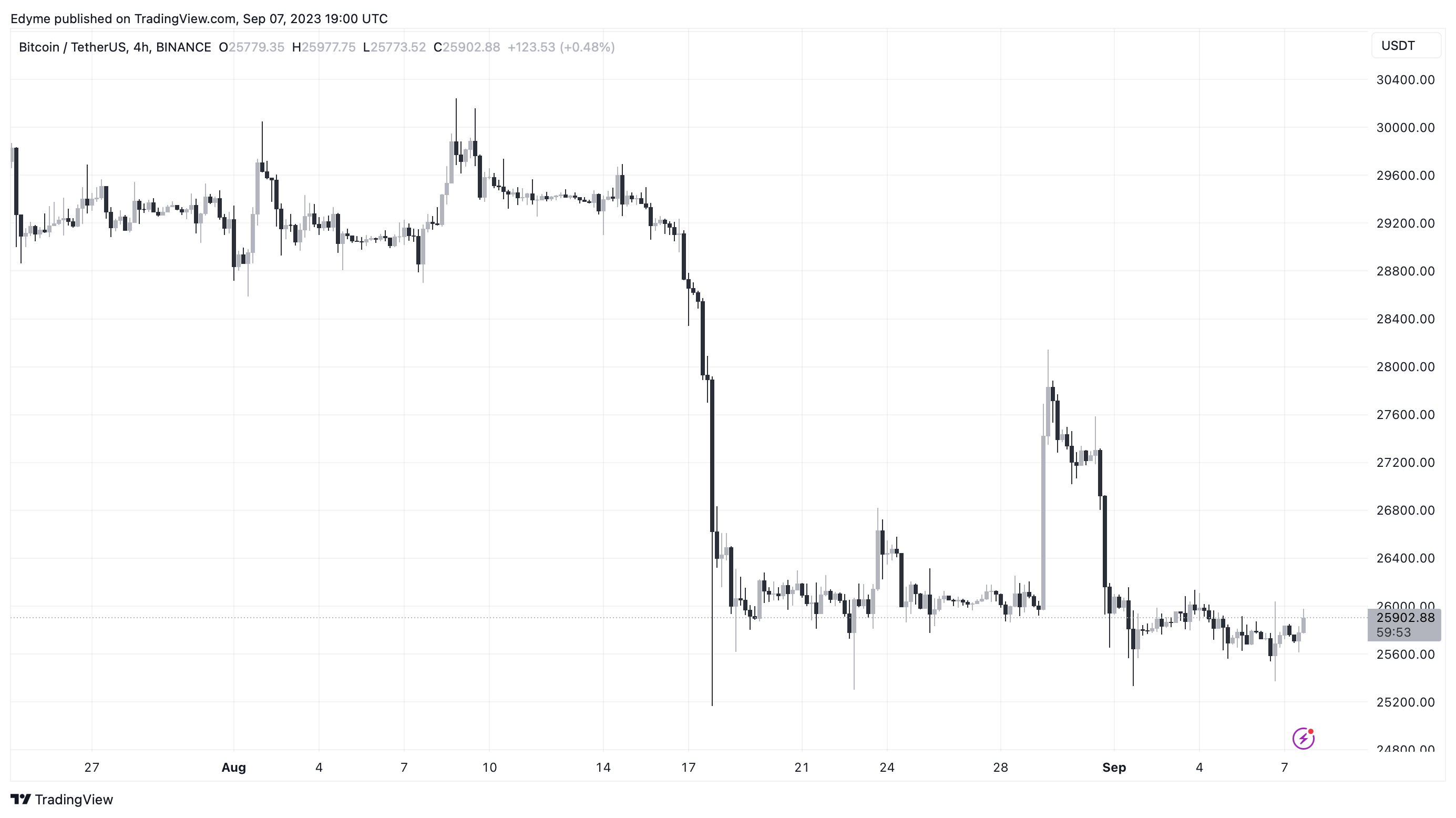 The top crypto currently trades for $25,902 at the time of writing, up by nearly 1% in the past day. Over the past month, more than $70 billion has been erased from the asset's market cap.
Nevertheless, the past 24 hours have seen the asset record an inflow of $3 billion. While BTC's price and market cap suffered a bloodbath, its trading volume was negatively impacted.
Bitcoin has seen its trading volume fall from a high of $14 billion last Wednesday to as low as $3.5 billion yesterday and $8 billion in the past 24 hours. This is a significant plunge compared to the daily trading volume of more than $15 billion recorded early last month.
Featured image from iStock, Chart from TradingView