Back to the list
JPMorgan: Gold prices signal Bitcoin should be at $45,000
finbold.com
26 May 2023 10:05, UTC
Reading time: ~2 m
---
As the digital revolution continues to reshape the financial landscape, Bitcoin (BTC) has emerged as a formidable contender to challenge the age-old dominance of gold as a store of value and hedge against inflation.
This being said, strategists at JPMorgan said gold's price suggests that Bitcoin should be trading substantially higher than its current price level, assuming that many investors see the two assets as interchangeable.
According to the analysts, given the bullion's current price of just below $2,000 an ounce, the world's leading cryptocurrency should be trading somewhere around $45,000, they wrote in a note to clients on Wednesday, May 24. Bitcoin currently trades at $26,512, nearly 70% lower than the level strategists say it should be.
However, the premise that both serve as stores of value might fail to convince some, given that Bitcoin has been around for only 14 years, while gold has been playing that role for centuries.
For that reason, the majority of institutional investors have stuck with gold as their go-to safe-haven asset, while Bitcoin has been more attractive to retail investors.
Bitcoin halving could also propel BTC price
JPMorgan strategists also reflected on another factor that could potentially drive Bitcoin's price in the future – the halving event.
Bitcoin halving refers to a programmed event that occurs approximately every four years, reducing the rate at which new Bitcoins are created by half, leading to a decreased supply of new coins entering the market and potentially impacting its price. The number of tokens miners receive for processing transactions and keeping the blockchain secure also gets halved.
The next halving event, which is expected to take place next April or May, would double the cost of mining 1 BTC to around $40,000.
Meanwhile, the bank's strategists were not bullish on Bitcoin's price in the short term, citing the ongoing regulatory backlash against digital assets.
"The headwinds from the U.S. regulatory crackdown, the unsettling of banking networks for the crypto ecosystem and the reverberations from last year's FTX collapse are likely to constrain any potential upside."

– the analysts wrote.
Bitcoin price analysis
At the time of writing, Bitcoin's price stood at $26,514, up around 1% in the past 24 hours. Over the past month, the cryptocurrency fell 6.6%.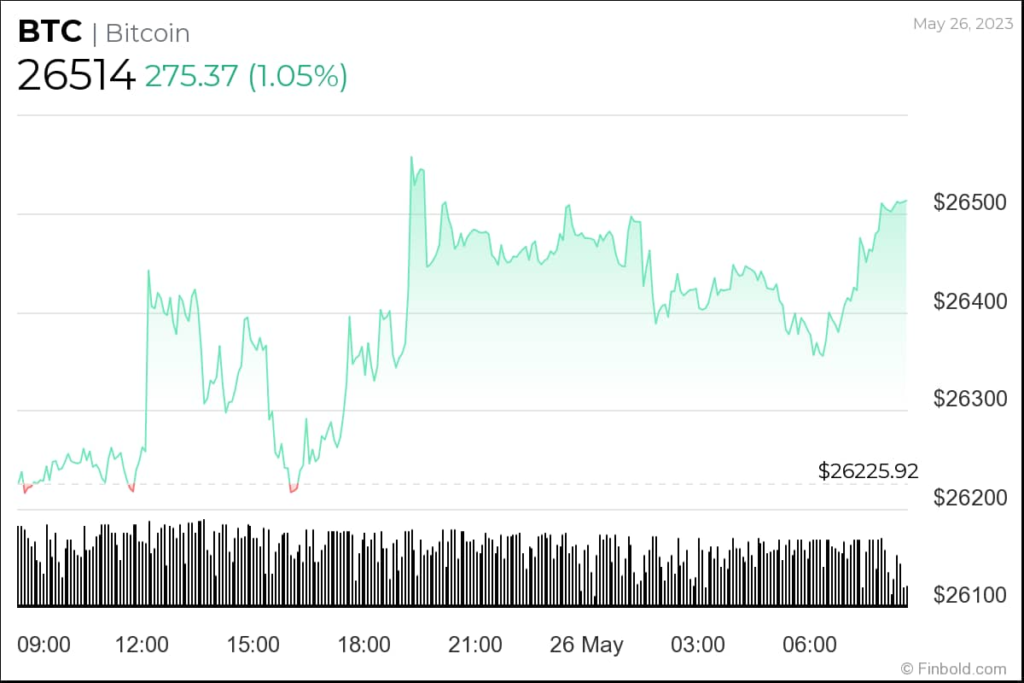 On the other hand, its year-to-date gains remain strong, at 60%, marking a significant recovery following the 2022 price crash.
Disclaimer: The content on this site should not be considered investment advice. Investing is speculative. When investing, your capital is at risk.
---
Source
---
Back to the list