The crypto trader and analyst Altcoin Sherpa tweeted his price prediction for Bitcoin (BTC) this morning. In the post, he forecasted that the crypto leader's price will drop to $25K soon.
The trader also explained his reasoning for this price target in the tweet. According to Altcoin Sherpa, the $25K level has a lot of confluence with the 200-day EMA line, the 0.382 fib level and is the level that was tested twice previously as a support and resistance.
At press time, BTC traded well above the $25K mark at $27,520.99. This was, however, after its price had dropped 2.67% in the previous 24 hours, according to CoinMarketCap. This negative price performance also forced BTC's weekly price performance into the red. As a result, BTC was down 1.73% over the past 7 days.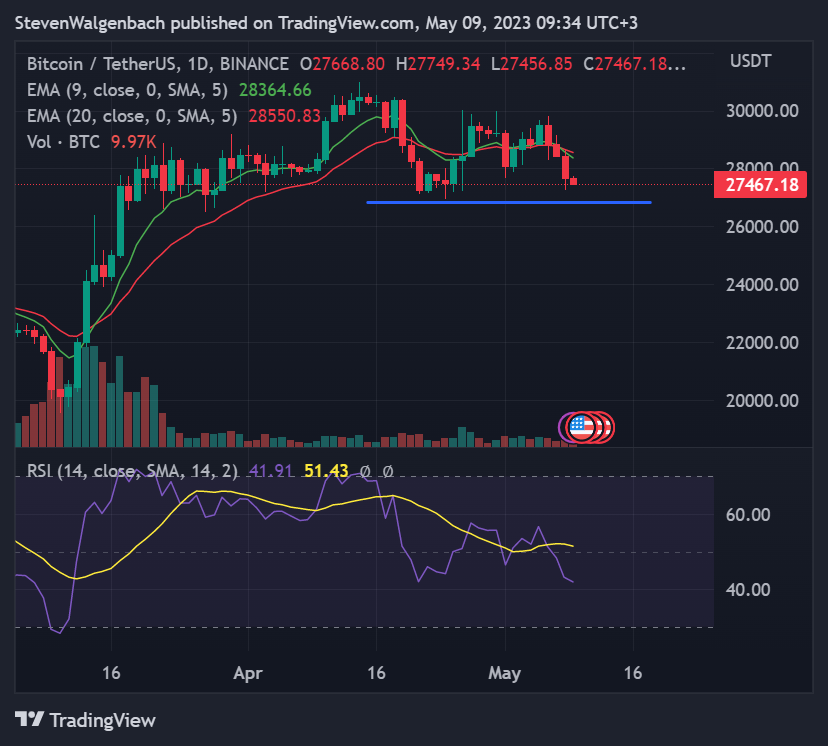 Daily chart for BTC/USDT (Source: TradingView)
BTC's price seems to be targeting the next key support level at $26,800 after it dropped bearishly below the 9-day and 20-day EMA lines. This drop below the two EMA lines came after a bearish flag was triggered between the two technical indicators, with the 9-day EMA line crossing below the longer 20-day EMA line in the last 4 days.
Along with the bearishness signaled by the 9-day and 20-day EMA lines, the daily RSI was also flagging bearish. At press time, the daily RSI line was trading below the RSI SMA line. These technical indicators all suggested that BTC's price had recently entered into a bearish cycle and would continue to drop in the next 24-48 hours.
Should this bearish thesis be validated in the next couple of days, BTC's price will drop to the aforementioned $26,800 support level. If this level fails to hold, then the next downside target for the crypto's price will be around $25.2K. On the other hand, BTC closing above $26,800 for the next 48 hours will result in a move up toward the 9-day EMA line.
Disclaimer: The views and opinions, as well as all the information shared in this price analysis, are published in good faith. Readers must do their own research and due diligence. Any action taken by the reader is strictly at their own risk. Coin Edition and its affiliates will not be held liable for any direct or indirect damage or loss.