The crypto analyst TARA (@PrecisionTrade3) tweeted yesterday that the price of Bitcoin (BTC) was resting on a key support level at around $30,130. According to the analyst's tweet, BTC's price would be "fine" as long as the identified support level held.
The analyst added that there was very strong sell volume pushing BTC's price down at the time of the tweet. At press time, it seems that the $30,130 support level was able to hold over the last 24 hours, as CoinMarketCap shows that BTC's price is currently trading at $30,455.80. The market leader's price did, however, drop 0.96% over the last 24 hours.
Not only did BTC print a 24-hour loss, its dominance in the market also decreased slightly. As a result, BTC's market dominance is estimated to be around 46.23%, which is 0.20% lower than yesterday.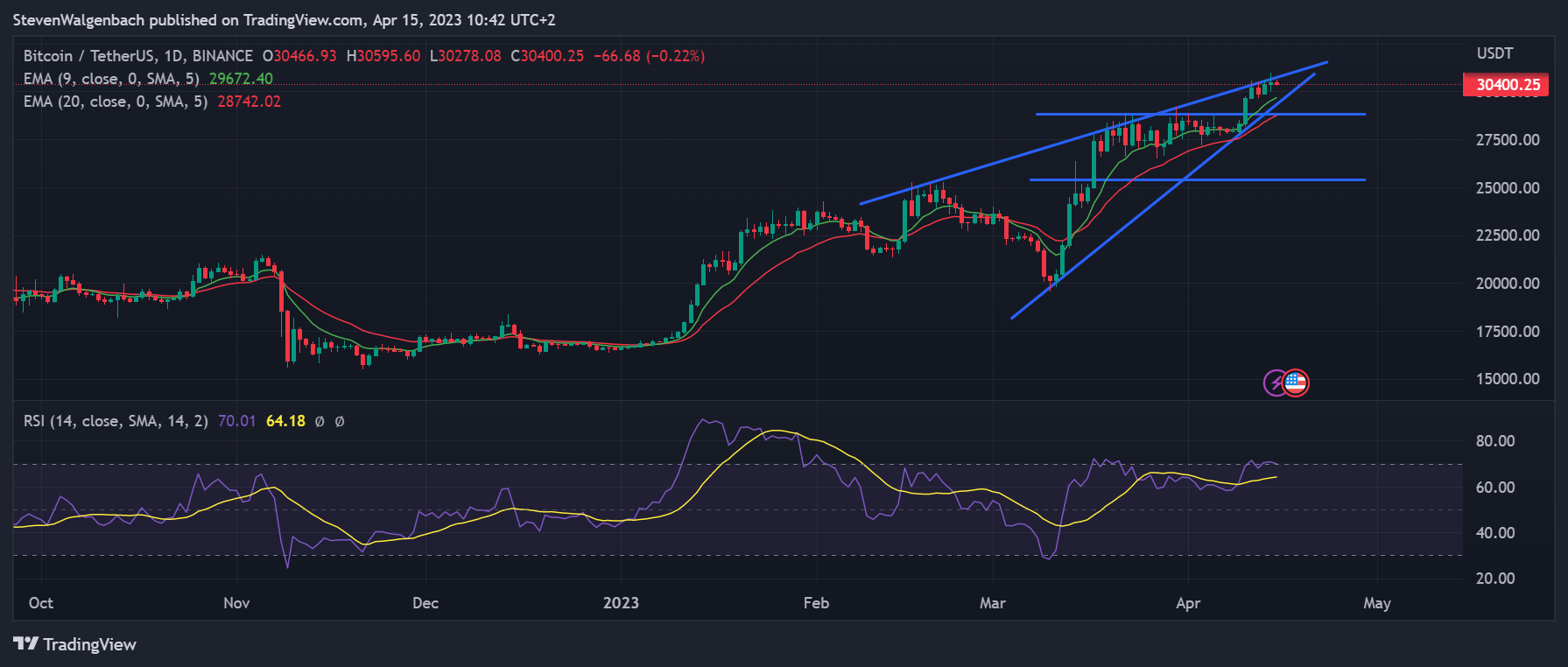 Daily chart for BTC/USDT (Source: TradingView)
BTC's price continues to receive support from the 9-day and 20-day EMA lines at press time. However, traders may want to take note of the bearish ascending wedge pattern which has formed on the crypto's daily chart. This pattern suggests that BTC's price will drop in the next 24-48 hours, especially since BTC's price is edging closer to the apex of the pattern.
The market leader's price was able to break out of this bearish pattern yesterday but closed the day's trading session back within the chart pattern. Should BTC's price fail to close a daily trading session above this pattern within the next 48 hours, then the crypto's price will likely drop to $28,850 in the upcoming week.
Disclaimer: The views and opinions, as well as all the information shared in this price analysis, are published in good faith. Readers must do their own research and due diligence. Any action taken by the reader is strictly at their own risk. Coin Edition and its affiliates will not be held liable for any direct or indirect damage or loss.