Several entities took a bet on bitcoin amid its dip, a bet which is now seemingly paying off as the number one crypto earlier on set a new ATH for 2023, breaking above the $30,000 mark for the first time in 2023.
In its April 5 statement with the SEC, MicroStrategy reported that between March 24 and April 4, the business and its subsidiaries acquired around 1,045 bitcoin for about $29.3 million.
This raised MicroStrategy's entire count to over 140,000 bitcoin bought at an average purchase price of about $4.17 billion and an average buying price of roughly $29,803 per coin.
Bank of America and Fidelity also kept considerable MicroStrategy shares on their balance sheets during the first quarter, showing sustained institutional interest in indirect bitcoin exposure.
You might also like:
Bitcoin breaks $30k barrier: what's next
How much bitcoin does MicroStrategy have?
Until the end of March, Bank of America displayed 86,147 MicroStrategy shares bought during the first quarter. According to an SEC filing, Fidelity picked up 97,199 shares simultaneously.
These disclosures monitor transactions from January 1 through March 31 and do not necessarily indicate total holdings for any business.
Shares of MicroStrategy have closely followed the price of bitcoin since the business started keeping the digital currency as a reserve on its financial statements. Yet hundreds of traders still see the stock as one of the best publicly traded proxies for spot bitcoin exposure.
Founder Michael Saylor's business intelligence organization held 140,000 bitcoins by April 4.
MicroStrategy has continued accumulating even as crypto markets have been shaken by mounting U.S. enforcement proceedings by the SEC and the CFTC. Saylor stepped down from his chief executive role last year and has been accused of tax wrongdoing.
Industry players, including crypto hedge funds and family offices, have been following MicroStrategy's recent market swings as traders decipher uncertain macro circumstances.
Bitcoin volatility has calmed down recently as crypto traders assess the asset's big bounce back in 2023 from last year's lows. MicroStrategy maintained its long-term business policy of accumulating more and more bitcoin to its portfolio.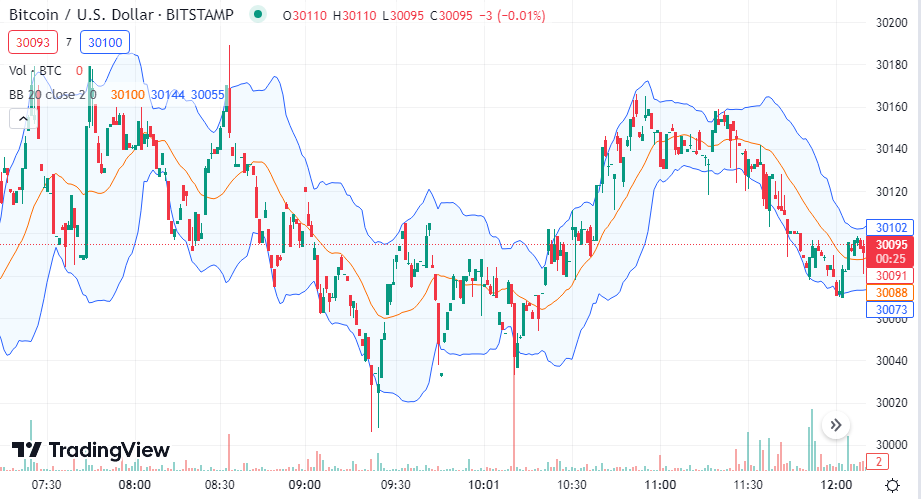 BTC 24-our volatility chart | Source: TradingView
TradingView charts show the Bollinger bands moving much closer to each other, showing the decreased volatility as the market now looks stable.
Read more:
MicroStrategy repays $205m Silvergate loan, purchases 6,455 BTC