Bitcoin price is currently trading at $28,000, seemingly unable to fall lower thanks to overwhelming buying pressure.
The lack of pullbacks could be due to a "super" technical tool indicating that almost all important resistance has been flipped to support. Let's take a closer look at the SuperGuppy technical indicator and what is says about the trend in crypto.
BTCUSD Breaks Above The 1M SuperGuppy: What This Means
When Bitcoin or any asset begins an impulsive uptrend, there tends to be very few to no pullbacks offering an opportunity to buy the dip. The late 2020 rally through April 2021 was often described as "only up" as an example.
This behavior happens when massive demand kicks in during a phase of lower supply, when selling is exhausted, and when resistance has been turned to support. With support below the asset, prices don't fall quite as hard and are bought up significantly faster.
That's exactly what's started to happen according to the 1M SuperGuppy technical indicator. In fact, the tool suggests resistance has been flipped to support on almost every timeframe from the daily to the monthly.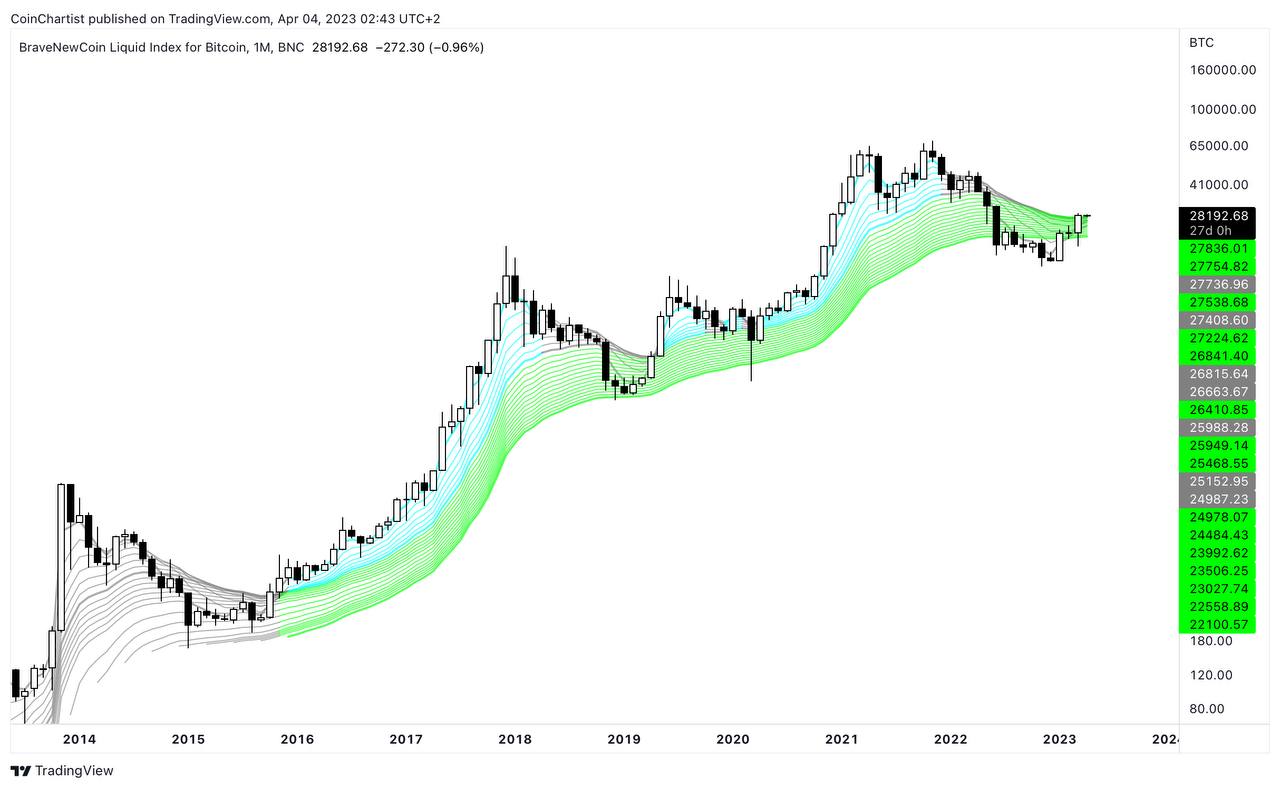 BTC is above the SuperGuppy moving averages | BTCUSD on TradingView.com
It's Not A Bird, It's Not A Plane, It's A Bitcoin Rally
Not to be confused with NASA's 100,000 pound plane, the SuperGuppy is a technical indicator that derives it's name from its creator, Daryl Guppy. Guppy is a financial columnist and author who developed the tool to spot potential trend changes.
The SuperGuppy is often referred to as the GMMA or Guppy Multiple Moving Average. The tool utilizes a group of shorter and longer term moving averages. These moving averages can act as dynamics support and resistance, or indicate when a trend has changed depending on the slope of the averages.
In the past Bitcoin price breaking through the monthly timframe SuperGuppy moving averages has led to as sustained rally, with the averages acting as support the entire way up. It also put in a significant long term crypto market bottom.
With BTCUSD now trading well above the SuperGuppy moving averages, will the top cryptocurrency once again see a sustained rally?
#Bitcoin monthly has cleared all the MAs in the Super Guppy. Resistance is now support. Don't be surprised of a lack of pullbacks. pic.twitter.com/INa1MZJKlD

— Tony "The Bull" (@tonythebullBTC) April 4, 2023
Follow @TonyTheBullBTC on Twitter or join the TonyTradesBTC Telegram for exclusive daily market insights and technical analysis education. Please note: Content is educational and should not be considered investment advice. Featured image from iStockPhoto, Charts from TradingView.com