Bitcoin price could see a boost amid a widespread financial crisis that has already led to the collapse of several banking giants and put many others at risk, according to Raoul Pal, Real Vision CEO and a former hedge fund manager.
Pal sees the current situation as a potential opportunity for Bitcoin to establish itself as a safe haven asset and gain greater mainstream acceptance.
During a recent interview with Anthony Pompliano on YouTube, Pal shared his optimistic projection that Bitcoin's value could surge by almost 80% in less than a year. Pal anticipates that the alpha coin's value will balloon to as much as $50,000, partly due to short selling squeezes, where individuals wrongly speculate on Bitcoin's downfall.
Why Raoul Pal Thinks Bitcoin Price Will Skyrocket
According to Pal, the surge in Bitcoin's price can be attributed partly to the fact that people who bet on its decline by short selling were proven wrong, resulting in short selling squeezes.
A short selling squeeze can occur when the price of the asset unexpectedly increases, causing short sellers to panic and buy back the coins they borrowed to minimize their losses. This buying pressure can further drive up the price of the asset, creating a self-perpetuating cycle that leads to a sharp increase in value.
In the case of Bitcoin, such type of squeezes have played a significant role in driving up the price in the past, as investors have mistakenly bet against the cryptocurrency's resilience and long-term potential.
As more investors recognize Bitcoin's value and embrace it as a legitimate asset class, short selling squeezes could become an increasingly common trend, leading to even greater upward pressure on Bitcoin's price.
Image: Common Cents Mom
Pal said:
"My general thesis is the market is going to be squeezier than people expect […] so I think we probably get to $50,000 faster than most people expect. Is it this year? Is it within 12 months? Probably."
Bitcoin Price Explosion On The Horizon?
Pal predicts that the cryptocurrency industry and Bitcoin price, in particular, could experience an exponential surge in the future. As people lose faith in traditional banking systems and seek alternative solutions, they are becoming increasingly aware of the benefits offered by cryptocurrencies, especially during times of economic crisis.
Pal notes that this growing interest in cryptocurrencies is similar to the trend seen in 2013, which led to a significant increase in Bitcoin's value.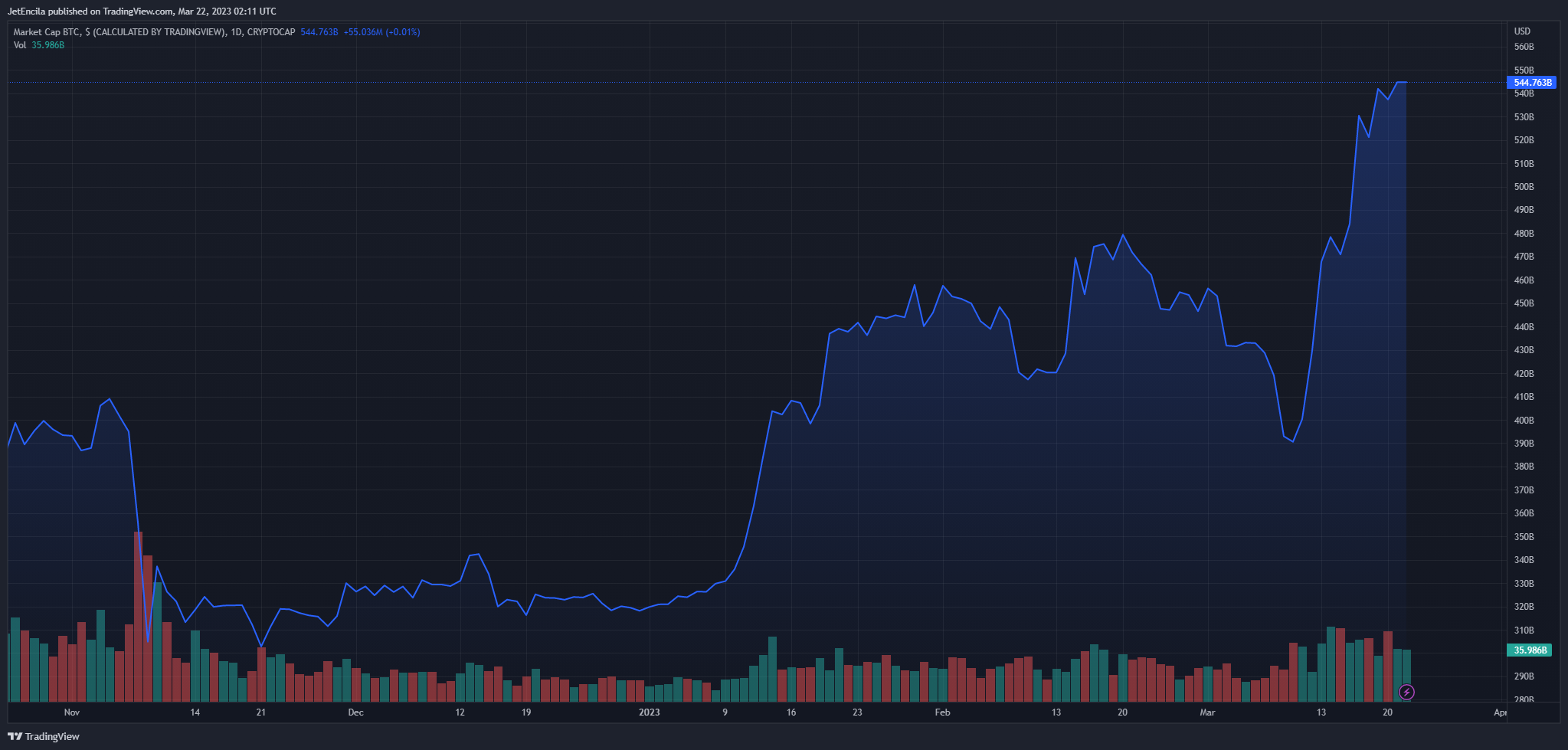 BTC total market cap inched up a little and is now at $544 billion on the daily chart at TradingView.com
In light of these developments, Pal believes that the crypto industry is poised for significant growth in the coming years, with Bitcoin leading the way. However, he also notes that this growth is likely to be accompanied by increased regulation and scrutiny from governments and financial institutions.
Despite this, the CEO remains bullish on the future of Bitcoin and the cryptocurrency market as a whole, citing its potential to revolutionize the financial industry and provide greater financial freedom.

At the time of writing, Bitcoin price was trading at $28,262, up 14% in the last seven days, data from crypto market tracker Coingecko shows.
-Featured image from US Navy