Back to the list
Bitcoin Golden Cross Versus Death Cross: Why The Outcome Is Critical
www.newsbtc.com
06 February 2023 21:04, UTC
Reading time: ~3 m
---
Bitcoin price is barely clinging on above $23,000, with the outcome over the next several days being extraordinarily critical for the fate of the crypto market.
On daily timeframe, BTCUSD ticks ever closer toward a golden cross. Meanwhile, the weekly timeframe is just inches away from a death cross. Will bulls or bears ultimately win?
Bitcoin Inches Toward Daily Golden Cross & Weekly Death Cross
Bitcoin has had a strong start to 2023, ranking as the top performing mainstream asset thus far. It's helped pick up the broader crypto market, with altcoins outperforming. The recent rally has also brought BTCUSD just moments away from a golden cross.
Related Reading: Bitcoin Weekly RSI Reaches Line Between Bear & Bull Market
But a more than 50% recovery from bear market lows still might not be enough to fend off a higher timeframe death cross taking place on the weekly.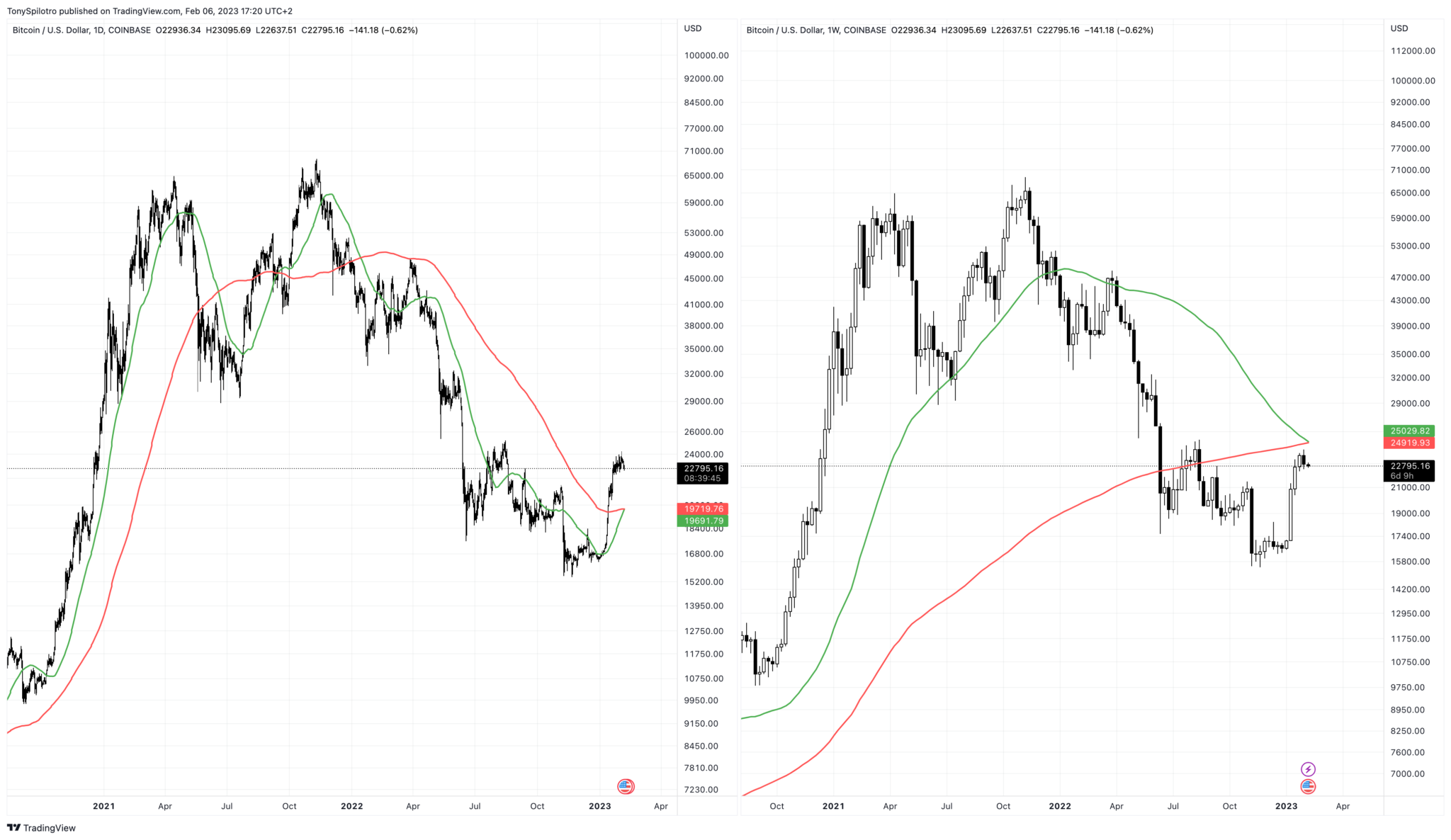 The golden cross (left) versus the death cross (right) | BTCUSD on TradingView.com
This is especially important of an inflection point, because a golden cross is a buy signal, while the death cross is a sell signal.
Bulls will have to push Bitcoin significantly higher this week to narrowly avoid a death cross on the one-week. Bears, however, must strike within 24-48 hours to have any chance of preventing a golden cross.
Double-Crossed For A BTCUSD Double Bottom?
A golden cross happens when a short term moving average crosses above a long term average from below. In this case, it's the 50-day MA and 200-day MA. A death cross is the opposite sell signal, crossing downward from above instead.
Related Reading: Bitcoin Monthly Signals Stack Suggesting Bulls Are Ready To Stampede
This showdown of moving averages is especially critical. Such a cross sends a signal about the longer term trend. Even more important yet is the fact that BTCUSD weekly timeframes have never experienced a death cross, making it an anomaly in terms of price history and what to expect.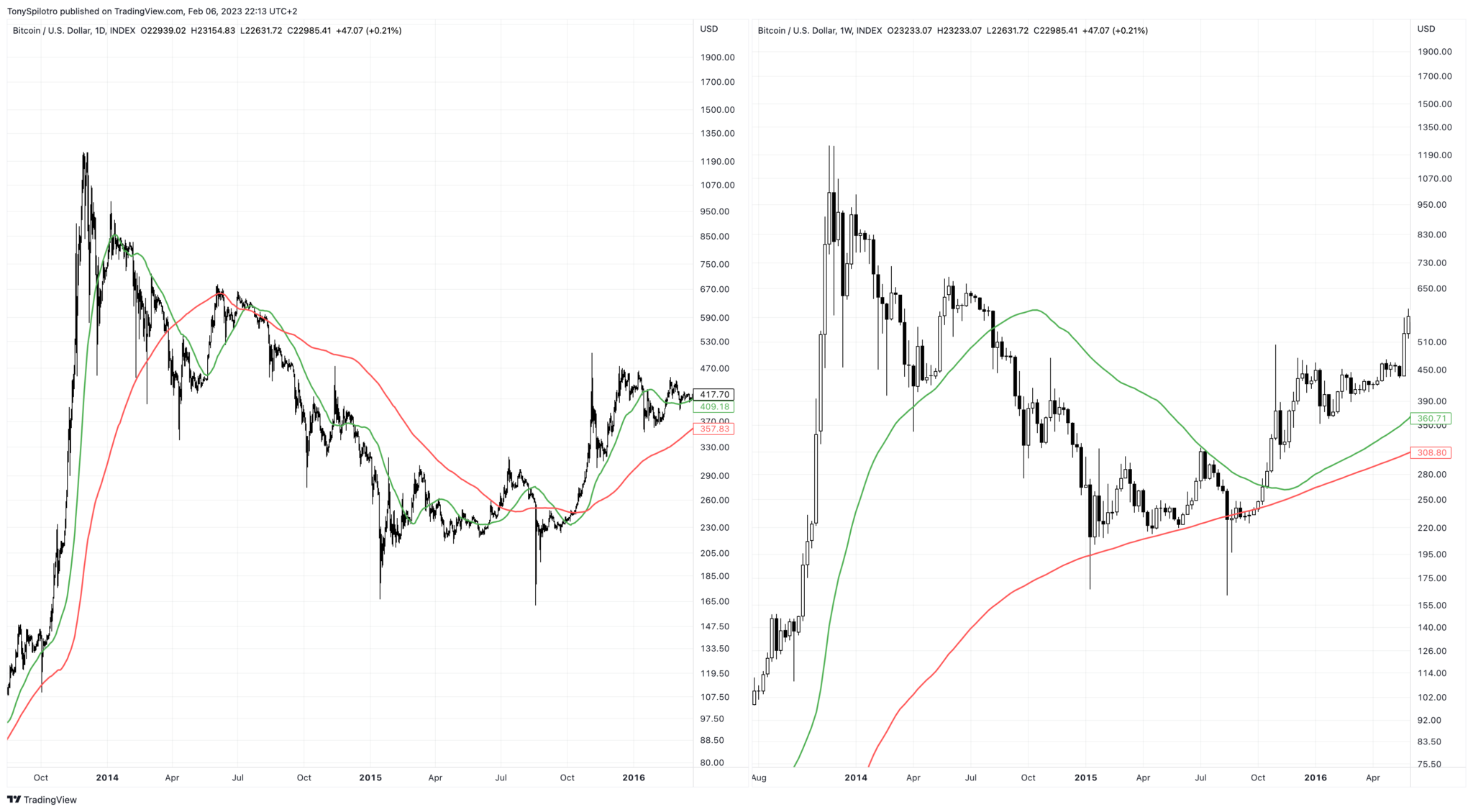 A comparison of the same setup circa 2015 | BTCUSD on TradingView.com
The higher the timeframe, the more dominant the signal, possibly putting the outcome in the favor of bears. Narrowly escaping a death cross on the same timeframe led to one of the greatest bull runs in crypto history (pictured above).
The last time BTCUSD nearly death crossed on the one-week was in late 2015. At that time Bitcoin did successfully golden cross on the daily and prevent the weekly death cross. Unfortunately, the golden cross didn't sustain, crypto was rejected to a double bottom, and BTCUSD death crossed and then golden crossed again before taking off from around $200 to $20,000.
The Battle of #Bitcoin Bulls & Bears in Moving Averages. Bulls are pushing for a daily golden cross while bears want a weekly death cross. Who wins? pic.twitter.com/IzRkjAPHXf

— Tony "The Bull" (@tonythebullBTC) February 6, 2023
Follow @TonyTheBullBTC on Twitter or join the TonyTradesBTC Telegram for exclusive daily market insights and technical analysis education. Please note: Content is educational and should not be considered investment advice. Featured image from iStockPhoto, Charts from TradingView.com
---
Source
---
Back to the list