Back to the list
Bitcoin Jumps Toward $17K on Positive US Job Report
cryptopotato.com
06 January 2023 14:26, UTC
Reading time: ~2 m
---
The US continued to beat expectations in terms of new jobs added for the month of December, according to the Labor Department.
The unemployment rate dropped to historic lows.
The report for December 2022 indicated that the unemployment rate is down to 3.5% from 3.7% the previous month.
At the same time, the world's most powerful economy added 223,000 jobs in December, which was higher than Bloomberg's estimates of 200,000.
Overall, the US finished the year with 4.5 million new jobs filled, trailing only to 2021, when the country was recovering from the COVID-19-induced crash.
The best month in 2022 in terms of jobs added was February, with over 700,000, while December was last, even though it was better than expected.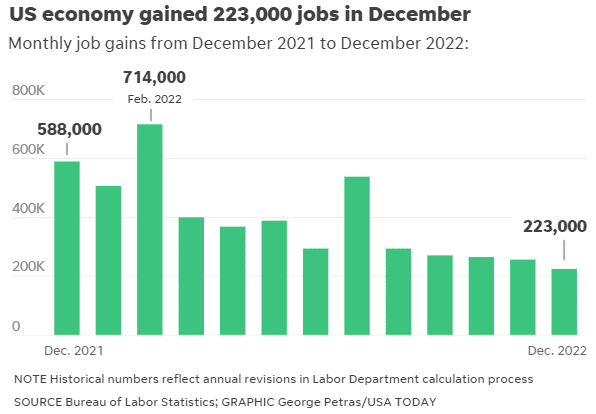 Shortly after the report went live, bitcoin started to move, heading north with a minor $150 move. As a result, the cryptocurrency jumped to just over $16,800 but retraced almost as quickly.
Certain US announcements, such as CPI numbers and interest rate hikes, have a more significant effect on BTC's price movements. You can check all the dates for both in the upcoming year here.
---
---
Source
---
Back to the list